Helio happy as ever; engine/chassis battle brewing
January, 14, 2010
01/14/10
5:51
PM ET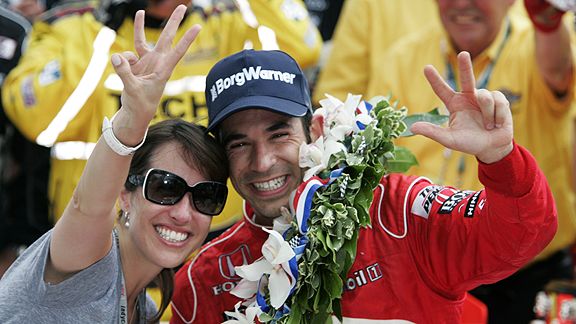 AP Photo/Michael ConroyHelio Castroneves has won the Indy 500 three times. His next goal is winning his first IndyCar Series title.
Every Izod IndyCar Series driver was at the Indianapolis Motor Speedway on Tuesday for physical exams and mandatory winter safety meetings. Helio Castroneves had an additional reason to come to town.
The 34-year-old Brazilian again celebrated his victory in last May's Indianapolis 500 by unveiling his most recent visage on the iconic Borg Warner Trophy and collecting his Herff Jones "Champion of Champions" ring in a ceremony at the IMS Hall of Fame Museum.
With three wins at Indianapolis, Castroneves is indeed a champion among champions when compared to other top IndyCar Series drivers. Although he has never corralled a series championship, Castroneves is the leading money winner in Indy Racing League history with $16,315,178. Nearly $6 million of that total was earned at the Indianapolis Motor Speedway.
Those Indy wins (not to mention a victorious effort on the ABC competition "Dancing With The Stars") also helped make Castroneves the most well known current IndyCar Series driver not named Danica Patrick.
He'll be back for his 11th campaign with Penske Racing, gunning for win No. 4 at Indianapolis and his first overall series title.
"It's just incredible," he said. "I guess I keep doing the right thing. I'm just honored to be in this organization. What I admire the most is the loyalty of Roger Penske and Tim Cindric and everyone.
"It's great just to be involved and race for that organization. You have a chance to win no matter what."
Castroneves was the first Indy winner since 2004 who didn't go on to become the IndyCar Series champion. Dan Wheldon (2005), Sam Hornish Jr. (2006), Dario Franchitti (2007) and Scott Dixon (2008) did the Indy/series championship double.
***
The IndyCar Series confirmed at the winter safety meeting that it will eliminate the cockpit fuel mixture switch from its cars for 2010. The change has allowed Honda to almost double the horsepower boost from its overtake assist system.
"It will allow the drivers more strategy during the event," said Indy Racing League senior technical director Les Mactaggart. "If they want to save fuel, they can by controlling the throttle and equally so the overtake assist will be more effective because they'll have more horsepower."
[+] Enlarge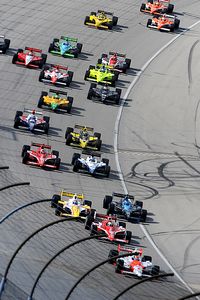 AP Photo/Paul Beaty, FileThe IndyCar Series has some difficult decisions to make regarding its engine and chassis package.
More significant questions involving the development of a new engine and chassis for the 2012 season remain unresolved, and it appears battle lines are being drawn.
Honda recently indicated it is planning to build a turbocharged V-6 engine for Indy car racing. That goes against the wishes of a group known as Delta Wing LLC, which is developing an envelope-pushing new chassis designed to accept a four-cylinder power plant.
The Delta Wing project is led by Ganassi Racing designer Ben Bowlby, and several IndyCar Series team owners have endorsed building a prototype for testing and analysis.
Honda has repeatedly stated its objection to building a four-cylinder engine, but all signs point to Honda's being the only major auto manufacturer that is interested in participating in Indy cars in the future. IndyCar Series officials had been courting the Volkswagen Group and its VW, Porsche and Audi brands, but VW Group motorsport chief Kris Nissen has all but ruled out their participation.
"I am not 100 percent sure of the latest status, but I think it is not realistic for the moment that the VW group will do it," Nissen told Autosport.com. "Also IndyCar needs to settle down, and it looks like it is getting better. America needs to settle down, the car market needs to be stable again."
Caught in the middle is IndyCar Series competition president Brian Barnhart, who is believed to favor an evolution of the current Dallara chassis. Barnhart is under fire from teams and manufacturers for dragging out the decision with regard to the future direction of the series, and a fan group recently started an online petition to encourage his removal.
Barnhart and IndyCar Series officials must decide who they can most afford to lose: Honda and/or Dallara, or Ganassi and the majority of team owners who seem to favor a more radical shakeup of the rulebook and parts-supply system.