New engine specs mean Honda's staying
June, 9, 2010
06/09/10
3:21
PM ET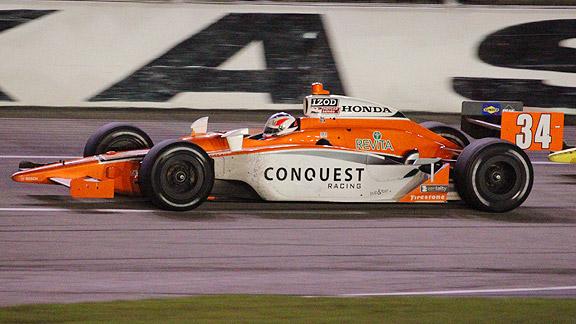 Courtesy IZOD IndyCar SeriesThe "Honda" lettering on the IndyCar air intake -- and the engine that goes underneath it -- appears likely to stick around for 2012 and beyond.
The IZOD IndyCar Series' announcement of its engine formula tentatively set for 2012 and beyond was short on details. But the news that the IndyCar Series will allow engines featuring up to six cylinders and 2.4 liters of displacement is positive on a number of fronts.
First and foremost, the allowance of V-6 architecture is almost certain to keep Honda involved in Indy car racing. Honda Performance Development president Erik Berkman has made no secret of the fact that HPD preferred a V-6 over an inline 4-cylinder layout because it would allow the company to design a basic engine that could be adapted to IndyCar or ACO/American Le Mans Series specification.
By not dictating a V-6, the IndyCar Series has left the door open to 4-cylinder designs, in particular the "Global Racing Engine" concept being developed by the FIA to power everything from World Rally to Formula One cars. Equivalency formulas are nothing new to the Indy Racing League -- the IndyCar Series' first season featured CART-specification, pure racing 2.6-liter V-8 turbo engines pitted against production-based 3.8-liter Menard/Buick V-6 turbos.
The IRL achieved satisfactory parity with its 1996 equivalency formula, but its ancestor, the United States Auto Club, was less successful with its engine regulations in the 1970s. The key going forward for the IndyCar Series is getting the equivalency formula right -- and having a trusted technical engine adviser on staff to maintain a level playing field to the satisfaction of all competing manufacturers.
That, after all, is the reason the IRL is allowing the introduction of a 4-cylinder engine, as long as it meets the performance guidelines of 550-700 horsepower.
"We will require reference engines as a benchmark in performance while looking at sonic air restrictors, fuel flow restrictions and more as key criteria for competition," said IRL competition president Brian Barnhart.
HPD's Berkman certainly endorses the idea of an "Engine Czar" for the IndyCar Series. Two members of the seven-man ICONIC committee advising IRL CEO Randy Bernard have particularly strong engine knowledge: Pi Electronics founder (and former Jaguar F1 team principal) Tony Purnell and Speedway Engine Development founder Rick Long. Other potential candidates include former Champ Car race director Tony Cotman and IRL senior technical director Les MacTaggart.
"The people we work with -- Brian and Les -- the capabilities are fine," Berkman said. "But as it relates to engines, it would be nice if the league could add that position to have a true engine expert on staff. It couldn't hurt and I think it could only help.
"If there is competition, once we start going to war with one another -- and I say war in a good way -- war without cost escalation. Let's find a way to tie our hands behind our back, close our wallets, cut up our credit cards and figure out a way to compete with our brains instead of our wallets. And I believe it can be done."
Honda and any competing manufacturers coming into the IndyCar Series will all want to supply the top teams, and Berkman hopes league officials will be able to devise an equitable engine supply process.
[+] Enlarge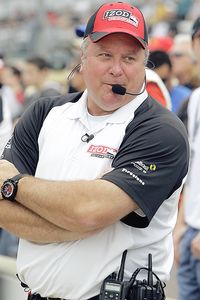 AP Photo/Darron CummingsIRL competition president Brian Barnhart will have his work cut out for him trying to keep engine suppliers on a level playing field with each other.
"Each manufacturer will want equal representation, an equal chance to win, and the competition needs to be controlled by clever rules that prevents us from a cost escalation," Berkman said. "Manufacturers would all sign on the dotted line, not a gentleman's agreement, but a contractual agreement that says we won't money launder and give teams money to hire drivers -- all the things that can be done to try and skew the table to get your engine [in a particular car]. It would be the league's responsibility to distribute the engines. In other words, we wouldn't go out and line up our customers."
Berkman also advocates a NASCAR-like philosophy of using occasional rule changes to allow manufacturers that are lagging the opportunity to make approved improvements. Again from a manufacturer perspective, cost stabilization is the key.
"If we have competition and I bring in a design change every week and try to bury you, you've got to counter and now we've got an escalation," Berkman said. "The league can save us a lot of money by not allowing change very often. Since they want close racing, if there is a disparity in performance, let this guy [Manufacturer No. 2] catch up. Don't penalize this guy [Manufacturer No. 1]. Let him [No. 2] catch up. Freeze him [No. 1] until they [No. 2] get caught up, and then open the window.
"If I could only make design changes twice a year, I might be working every day to prepare for when the window opened up and I could throw the bomb," he continued. "But so would the other guy. We would be working and spending our money, but we wouldn't be building engines and spares and qualifying engines and all the tricks and then tearing them down next week and retrofitting them with all the latest bits, with the huge amount of waste and cost associated with that. All the manufacturers are saying 'this is what we have to do.'"
It's almost certain that Honda will continue in the IndyCar Series in 2012 or beyond, and Berkman and other company officials have repeatedly said that they hope for competition. "Competition" is also the message the IndyCar Series is sending out, and it will be interesting to see if any other manufacturers step up to the challenge of racing Honda in a category it dominated even before it was the exclusive engine supplier.