Will Iowa race spark bullring boom?
June, 24, 2010
06/24/10
2:58
PM ET
The verdict from a jury of fans, participants and pundits says that last weekend's Iowa Corn Indy 250 at Iowa Speedway was one of the best Izod IndyCar Series races in years.
Although Tony Kanaan ultimately won by more than four seconds, the Iowa race featured 16 lead changes among seven drivers -- the last when Kanaan nipped past longtime rival Helio Castroneves with 10 laps to go -- not to mention numerous prolonged wheel-to-wheel battles.
[+] Enlarge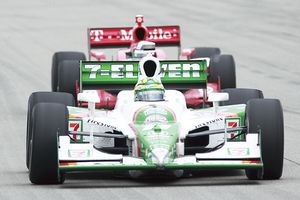 AP Photo/Conrad SchmidtTony Kanaan ended a two-year victory drought Sunday in the Iowa Corn Indy 250.
"We need more short ovals, because this is the way to race," declared Kanaan. "You guys saw it and we proved that. I think the fans enjoyed it, and I think they're going to keep coming back if we keep racing like this."
TK's wish has been granted, because the Indy Racing League is set to announce that it will add New Hampshire Motor Speedway to the 2011 IndyCar Series schedule. What's more, the announcement is expected to be made at NHMS this Sunday, just a couple hours prior to the green flag for NASCAR's Lenox 301 Sprint Cup race.
The time and place of the announcement is intriguing, because with the addition of New Hampshire and a new street race in Baltimore, one or more existing events are likely to be dropped from the IndyCar calendar. By teaming up for the announcement during a NASCAR race weekend, the IRL and NHMS owner Speedway Motorsports Inc. are demonstrating they can be powerful allies -- especially with Indy car racing's relationship with International Speedway Corp. under heavy scrutiny by new IRL CEO Randy Bernard.
Contracts for four ISC-owned tracks that host the IndyCar Series are set to expire and three -- Watkins Glen International, Kansas Speedway and Homestead-Miami Speedway -- are believed to be on the bubble for 2011. Chicagoland Speedway president Craig Rust recently told me that he hopes to have the IndyCar Series back in 2011 and beyond, but it was dependent upon agreeing on a sanction fee.
With the addition of New Hampshire, the IndyCar Series will race at four SMI tracks in 2011 (the others being Texas Motor Speedway, Infineon Raceway and Kentucky Speedway) and the IRL is in serious discussions about racing at SMI's Las Vegas Motor Speedway for the first time since 2000.
Bernard also has hinted at the possibility that the IRL will consider self-promoting an IndyCar race at the Milwaukee Mile, which has a history of Indy-style racing dating to 1909. The IRL staged events at the Mile from 2004 to 2009, but a series of failed promoters ended major racing activity at the famous venue this year.
New Hampshire hosted the CART-sanctioned Indy car series from 1992 to 1995. Then-NHMS owner Bob Bahre sided with the IRL in the open-wheel split of 1996 and it resulted in a reduction in attendance from around 50,000 in the CART years to less than 10,000. The IRL was dropped from the NHMS schedule after two years when the track also landed a second NASCAR Cup weekend.
Several of the New Hampshire Indy car races stand out, particularly 1993, which was one of the finest auto races I've ever had the pleasure of witnessing. On his 40th birthday, Nigel Mansell passed the Penske cars of Emerson Fittipaldi and Paul Tracy in the last 20 laps for the most memorable win of his CART championship campaign. Andre Ribeiro's triumph in the 1995 edition of the New Hampshire race marked Honda's first victory as an Indy car engine supplier.
Unless Tracy lands a ride for 2011, none of the current Indy car drivers ever raced at NHMS. Dario Franchitti is scheduled to turn a few demonstration laps Sunday morning in his Target Ganassi Racing Indy car.
"I enjoy the challenge of short ovals and unfortunately we have only one this year," Franchitti said before the Iowa race. "Milwaukee, I'd like to go back to Richmond ... Loudon [New Hampshire], Phoenix ... bring 'em all on."
"Definitely I miss Milwaukee and I miss Richmond," added Franchitti teammate Scott Dixon. "Hopefully they add Milwaukee back to the schedule, and if we can get more short ones it would be great. I think we've won on all of them just as they've got rid of them. We won the last races at Nashville, Richmond and Milwaukee, so I think as a team we'd like to see them back on the schedule, and I hope that's the way it goes."