End of the line for Milka Duno?
July, 31, 2010
07/31/10
6:33
PM ET
In a week when IndyCar Series management came under fire for what has been perceived as an excessive or unfair ruling against Helio Castroneves, the fact perennial backmarker Milka Duno once again escaped serious sanction from the league was basically ignored.
Prior to the Honda Edmonton Indy weekend, the Indy Racing League announced that Duno has been placed on probation until Dec. 31 for "not consistently meeting minimal performance standards."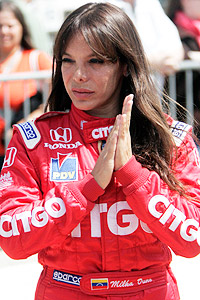 AP Photo/AJ MastMilka Duno has yet to crack the top 20 through 10 IndyCar Series races in 2010.
A news release from the IRL stated that Duno "requires immediate and substantial improvement to her driving during the remaining events on the 2010 schedule," adding "if the improvements are not met, the league may impose other penalties at its discretion."
Duno has been consistently the slowest driver at every IndyCar Series road race, usually by a comically large margin. In fact, Duno is often slower in a 650-horsepower Indy car than most of the field for the Indy Lights training series, which features cars with only 425 horsepower.
At Edmonton, for example, Duno was 6.3 seconds slower than the fastest practice lap turned by Castroneves. More significantly, she was 4.6 seconds slower than the next slowest entry, the A.J. Foyt Racing machine driven by Vitor Meira. Comparing apples to apples, she was 5 seconds a lap slower than her Dale Coyne Racing teammate Alex Lloyd.
"I don't pay attention to what others say," Duno told reporters at Edmonton. "It's a very competitive championship and it is very tough, especially for the people like me that was not there before on many tracks."
Thanks to multimillion-dollar support from Venezuelan oil giant Citgo, Duno is tackling the full IndyCar Series schedule for the first time. She has made a total of 37 IndyCar starts in her career.
Team owner Dale Coyne is in a tough position because he needs the substantial sponsorship funds that Duno brings from Citgo to keep his team afloat and run Lloyd's more competitive car. So perhaps it wasn't surprising that he defended his latest rent-a-racer.
"She hasn't done street circuits, so we knew the challenge was bigger on street tracks," Coyne told SI.com at Edmonton. "In racing there will be somebody in the front and somebody in the back. But the thing with Milka is she is the fourth-most popular driver, she has made 3 billion impressions, her lines are long at the autograph stand, and she is always smiling and cordial with the fans. She is a great spokesperson for women and she is the only driver that touches the Hispanic market -- she has done a lot of that in the United States."
That's all fine and well, but when a driver is so much slower than the rest of the field, he or she represents a hazard to other drivers -- especially given Duno's apparent inability to use the rearview mirrors mounted on her car to see rapidly approaching traffic from behind.
She's gotten in the way of every other driver in the IndyCar Series field, and the true professionals in the series are getting tired of her constantly affecting the natural course of the race. She's been involved in heavily publicized incidents with Danica Patrick and Ryan Hunter-Reay, and after more than three years of driving Indy cars, she shows no sign of either getting faster on the track or learning to allow quicker cars past.
"She may not be a moron; she just doesn't know how to drive race cars," snapped Hunter-Reay, after he was severely blocked by Duno in qualifying at Watkins Glen International.
"You don't want to see that car and sponsor go away, because then a lot of guys are out of work," observed two-time series champion Dario Franchitti. "But there's a certain level of competency that's not there, unfortunately."
What is even more frustrating to Duno's competitors is that she doesn't seem to believe that she is slow or in the way. And even if she did realize that she's a rolling roadblock, she wouldn't care or do anything about it.
I had a memorable exchange with Duno in February 2009, when I tactfully suggested that perhaps she didn't deserve the opportunity to test a car for Newman/Haas Racing and questioned her ability to be successful, even driving for one of American open-wheel racing's legendary top teams.
"Yes, well, there's only two peoples ... [journalists] Robin Miller and Curt Cavin," she stammered. "I'm not thinking about what they say. They really don't understand about racing and it's not interesting for me what is the opinion that they have."
New IndyCar CEO Randy Bernard is a pretty savvy guy, and he has not only noticed Duno's lack of speed on the track, he is aware that allowing Duno to compete in Indy cars damages his series' worldwide reputation.
"It's very, very important for the credibility of the series that fans know our drivers are the best in the world," Bernard said during a media availability at Watkins Glen. "If someone can't maintain and compete, I really think that's what we have the ladder system for."
Under the terms of her probation, Duno is expected to lap within 107 percent of the leader's speed. At Edmonton, that calculates to a 66-second lap compared to Castroneves' pace-setting 61.66-second effort. Duno's best time was 67.93 seconds.
For the upcoming race at Mid-Ohio Sports Car Course, Duno will be expected to lap within 4.5 seconds of the expected pole time. Last year, she was almost 8 seconds off the pace, and visibly 30 to 40 mph slower through Mid-Ohio's daunting Turn 1.
Due to the sponsorship she brings and her reputed popularity, IndyCar officials have been slow to respond to driver complaints requesting that Duno be banned from the series. Now that guidelines have been publicly put in place that she will surely be unable to attain, it appears Milka Duno's Indy car career is finally near the end -- and not a moment too soon.
Let's hope that her erratic and uncompetitive driving doesn't land someone in a hospital before the end of the season.