Return to Auto Club Speedway a gamble
July, 6, 2011
07/06/11
10:33
PM ET
INDIANAPOLIS -- California Speedway. Really?
That was my first reaction upon learning the Izod IndyCar Series will return to Fontana, Calif., in 2012 for a 400-mile night race.
Actually, it's officially called Auto Club Speedway these days. But it's the same 2-mile oval about an hour east of Los Angeles that staged Indy car races under CART and Indy Racing League sanction for a steadily decreasing audience from 1997 to 2005.
I was there for most of them and witnessed the place packed to capacity for the debut CART race in 1997, when PacWest Racing's Mauricio Gugelmin set a closed-course qualifying record of 240.942 mph and went even faster -- 242.333 mph, to be precise -- in practice. His teammate Mark Blundell won the race.
I was there three years later when Gil de Ferran upped the one-lap record to 241.426 mph and again in 2003 when Sam Hornish Jr. averaged 207.151 mph over 400 miles to win the flat-out fastest race in the history of Indy car racing.
But I was also there on Halloween 1999 when Greg Moore lost his life in a Turn 2 accident. And again in 2001, 45 days after the 9/11 attacks, when the track's over-the-top security measures made California Speedway a very unpleasant place to go to work.
So despite a relatively brief nine-year run, Fontana has plenty of Indy car history -- good and bad. What it hasn't had since the first couple of races is an audience. But a pair of optimists -- INDYCAR CEO Randy Bernard and Auto Club Speedway president Gillian Zucker -- believe there is an audience that can be brought back.
[+] Enlarge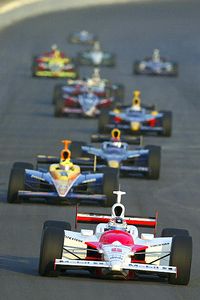 Gavin Lawrence/Getty ImagesTight racing and unheard of speeds were hallmarks of Auto Club Speedway the last time Indy car racing was there.
And without the benefit of tens of thousands of corporate tickets bought and distributed by sponsors such as Philip Morris back in the days when the CART race was known as the Marlboro 500.
"As most people know, this racetrack was built by the Penskes, built with open-wheel racing in mind," Zucker said in a conference call with media. "In our minds, this is the most competitive place to see open-wheel racing in the country. We hold the world speed record for the fastest lap of 241 miles an hour. We know that the finishes here have been unlike any other.
"We feel like this is going to provide a really excellent opportunity to provide world-class racing for our fans and diversify our schedule."
Zucker said she thinks several factors will play into making IndyCar's return to Fontana a success. She cited the unification of open-wheel racing and believes the night race format will be a hit. The early announcement of the IndyCar event means it will be included in Auto Club Speedway's 2012 season-ticket package.
Zucker also revealed sensible ticket prices, including a $30 general admission option that includes grandstand seating. Reserved seats are $50 to $60.
"There isn't a day that goes by that we don't have fans asking for the return of open-wheel racing," Zucker said. "When the split happened with open-wheel racing, there were fans that were disappointed about what was going on in the industry. Some of them showed that disappointment by not attending events. Now that the series is so cohesive, has so much momentum behind it, with all the changes that Randy made in the past year, the excitement he's bringing to the sport, I think the timing is just absolutely right.
"We're prepared to aggressively promote it with more than a year to be able to do that."
Those words are music to Bernard's ears. Auto Club Speedway is the first track owned by International Speedway Corp. -- controlled by NASCAR's France family -- to return to the IndyCar Series schedule after spending a year on the sidelines due to the widespread belief (shared by Bernard) that ISC didn't promote its Indy car races as effectively or aggressively as it could.
Bernard said he has been in contact with several other ISC tracks and didn't rule out another "one to three" making the cut for what he hopes is an expanded 20-race 2012 schedule.
One of IndyCar's challenges is to develop a full slate of oval races to maintain a 50/50 balance with road and street courses. The series might not return to the Milwaukee Mile, which was very poorly attended for its comeback Indy car race after a year's absence.
"I have been talking to other presidents of tracks that want to be very aggressive and are laying out plans on how they can promote our series," Bernard said. "That's what's important to me.
"Last year because of timing and because of availability at tracks, the moving of some NASCAR races, it didn't work that there were any ISC tracks on our schedule. But we've continued to communicate all the time. It's just a matter of time before you see one or two or three ISC tracks on our schedule, like [Auto Club Speedway]."
Auto Club Speedway was designed as an improved Michigan International Speedway, and it's 2-mile format is ideal for Indy cars. From a competition standpoint, returning to Fontana definitely has merit.
Whether it's a smart commercial proposition remains to be seen.