Hildebrand thrilled with unusual team gift
July, 17, 2011
07/17/11
11:22
AM ET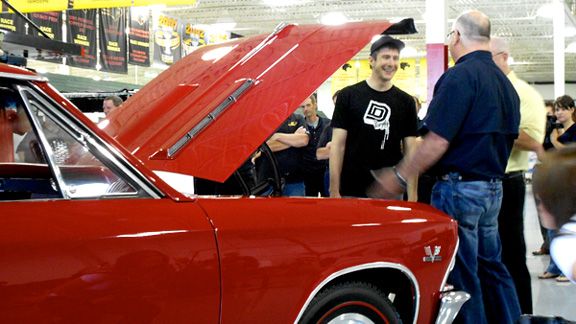 John Oreovicz/ESPN.comJR Hildebrand said he had no idea a matching-numbers 1966 Chevrolet Chevelle SS was awaiting him at the Panther Racing shop on Wednesday.
INDIANAPOLIS -- Seven weeks later, JR Hildebrand is still dealing with the aftermath of the Indianapolis 500.
But things are looking a lot better.
The 500 was, of course, a good news/bad news situation for the 23-year-old Izod IndyCar Series rookie. Hildebrand finished second in the race, but until the final corner of the final lap, he looked destined to become only the ninth rookie winner of the Memorial Day classic.
Funny thing is that when most people now think about Hildebrand, they don't dwell on the infamous Turn 4 accident that allowed Dan Wheldon to sneak past for his second Indianapolis win. They remember the way Hildebrand handled the moment.
Panther Racing remembers the kid's grace under fire, too. That's why team principal John Barnes presented his driver with a mint 1966 Chevrolet Chevelle SS on Wednesday in an impromptu ceremony at the Panther shop on the west side of Indianapolis.
"We're so blessed to have him here -- he's an incredible young man." Barnes said. "Tony Stewart was talking about the crash, and he said, 'Good things happen to good people.' JR's had an incredible amount of class in handling adversity. He epitomizes what we stand for.
"He's still got a lot to learn as a driver, but we have a lot to learn from him as far as being an adult in terms of adversity and controversy."
Hildebrand admitted that he felt slightly "punked" after being lured to the Panther shop under the guise of a meeting with Barnes and engineer David Cripps to discuss the recent Toronto race, where Hildebrand finished eighth.
But he was clearly stunned by the Chevelle, which he said has long been his dream car. Panther team owner Gary Pedigo, a longtime Indianapolis car dealer, located the numbers-matching car in Colorado.
[+] Enlarge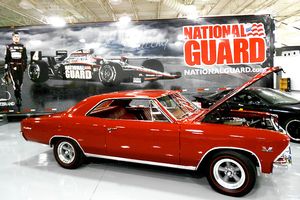 John Oreovicz for ESPN.comThe 1966 Chevrolet Chevelle SS given to JR Hildebrand was found in Colorado by team owner and car dealer Gary Pedigo.
"I don't have any idea how this all happened," Hildebrand said. "This is the car I always dreamed of having. I feel like I need to wake up from a dream right now. This is incredible.
"I grew up around muscle cars -- I don't need no Benz, Bentley or Ferrari!" he continued. "My dad had a '68 Camaro Trans Am race car but I like the Chevelles because they fly a little bit under the radar. Muscle cars have always been my thing. It's about being loud and obnoxious and going fast in a straight line."
If the way Hildebrand dealt with the crushing disappointment of crashing on the last lap at Indianapolis provided life lessons to Barnes and the Panther team, obviously it made an impression on JR himself.
"I feel like it's a little bit silly that's gotten so much response," he said. "No matter where we finished the race, that's what I was going to say. That's really how I felt about what was going on and being a part of this National Guard program. We see these guys coming back from Iraq or Afghanistan and there's a lot going on out there that is a bigger deal than what we're doing at the racetrack. I'm glad it ended up being such a positive thing for the team and the Guard.
"I think people are excited to see us try to avenge the battle scar. We had a really good run at Iowa [a fourth-place finish] that was encouraging for us, but I can't wait to get back to Indy next year because that's where I think we're really going to feel it."
People often decry the lack of American stars in Indy car racing, but Panther has long tried to reverse that perception. The team plucked Sam Hornish Jr. from obscurity and turned him into a multiple-time IndyCar Series champion who went on to drive for Roger Penske. Young, intelligent and articulate -- not to mention fast -- Hildebrand is in a peer group that includes Marco Andretti and Graham Rahal as the next generation of American open-wheel stars.
Panther hasn't won a race since 2005, but Hildebrand believes the team still has the capability to beat the likes of Penske and Ganassi.
And a shiny red '66 Chevelle is proof that Barnes and Panther believe in Hildebrand.
"There's a lot of stuff that goes on in racing," Hildebrand said. "You get put in tough situations a lot of the time and stuff like this really shows what kind of a guy John Barnes is, just that he thought to do something like this.
"He's obviously just an awesome guy to work for."