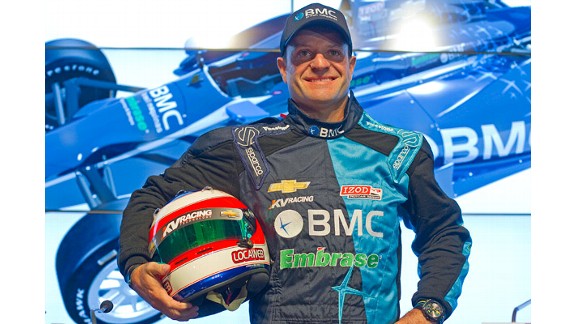 AP Photo/Andre PennerRubens Barrichello said racing on ovals is one of the challenges he's looking forward to in the Izod IndyCar Series.
INDIANAPOLIS -- Formula One's most experienced driver is switching to Indy cars.
Rubens Barrichello, with 322 F1 starts and 11 Grand Prix victories, confirmed Thursday in a news conference in Sao Paulo that he will contest the full 2012 Izod IndyCar Series season. The 39-year-old Brazilian will drive the No. 8 Dallara-Chevrolet for KV Racing Technology with sponsorship from Embrase.
KVRT also announced a two-year contract extension for Tony Kanaan, the 2004 IndyCar Series champion, who is beginning his second season with the team. E.J. Viso will drive KVRT's third entry with a new sponsorship package from CITGO.
Barrichello tested KVRT's Dallara-Chevrolet at Sebring International Raceway from Jan. 30 through Feb. 1 and ran a subsequent test at Infineon Raceway later in February.
Kanaan and Barrichello are close friends (and godfather to each other's children), and Kanaan joked that he convinced Barrichello to test by tweeting him a picture of the new Dallara Indy car.
But he actually had been working on his friend to make the switch to American racing for quite some time.
"What people don't realize is how many years I've been bugging him to do this," Kanaan said. "It's been going on for the last three years. This year, with the unfortunate situation of not getting the job [with Williams F1], he accepted. But it's something I've been working on him for a long time.
"I knew he was going to love the car," Kanaan added. "He's a real racer, and he wants to win races. Over there he didn't have a chance. Here he will."
Barrichello is no stranger to Indy car racing, having attended several CART and IndyCar Series races over the past 15 years at venues including Milwaukee and Indianapolis.
His interest in competing in oval racing was questioned, especially after some of his remarks promising his family he would not compete on those tracks were widely publicized.
But Barrichello said Thursday that racing on ovals is a key attraction of the Indy car challenge.
"It's something very new to me, and even with 19 years of experience, I will start as a rookie," Barrichello said. "But I think I will get better as the year progresses. I will keep my feet on the ground and work as hard as I can.
"I am very competitive, so, of course, I want to do well," he added. "But how well I'm going to do, I guess we are going to see sometime soon."
KVRT co-owners Jimmy Vasser and Kevin Kalkhoven are hopeful the addition of Barrichello will elevate their team to the level of perennial Indy car powerhouses Ganassi Racing and Penske Racing.
"With Tony's expertise on ovals and Rubens' ability to set the car up for road courses, I think it's going to be a very powerful combination," said Vasser, who won the 1996 CART-sanctioned Indy car championship. "We do have the challenge of the ovals, but with Tony's experience and little bit of knowledge that I might be able to impart, I think Rubens will be just fine.
"The sky is the limit for our team, and I think victories are in our future."
News of Barrichello's confirmation for the full season was applauded by his IndyCar Series competitors.
"Great news," four-time IndyCar Series champion Dario Franchitti said. "I think the competition level just went up again."
"It's good for the series, and you can only see it going up," said Will Power. "New car, new teams, even greater depth in driver talent. I think it's great."
Perhaps the happiest person about Barrichello's announcement was INDYCAR CEO Randy Bernard, who unexpectedly has an additional worldwide star (and more than 1.4 million Twitter followers) on board.
Bernard has compared Barrichello's arrival in Indy cars to those of former F1 world champions Emerson Fittipaldi (in 1984) and Nigel Mansell (1993).
"It's an exciting day for the IZOD IndyCar Series and a positive step to start 2012," Bernard said. "We've said all along that one of the most important factors that will make the IZOD IndyCar Series successful is having the best drivers in the world, and there's not a person in the world who knows racing that wouldn't tell you that Rubens Barrichello is one of the greatest drivers of all time.
"I think it's been interesting to hear the response of the other drivers," Bernard added. "It's been, 'This is great for us because it will show how good all of our drivers are.'"
Barrichello's first Indy car race is the March 25 Honda Grand Prix of St. Petersburg.