Josef Newgarden an early feel-good story
April, 14, 2012
04/14/12
8:41
PM ET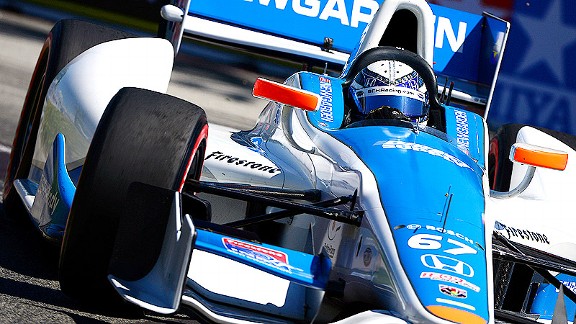 Robert Laberge/Getty ImagesJosef Newgarden will start the Long Beach Grand Prix on the front row alongside Dario Franchitti.
LONG BEACH, Calif. -- The introduction of a new chassis and engine formula was expected to shake up the ranks in the Izod IndyCar Series.
But no one expected a rookie running for the sport's smallest team to emerge as a front-runner.
Driving for Sarah Fisher Hartman Racing, Josef Newgarden is the best story of the early IndyCar season. The 21-year-old from Nashville has had moments of brilliance in each of the three weekends to date, and he'll start the Toyota Grand Prix of Long Beach from the outside of the front row.
Newgarden didn't qualify that far up front; he actually managed the seventh-fastest time and was elevated five places because the cars that qualified ahead of him using Chevrolet power have been assessed a 10-place grid penalty for unauthorized engine changes.
But that doesn't diminish his achievement -- or the SFHR team's -- a single bit.
Former driver-turned-owner Fisher endured the disappointment of losing her sponsorship from Dollar General stores over the offseason, and the No. 67 SFHR car looks pretty plain in its white-and-blue paint.
But the team showed that a small group of quality people teamed with a talented and hungry driver can produce results.
"Josef has really come in and energized our team," said team owner Fisher. "He's amazingly mature and professional, and we're really enjoying working with him. To deliver this kind of a result shows the kind of potential we have."
Four-time series champion Dario Franchitti will start from pole position, but he's not worried about having the rookie alongside.
"Believe me, we've proven time and time again that whether you're a rookie or a veteran, you can screw up just as well," Franchitti remarked. "He'll be fine. He's a good driver who belongs at this level, and he proved it again today."
Stars come out to honor Jim Hall
American Le Mans Series sports cars and the Izod IndyCar Series have become a hot ticket at the Toyota Grand Prix of Long Beach.
Southern California is America's hot spot for car culture, and the pairing of open-wheel formula cars and sports cars has made the Long Beach race weekend only more appealing. While Friday rain had spectators seeking shelter inside the Lifestyle Expo, the return of sunshine on Saturday brought them back in droves to finally enjoy on-track action.
The sports car and Indy car worlds collided Thursday night at the fourth annual Road Racing Drivers Club dinner at the Long Beach Hilton. This year's honoree was Jim Hall, and a pair of Hall's most iconic Chaparral cars -- a 1966 2E Can-Am sports car and the Indianapolis 500-winning 1980 2K -- were proudly on display.
[+] Enlarge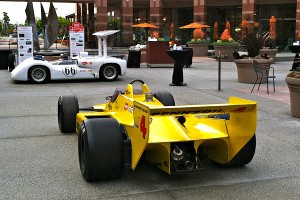 John OreoviczTwo of Jim Hall's most iconic Chaparral cars -- a 1966 2E Can-Am sports car, top, and the Indianapolis
500-winning 1980 2K -- took center stage Thursday in Long Beach.
The normally reserved Hall was talkative and virtually beaming throughout the evening, which was hosted by RRDC President Bobby Rahal. Several of Hall's drivers and competitors took the stage to offer appreciations, including Roger Penske, Johnny Rutherford, Brian Redman and Gil de Ferran.
"Jim Hall is an icon in this sport, and it was a pleasure to sit down with him and listen to the recollections of an extraordinary visionary from such an important era in our sport," said Rahal.
Hall was a successful driver who made a dozen Formula One starts in addition to his success on the American sports car scene. But he's most famous for co-founding the Chaparral marque, which produced a series of successful sports cars with backdoor technical support from Chevrolet throughout the 1960s.
Chaparral introduced the aerodynamic wing to sports cars, and the 1970 2J used a fan to create downforce, a concept that was later copied by the Brabham BT46B that Niki Lauda drove to victory in the 1978 Swedish Grand Prix.
The last Chaparral, the 2K, was the first Indy car to use underbody ground effect tunnels. Hall's concept was drawn and developed by John Barnard, who went on to design a series of F1 championship-winning cars for McLaren, Ferrari and Benetton.
"It's fabulous to be honored by your peers, and that's really what it is here tonight," said Hall. "There are so many of the real racers here, and I'm honored to be with them. It's terrific to follow the three guys who were previously recognized by the RRDC [Dan Gurney, Parnelli Jones and Penske], and to see so many of the other people in the sport who were willing to come here and support this event just makes you really proud."
The RRDC Long Beach dinner has become one of the most popular stops on the banquet circuit, with someone famous or historically significant at almost every table.
Six Indianapolis 500 winners were present (Rahal, de Ferran, Rutherford, Jones, Rick Mears, Danny Sullivan and Franchitti), representing 13 Indy wins.