Muscle Milk team rolls at Mid-Ohio
August, 4, 2012
08/04/12
6:03
PM ET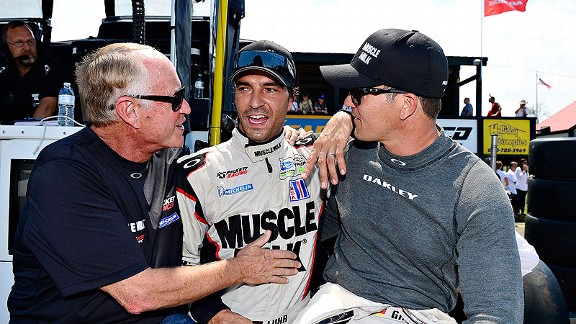 Rick Dole/Getty ImagesMuscle Milk team owner Greg Pickett, left, and his drivers Lucas Luhr, center, and Klaus Graf made their pole-setting qualifying run pay off with their fifth consecutive race win.
STEAM CORNERS, Ohio -- Engines serve as a wake-up call at Mid-Ohio Sports Car Course.
With the smoke of a thousand campfires still in the air, groggy race fans shaking off the excesses of last night are jarred to life by the sights and sounds of the IZOD IndyCar Series.
Indy car drivers aren't accustomed to being early-morning track sweepers, but they got a reward for that 8 a.m. practice: With qualifying set for 11 a.m., their day in the car was done by noon. Most of the field went to debrief with their engineers, then grab a quick nap prior to the late-afternoon autograph session.
Will Power dug deep to produce the kind of scintillating qualifying lap we have come to expect from him. The electric Aussie claimed his third pole of the season, and already the 27th of his career, tying him for ninth place with Al Unser on the all-time list.
"I was determined to get a pole because I know track position is really important around here, so I put a lot of energy into that lap," Power said. "I thought I got every single sector right, and that's just what gave us the lap time."
The time was 1 minute, 5.6662 seconds, which was more than a second faster than recent IndyCar Series times and only three-tenths off the outright track record of 1:05.347, set in 1999 by Dario Franchitti and -- remarkably -- duplicated to the thousandth of a second by Gil de Ferran a year later.
The cars in those days had close to 900 horsepower, which shows just how much grip the combination of the Dallara DW12 chassis and red-sidewall Firestone alternate tires produce.
"It's so bloody quick around here," marveled Power after averaging 123.825 mph around the 2.258-mile road course. "Man, when I got out of the car, I felt dizzy. I probably held my breath through a lot of the lap. We just need to be good in every situation and keep chipping away at the points lead that [Ryan] Hunter-Reay's got."
The afternoon was reserved for the American Le Mans Series, as prototype and GT classes went to battle in the heart of the day. The track got slick as it heated up, but that didn't stop the Pickett Racing Muscle Milk team from dominating the action, as Lucas Luhr and Klaus Graf put together their fifth consecutive race win.
The only problem the German duo suffered in their HPD ARX-03a-Honda was slight difficulty when restarting the car after pit stops. ALMS rules mandate shutting down engines when refueling.
"That got all of our attention and gave us some extra heart beats," Luhr said. "Winning five races in a row is very special. From the outside looking in, it might have looked easy, but everyone -- Klaus, myself, everyone from Muscle Milk Honda -- are working overtime and very hard. It is very special to win five in a row, and in this style."
[+] Enlarge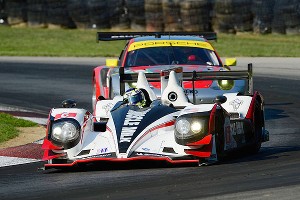 Rick Dole/Getty ImagesKlaus Graf teamed up with Lucas Luhr to win their fifth American Le Mans Series race in a row.
One driver who had the afternoon off chose to skip the nap in favor of watching the ALMS action with keen interest. It was three-time IndyCar Series champion Franchitti, whose brother, Marino, was making his second start in the Prototype Challenge class for Oreca FLM09 chassis and first for PR1/Mathiasen Motorsports.
The younger Franchitti took the class pole over former IndyCar racer Bruno Junqueira, then co-drove with Rudy Junco Jr. to the win after Ryan Dalziel had to make a splash-and-go fuel stop late in the race.
Big brother Dario was waiting in Victory Circle.
"It was a nice debut with the team, wasn't it?" Marino exclaimed. "This was a very fun win, an exciting time. I'm looking forward to the next race for sure."
For the road-racing faithful who are camping at Mid-Ohio, the Saturday card still wasn't done. Races for US F2000 formula cars and Pirelli World Challenge sports cars followed before it was finally time to head back to the campsite, grab a cold beverage, rustle up some grub and get a hearty campfire burning.
With rain forecast overnight and into Sunday, you have to wonder who's keeping a closer watch on the skies: the Indy car drivers or the campers.
"It could be kind of crazy with the weather," said three-time Mid-Ohio winner Scott Dixon. "I have a feeling there would be a lot of yellows if we raced in the wet."