Sid Watkins laid safety foundation in F1
September, 12, 2012
09/12/12
10:30
PM ET
Professor Sid Watkins, who was instrumental in improving driver rescue and safety during a 26-year tenure as the FIA Formula One safety and medical delegate, died shortly after marking his 84th birthday.
Described as "F1's family physician" by team owner Frank Williams in a 2002 Car and Driver story, Watkins organized a dedicated medical team that traveled to all F1 races around the world, and he is credited with fast-tracking safety advances for drivers, cars and racetracks.
[+] Enlarge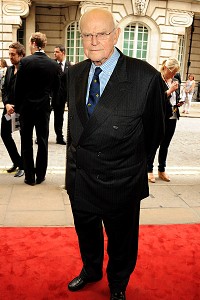 Dave M. Benett/Getty ImagesSid Watkins attended the U.K. premiere of "Senna," a documentary on Brazilian Formula One driver Ayrton Senna, in June 2011. Watkins tended to Senna after his fatal 1994 crash in Imola.
Watkins studied medicine at Oxford University before becoming a professor of neurosurgery at what is now known as SUNY Upstate Medical University in Syracuse, N.Y. His first experience working the medical field in racing came at the nearby Watkins Glen circuit, which hosted the U.S. Grand Prix F1 race from 1961 to 1980.
Watkins returned to the U.K. in 1970 to serve as the first professor of neurosurgery at London Hospital. Eight years later, after working for the Royal Auto Club's Motor Racing Medical Board, he was drafted into F1 by Bernie Ecclestone, who was then the leader of the Formula One Constructors Association.
Following Ronnie Peterson's fatal accident at Monza in 1978, Watkins insisted upon having a medical helicopter and mobile hospital at all circuits, as well as a professionally driven "chase" car that would get a doctor to the scene of an accident in as little time as possible. Watkins' trackside response is credited with saving the lives of numerous F1 drivers, including Didier Pironi, Nelson Piquet, Gerhard Berger, Martin Donnelly and Mika Hakkinen.
"We are always looking for ways to improve safety standards," Watkins told Car and Driver. "And although they are higher now than they've ever been, you can never become complacent."
In 2001, I attended a symposium on racing safety at the Autosport International Show in England, where Watkins introduced keynote speaker Niki Lauda. After barely surviving a fiery accident in the 1976 German Grand Prix at the Nurburgring, the three-time F1 world champion had first-hand knowledge of the need for rapid, specialized response and care at the racetrack. This is what Lauda said about Watkins:
"In the '70s, before I came back and raced until '85, the safety in Formula One was so bad that one guy got killed every year. Sometimes two, sometimes one, but for sure, every year one. So if there are 16 drivers, you can work it out for yourself when your time is over. This was a very difficult time for us.
"The biggest problem in those days was the medical care, because really there was no medical care whatsoever. When we raced, we put ourselves in situations where on Sunday, the local hospital was run by the fifth doctor there because the first four were on holiday. And all this was basically really very bad. So then Bernie Ecclestone, I believe it was in 1978, introduced Sid Watkins. It was a very easy introduction. He said, 'This is Professor Watkins, and he will take care of you guys.' We all looked at this certain professor, and he said one sentence: 'Guys, I am a brain surgeon and my one advantage is I can operate on you right in the car if something happens.' We were all really confused. I thought, 'If I hit the guard rail, the helmet comes off and Sid starts cutting.' So it wasn't a great introduction, and we all walked out of the room again thinking, 'Bernie is crazy. First everything else and now this crazy doctor here.'
"He had a lot of things to do. The first thing was to organize the infrastructure around the circuits, which really needed doctors at the right places, to know where the best hospitals are, who's in charge, and to make sure the right guys were there to take care of us at the right time. In the old days, the organization was pretty slow. They thought they could get us out to practice without a medical helicopter there. But I had an agreement with Sid, since I was the first one out of the pits. If the helicopter was there, I would drive out of the pits. But if it wasn't, I would park my car sideways blocking the pit exit until the helicopter was there.
"Slowly, he developed a perfect organization, and now you see medical cars following the cars around, and the drivers are immediately approached by the right doctors after an accident. There is no comparison to my days. Overall, he's done a perfect job, and I want to thank him now, even 15 years after I retired because the safety record in F1 has improved immensely. Unfortunately, [Ayrton] Senna and [Roland] Ratzenberger were the last two to be killed in a racing accident, but that was a number of years ago. From this point of view, the improvement in Formula One has been unbelievable."
Watkins, who retired following the 2004 F1 season, was a lively character who credited his longevity to whiskey and cigars. Every racing driver who has competed in Formula One over the past 30 years owes a debt of gratitude to him and his team of physicians, now headed by American Gary Hartstein.