Hulman CEO Miles good for INDYCAR?
November, 20, 2012
11/20/12
4:27
PM ET
INDIANAPOLIS -- Hulman & Co.'s appointment of Mark Miles as its new CEO looks like a smart move on a number of levels.
Miles is a legend in Indianapolis sports and business circles. He was the architect of the 1987 Pan American Games, the ambitious track and field event that put Indianapolis on the map as a great venue for amateur sports.
He then served for 15 years as president of the ATP Tour during a period of strong international growth for men's tennis. More recently, Miles was chairman of the committee that brought Super Bowl XLVI to Indianapolis in 2012, a hugely successful event that caused the National Football League to reassess the possibilities that Super Bowl week offers -- even in cold-weather cities.
[+] Enlarge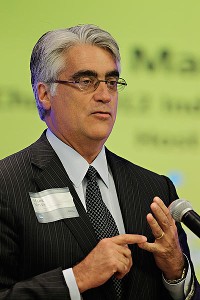 AP Photo/Darron CummingsNew Hulman & Co. CEO Mark Miles was instrumental in bringing the 2012 Super Bowl to Indianapolis.
In short, Miles has credibility locally, nationally and internationally. That could be of vital importance moving forward, because even though his mandate is not specifically to fix Indy car racing -- that falls to Jeff Belskus, CEO of the Indianapolis Motor Speedway and interim CEO of the INDYCAR organization -- Miles' new role at Hulman & Co. puts him in position to have huge influence on the sport.
"Jeff has a lot on his plate, but I hope and believe that I can make a contribution to his being successful," Miles said at a Tuesday media availability. "I think [the IndyCar Series] is vitally important. It's important as an economic question financially, and for the board, I think we believe that the destinies of IMS and the Indianapolis 500-Mile Race and the IndyCar Series are inextricably welded, woven together. So we are determined to grow the IndyCar Series as a sport, and that will help the Indianapolis 500-Mile Race in the process."
Although Belskus still has "interim" attached to his INDYCAR title, it's clear that he is energized by the opportunity to devote the majority of his attention to the series in the wake of a messy split with former CEO Randy Bernard.
This is Belskus' second stint as interim CEO for INDYCAR, and there are signs that he'd like to shed the temporary tag. Since the series split with Bernard a few weeks ago, Belskus has thrown himself into the task of repairing the broken lines of communication and bruised egos that developed in the second half of Bernard's tenure.
Belskus' familiarity to the Hulman-George family and the Indy car community, combined with Miles' experience and skills, could end up being a winning combination.
"Having Mark tasked with the broader issues of Hulman & Co., the business side, is going to allow me to focus on the race series and the event side of our business, which I'm excited about," said Belskus, who recently celebrated his 25th year with the Hulman family. "I spent a lot of time in the last three weeks engaging and working with team owners, promoters and sponsors, engaging fans and understanding what opportunities we have and what the barriers are to those opportunities.
"We've got a lot of good things ahead of us. The plan for 2013, a lot of it has been launched already with our schedule, and many things are underway. But we have other issues and other things that we need to deal with and provide clarity about in the weeks to come."
Belskus cited the fate of Lotus and the IndyCar Series' long-term plans for engine and tire supply as key issues that require quick resolution. Other topics being tabled include the implementation of aero kits in the IndyCar Series and the selection of chassis and engine suppliers for Indy Lights.
Hulman & Co. management is sometimes criticized for failing to see beyond the I-465 ring road that circles Indianapolis, but Miles' experience with the ATP Tour and the Super Bowl demonstrates that he sees the bigger picture, nationally and abroad.
Much of the tour's growth was fueled by sponsorships and international expansion, and Miles told a story from his tennis days during his introductory news conference that demonstrated that he truly understands the international potential of the IMS and IndyCar brands.
"From 1990 to 2005, it happened that Memorial Day coincided with the French Open championships in Paris," he said. "So I would hurry back from Roland Garros and get to the hotel and turn on the television, never wanting to miss Jim Nabors singing and catching the race on TV. We could follow it wherever we were in the world.
"During those years, living and traveling outside of the United States more than 50 percent of the time, I can tell you that it's absolutely true: You can't go anywhere in this world and have conversations with any people who have any kind of worldview and not have them know about Indy, INDYCAR and the Indianapolis Motor Speedway. So I come to this challenge with the perspective that we have a remarkable opportunity with a remarkable, potent, global brand."
Miles may not be the man running Indy car racing, but it sounds like he's a pretty good guy to have supervising and assisting the man who is.