Oreo's world: Snapshots from the road
January, 7, 2013
01/07/13
11:10
AM ET
About 15 years ago, when I worked public relations for PacWest Racing, team owner Bruce McCaw suggested that I carry a point-and-shoot camera with me to capture on film whatever memorable moments might occur.
Of course, these days almost everyone -- myself included -- carries a point-and-shoot camera embedded in their cellphone. The quality of the images these tiny devices produce is sometimes astounding, and the proliferation of websites such as Instagram and Twitter has demonstrated that people love to share what happens in their lives.
ESPN The Mag's Ryan McGee recently posted his favorite pictures from the 2012 NASCAR season, and that inspired me to do the same. Here, therefore, are some of the memorable images I captured on the job throughout 2012:
Waiting game -- The Dallara DW12 was not quite ready for prime time when it made its official debut at an open test at Sebring International Raceway in January. As a result, there was plenty of time for the drivers to wait around, and several of them spent that time watching from a spectator area while their cars were prepared. From left, Graham Rahal, James Hinchcliffe, Marco Andretti, Ryan Hunter-Reay and Tony Kanaan discussed their offseason exploits.
---
***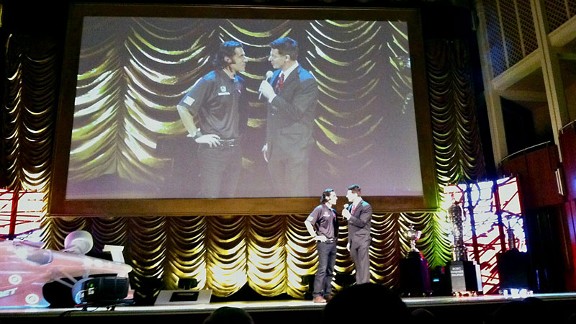 John Oreovicz/ESPN.com
Back to work -- For the first time, INDYCAR held a State of the Sport summit at the Hilbert Circle Theater in Indianapolis in February. It was the first public appearance by the series' drivers and management since Dan Wheldon's death four months earlier, and the mood was still somewhat somber. Here Kevin Lee interviews 2011 IndyCar Series champion Dario Franchitti.
---
***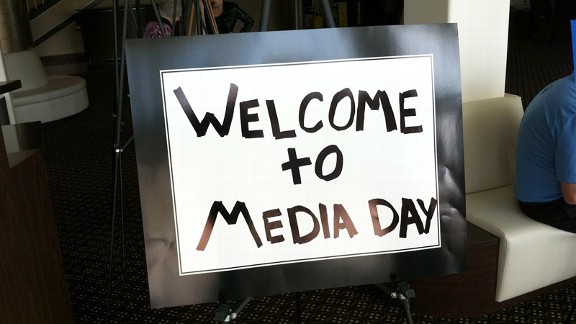 John Oreovicz/ESPN.com
Sign of the times? -- Every now and then you get reminded that the IndyCar Series isn't quite as big and professional as NASCAR and other major sports.
---
***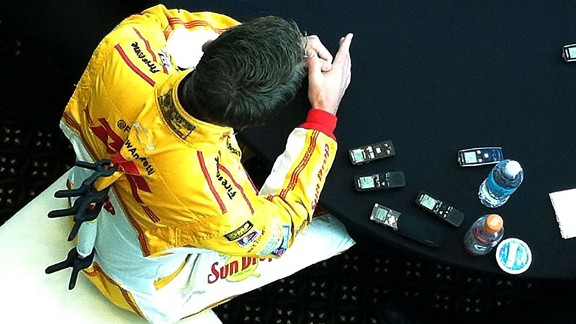 John Oreovicz/ESPN.com
Breathing room -- Photo and video shoots are a major part of media day, and many of the drivers are just trying on their new suits for the first time. OMP's first attempt at Hunter-Reay's 2012 duds came out a bit big, as seen by this overhead shot that reveals the clips in back holding the front taut.
---
***
[+] Enlarge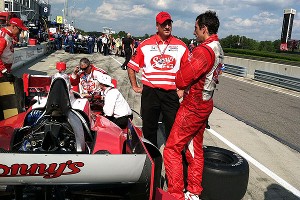 John Oreovicz/ESPN
Pit perspective -- Immediately after a race ends, I tend to make a lap of the pit lane to get quotes from competitors who may have played a notable part in the race but didn't finish on the podium. I like this picture I snapped of engineer Bill Pappas and driver Justin Wilson debriefing after the race at Barber Motorsports Park in April.
---
***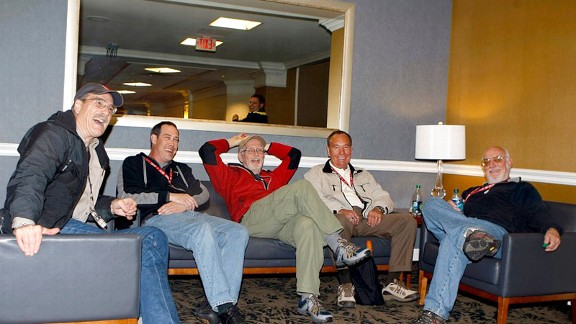 Phil Abbott/LAT
Catching up -- Friends and colleagues catch up outside the Long Beach Grand Prix media center in April. From left, John Zimmermann, John Oreovicz, David Phillips, Steve Chassey and Gordon Kirby.
---
***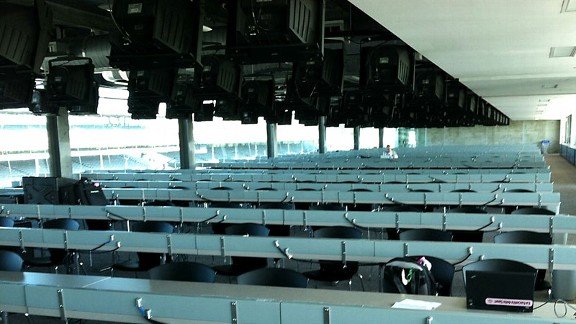 John Oreovicz/ESPN.com
Calm before the storm -- This was the sight that greeted me upon arrival at the Indianapolis Motor Speedway's fourth-floor media center on the opening day of practice for the Indianapolis 500. That lone figure busily typing away is Curt Cavin of the Indianapolis Star.
---
***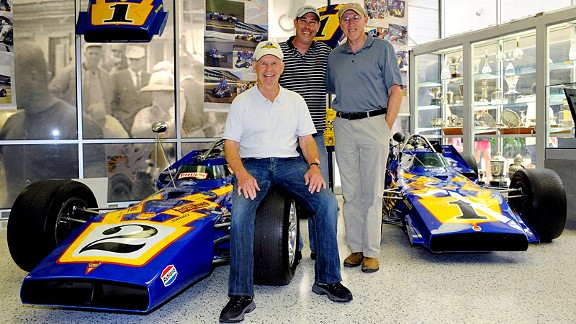 F. Peirce Williams/LAT
Parnelli and me -- My dad came to visit me during a practice day during the month of May. He arrived before cars were on track, so we decided to visit the IMS Hall of Fame Museum. We ran into my friend (and pro shooter) Peirce Williams, waiting in the Parnelli Jones Collection, who said, "I know why you're here!" Just then, Parnelli himself walked in for a photo shoot with Peirce and Greg Griffo of the Indianapolis Star. When the official shots were done, Peirce insisted on getting a shot of Dad and me with Parnelli. What a souvenir!
---
***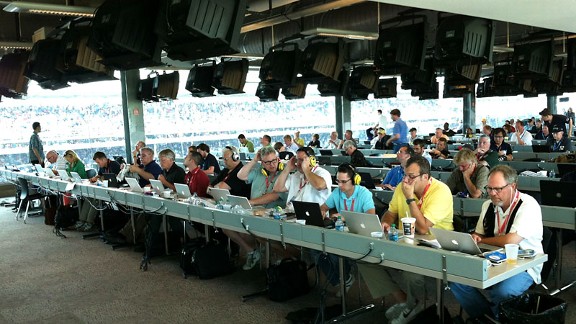 John Oreovicz/ESPN.com.
Let the fun begin -- This is the "after" picture of the Indianapolis Motor Speedway media center in full swing on race day. Now the entire row reserved for The Star is filled.
---
***
Proud fan -- Carb Day is the new party day during the month of May at Indy, and you see some pretty crazy fans.
---
***
Uh, OK -- Apparently I wasn't the only one who thought this jolly group was photo-worthy.
---
***
[+] Enlarge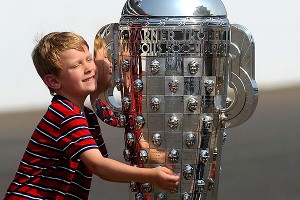 F. Peirce Williams/LAT
Memory of a lifetime -- Dario Franchitti suggested that I bring my 6-year-old son, Patrick, over to the Indy 500 winner's photo shoot the day after the race. This is the result. Thanks, Dario!
---
***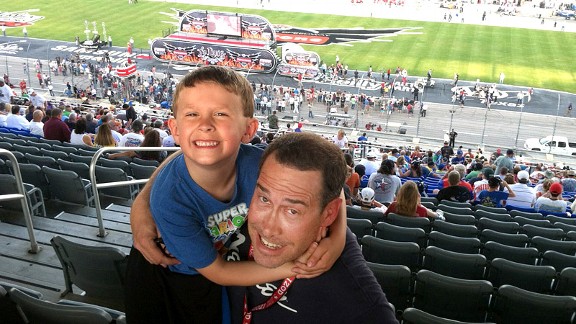 John Oreovicz/ESPN.com
A fan's perspective -- ESPN.com assigned Terry Blount to cover his home race at Texas Motor Speedway, but it was an event I wanted to attend anyway. So Patrick and I logged a mighty 2,800-mile road trip that took his tally of states visited up to 22 (not bad for a 6-year-old!) and watched the June 9 race from the grandstands.
---
***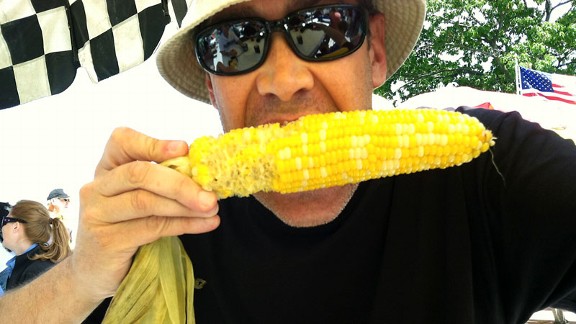 John Oreovicz/ESPN.com
Lip-smackin' good -- It was a true pleasure to return to Elkhart Lake, Wisc., to my favorite track in America for the first time in five years. Naturally I celebrated with a bratwurst and an ear of fire-roasted corn.
---
***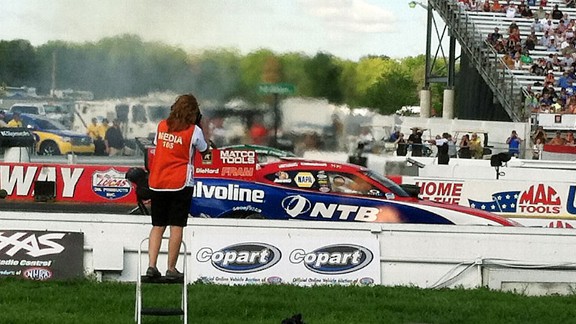 John Oreovicz/ESPN.com
Did you see that? -- I mixed in a few drag racing events along with IndyCar and Le Mans. I like this image -- three cameras capturing the same shot at the U.S Nationals in September.
---
***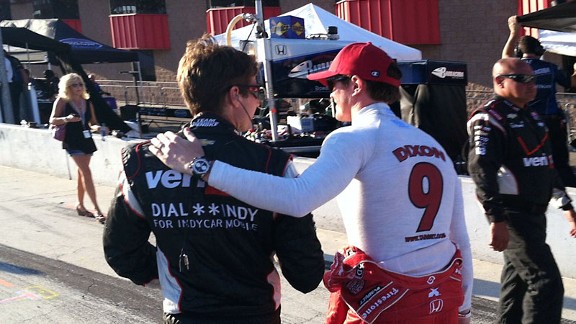 John Oreovicz/ESPN.com
Prerace banter -- Scott Dixon wishes Will Power good luck prior to the crucial final race of the IndyCar Series season Sept. 15 at Auto Club Speedway. Apparently it didn't work.
---
***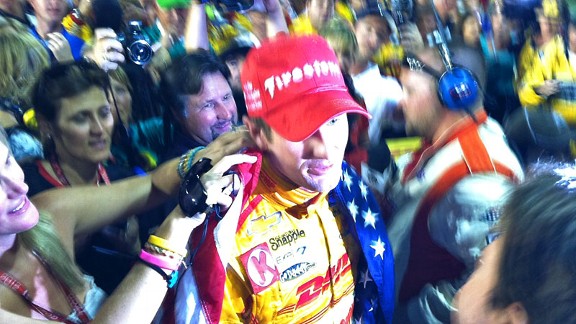 John Oreovicz/ESPN.com
Caught in the middle -- I was right there in Victory Lane when Power arrived to congratulate the new champion, Hunter-Reay. Talk about chaos!
---
***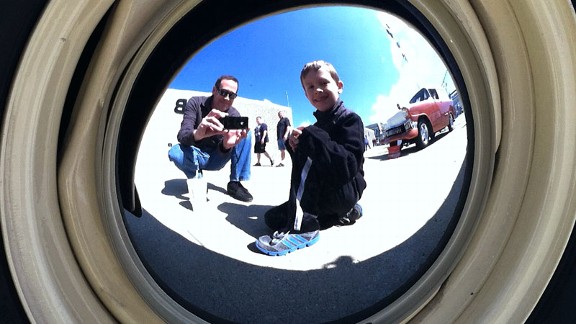 John Oreovicz/ESPN.com
Bring on '13 -- Reflecting on the last year with my son at the Good Guys Hot Rod and Custom show at IMS. Happy New Year, everyone!