Oreo's world: Jones gets a 'Baby' gift
January, 17, 2013
01/17/13
4:33
PM ET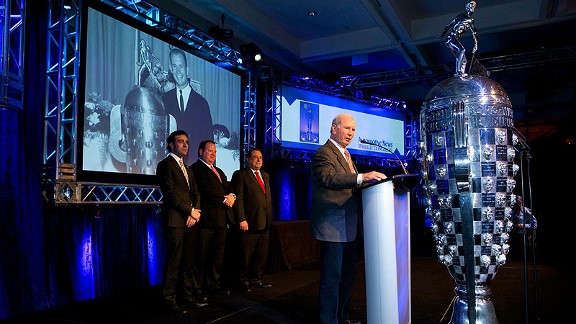 Michael Levitt/LAT Parnelli Jones glances at the real Borg-Warner Trophy on the day he was presented his replica.
DETROIT -- They say Parnelli Jones was prepared for any situation he faced as a driver or racing team owner.
But the 79-year-old legend wasn't prepared for what hit him Wednesday night in Detroit.
While in town at the Automotive News World Congress dinner to help present Dario Franchitti with the "Baby Borg" replica of the Borg-Warner Trophy that has been presented to Indianapolis 500 winners since 1988, Jones had the tables turned, as Franchitti presented him with the first Baby Borg created for a past Indy champion from the previous era.
2013 marks the 50th anniversary of Jones' victory in the 1963 Indianapolis 500, a classic duel that saw Parnelli in his traditional front-engine roadster pitted against Franchitti's hero Jim Clark in the revolutionary rear-engine Lotus-Ford.
[+] Enlarge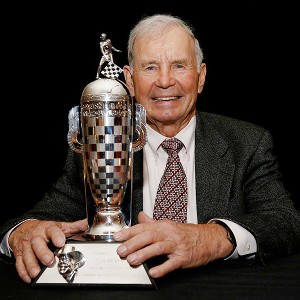 Michael Levitt/LATParnelli Jones shows off his Baby Borg. Given to Indianapolis 500 winners beginning in 1988, he is the first champion from before that era to be presented with the replica.
Jones' diverse career included success in such events as the Baja 1000 in the desert and Trans-Am road racing, but he is most famous for his achievements at Indianapolis Motor Speedway, where he led five of the seven Indianapolis 500s he started. Jones dominated the 1963 and 1967 contests but saw the checkered flag only in '63; a bearing failure in the radical STP Turbine car ended his '67 race four laps short of the finish. Jones never started lower than the second row at Indy, and he was the first driver to achieve the 150 mph milestone in qualifying. He shared Rookie of the Year laurels with Bobby Marshman in 1961 and finished second to Clark in the 1965 race.
The 2,000 industry dignitaries in attendance gave Jones a standing ovation when the surprise was revealed.
"We are extremely pleased to commemorate the 50th anniversary of Parnelli's Indianapolis 500 victory by presenting him with a personal symbol of his achievement -- a Baby Borg," said Timothy Manganello, executive chairman of BorgWarner. "Dario and Parnelli will tell you that the thrill of winning the greatest race in the world is beyond description, and looking at all of the faces and names on the Borg-Warner Trophy, you realize you've joined a very elite group of champions, representing a centurylong tradition of achievement."
Franchitti was in on the Baby Borg caper from the start. The seed was planted in the fall when he sat down for an interview in Los Angeles with Jones and four-time Indy 500 winner Rick Mears. Somehow the point was raised that Mears was the first Indianapolis winner to receive a Baby Borg, a 14-inch replica of the priceless 5½-foot-tall, 110-pound original Borg-Warner Trophy that debuted in 1936.
"I said, 'I need one of those,' and I guess they took it upon themselves to get that rolling with BorgWarner," Jones said.
Franchitti and former INDYCAR PR man Steve Shunck learned that Baby Borgs had been privately commissioned in the past for upward of $25,000.
But realizing the historic significance of 50 years since Jones' Indy victory and a potential way to annually recognize other past champions, BorgWarner helped create a new Indy tradition.
"It was so neat to see our plan for getting him one come together," Franchitti said. "Winning the Indianapolis 500 is a special honor, and I am thrilled to be able to see Parnelli get a retro Baby Borg 50 years later to remember his win in a very special way.
"I am very honored to be receiving my third Baby Borg this year," added the four-time IndyCar Series champion. "My Baby Borgs take front and center among all my trophies, and I know Parnelli is thrilled."
The surprise honoree was suitably humbled by the presentation and the warm reception.
[+] Enlarge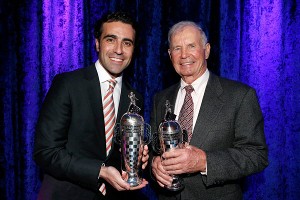 Michael Levitt/LAT 1963 Indianapolis 500 winner Parnelli Jones, right, and 2012 winner Dario Franchitti show off their Baby Borg trophies.
"They shocked me," Jones said. "I had mentioned to those guys that when I won Indy all I got was a plaque. That's not fair! I said I'd even be willing to pay for it. I had no idea they were going to present me with my own Baby Borg.
"It seems like it all happened maybe 20 years ago or something, not 50," he added. "I have a lot of great memories from that time, but you never get over the thrill of winning the Indianapolis 500."
As an aficionado of motorsports history, Franchitti was honored to have Jones present the Baby Borg for his third Indy win. Jones holds Franchitti in high regard as well.
"He's in the same class as Rick Mears and Al Unser in my opinion," Jones said. "They have a lot of finesse, and they know how to win. He's got a lot of confidence in his own ability, but he's not a daredevil-type race driver. He uses common sense, and he knows how to get to the end. There are guys who have a lot of talent and a lot of desire, but he knows how to finish, and that's important."
Although he is approaching 80, Jones remains as busy as ever. He is currently promoting a new biography titled "As a matter of fact, I am Parnelli Jones."
"It was an honor to be here honoring Parnelli tonight," Franchitti said. "Not only is he a man who could drive anything quickly, he's possibly one of the toughest guys ever in racing. He could completely kick the ass of anyone I've ever met. He still looks like he's made out of granite.
"I'm glad I didn't have to race against him, because he would have definitely kicked my ass!"