Dallara, Ferrari roll out the red carpet
February, 12, 2013
02/12/13
12:16
PM ET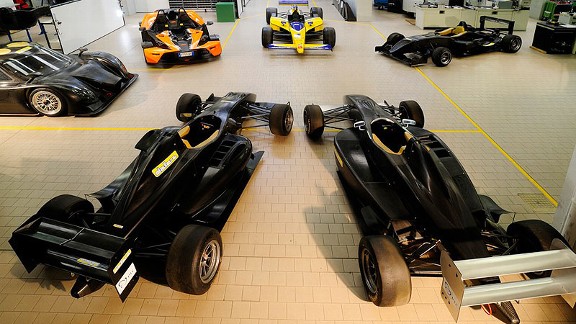 Courtesy Dallara AutomobiliEye candy for racers: a collection of Dallara cars at company headquarters in Varano, Italy.
VARANO, Italy -- I wasn't surprised when the folks at Dallara Automobili asked me to pay them a visit. After all, I live just three blocks from the Italian company's American assembly facility and interactive exhibit in the shadows of the Indianapolis Motor Speedway.
"No, Mr. Oreovicz, we would like you to come to Varano, to meet Mr. Dallara and see for yourself what we are all about."
An opportunity like that doesn't come along very often, so a few days later, I found myself boarding an American Airlines Boeing 767 with television analysts Scott Goodyear (ABC) and Jon Beekhuis (NBC Sports) plus a small contingent of INDYCAR officials. Over the course of 48 hours, we received a crash course in the unique culture of the firm Gian Paolo Dallara started more than 40 years ago in the village he was born in.
Mr. Dallara, 76, was an engineering prodigy who found himself stifled by the politics of working with manufacturers such as Ferrari, Maserati, Lamborghini and De Tomaso. So in 1971, he struck out on his own and designed and built his first sports racing car in the garage of his home in Varano de' Melegari, a village of approximately 2,000 residents about 20 miles from the historic city of Parma.
[+] Enlarge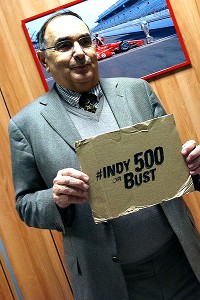 John Oreovicz/ESPNGian Paolo Dallara, 76, crafted his first sports racing car in the garage of his home in Varano in 1971.
Dallara is now the world's leading producer of customer racing cars, and the company has built a lucrative consultancy business working to develop road and racing cars. As a leader in aerodynamics and the use of carbon fiber construction, Dallara has played a key role in the creation of almost every Audi DTM and Le Mans car, not to mention outrageous street machines like the Bugatti Veyron and KTM X-Bow. But Dallara is still solidly rooted in Varano, with a small campus of buildings on the outskirts of town. If a Varano resident doesn't work for Dallara, he or she has a friend or relative who does.
Our group's connection to Dallara was through Indy car racing. When Tony George formed the Indy Racing League (now the Izod IndyCar Series), he needed chassis suppliers not affiliated with the existing CART-sanctioned Indy car championship. Enter Dallara, which battled with G-Force for IRL supremacy for nearly 10 years before the Italians established a monopoly in the chassis market. Dallara was then awarded the contract to produce the spec chassis that entered IndyCar Series competition in 2012. Since 1997, Dallara drivers have won 11 IRL or IndyCar Series championships, and the marque has tasted victory in the Indianapolis 500 no fewer than 12 times.
Dallara says its three core competencies are design (specializing in the use of carbon fiber), aerodynamics and vehicle dynamics. The company's revenues are generated 60 percent from racing and 40 percent from consultancy, three-quarters of which comes from racing-related projects. Dallara also helped design and develop the hand bike that Mr. Dallara's longtime friend Alex Zanardi used to win several medals at the 2012 London Paralympic Games.
The company employs 200 people with an unusually youthful average age of 32. "We are a young company, except for myself and Gian Paolo," jokes Dallara CEO Andrea Pontremoli. "We prefer to grow in knowledge, not size."
A key part of Dallara's measured growth was the construction of the American base on Main Street in Speedway, Ind. The $12 million facility is not a factory; the Dallara DW12 Indy car (known internally as the IR12) was designed in Italy and mostly constructed there. The Speedway plant manufactures suspension and bodywork components and handles the final assembly of cars before they are shipped to customer teams. There is also a permanent exhibition area with interactive displays aimed at introducing kids to Indy car racing. The facility houses a design office for American customer consultancies and the first Lino's Coffee franchise in America.
America is Dallara's only planned area of expansion and accounts for almost a quarter of Dallara's annual turnover.
"We want to produce in dollars what we sell in dollars, the same as in Europe," Pontremini said. "Big spreads in the exchange rate can be a problem for our company. In the last two years alone, it changed 20 percent. We want to replicate our European business model, where we work with about 80 suppliers within a short distance of our headquarters. We have more than 25 suppliers now in the U.S. and our goal is 40.
"We're not interested in mass production. We prefer the design side, but we have the capability to produce small quantities of prototypes for real-world testing. We try to keep ourselves on the edge of developing use of carbon fiber."
[+] Enlarge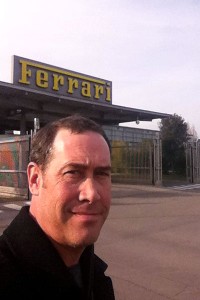 John Oreovicz/ESPNA gearhead's dream come true: John Oreovicz at the gates of the Ferrari factory in Maranello, Italy.
At Varano, Dallara has developed high-speed stereography techniques to create the parts needed to build half-scale models for testing in the state-of-the-art wind tunnel the company dedicated in 2008. A more recent innovation is what may be the world's most sophisticated driving simulator; our group watched KV Racing's Simona De Silvestro turn laps at Sebring International Raceway, Sonoma Raceway and the Long Beach street course during our visit.
Dallara plans to install an identical $1 million simulator in its American facility in the next year.
"It's really cool, and it's pretty useful once you adapt to the motions the simulator makes," De Silvestro said. "The simulator can help you understand things about the way the car feels, and you can maybe use it to learn new or unfamiliar tracks.
"But it's an even more important tool for the engineers because they can make changes to the chassis or engine setup in five minutes when it might take hours at the track. We did 400 laps of Sebring in two days, which would be impossible in real life, and the data confirmed our findings from our last real-world test at Sebring a few weeks ago."
Happily, there was a small amount of free time on our whirlwind trip, so we enjoyed a morning of sightseeing in Parma, including the Teatro (Theater) Farnese completed in 1618 that was severely damaged in bombing by the Allies in 1944 and subsequently restored in the post-war period. Other highlights were the Romanesque cathedral, the adjacent Baptistery and the San Giovanni Evangelista, featuring a beautifully painted dome with the first known use of illusionistic perspective. The Emilia Romagna region is also famous for food, including superb prosciutto, Parma ham and Parmigiano Reggiano cheese.
Our group of gearheads then journeyed to Maranello, where we bowed in homage at the gates of the Ferrari factory and toured the new Ferrari Museum in Fiorano. While disappointed that my quest to see a Ferrari 312T went unrewarded (the 1975 Formula 1 world championship winner driven by Niki Lauda is my favorite race car of all time), I was greatly moved by an exhibit dedicated to the memory of the late Gilles Villeneuve. There were a pair of Gilles' F1 cars on display (the 1979 312T4 and the 1981 126C), but what I thought was even cooler was the 308GTS road car with which Villeneuve set an unofficial record of 2 hours, 25 minutes from Monte Carlo to Maranello -- an average speed of 111 mph!
Goodyear related that last year he emceed an event in Canada at which Villeneuve's widow, Joanne, was special guest of honor. He marveled at how she said she simply slept in the passenger seat while her husband drove flat-out all over the roads of Europe in the manner in which he was famous for on the track. The ghost of Gilles -- a favorite son of Enzo Ferrari -- looms large over Ferrari even more than 30 years after his death in a 1982 racing accident.
As a kid who grew up as a passionate fan of F1, and Ferrari drivers in particular, it was a real treat to visit the museum. But it was also a pleasure to make many new friends at Dallara and learn about a company that has made such a significant impact on the world of Indy car racing. The Italians are superb hosts, and I sincerely hope that Mr. Dallara accepts the invitation I extended to visit my home in May when he is in town for the Indianapolis 500 to experience an American backyard barbecue.