24 years later, Indy cars back at Pocono
April, 11, 2013
04/11/13
11:44
AM ET
INDIANAPOLIS -- I was born in Pennsylvania, but I moved two states to the west when I was 10 years old and the Indianapolis Motor Speedway became my home track.
I still enjoy returning to the Keystone State to reminisce about my youth and pay respects to my deceased family members. However, I'm particularly excited to head back to PA this summer because I get to go cover the IZOD IndyCar Series at a racetrack I've never visited: Pocono Raceway.
[+] Enlarge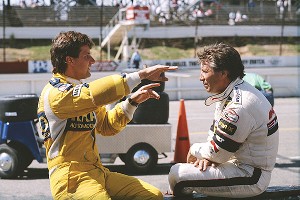 Michael Brennan/Getty ImagesMario Andretti, right, and son Michael discuss strategy at Pocono Raceway in 1988. Indy car racing returns to Long Pond, Pa., July 7 after 24 years.
Indy cars last raced at the 2.5-mile tri-oval in 1989, when defending CART/PPG IndyCar World Series champion Danny Sullivan scored the final oval track victory of his career for Penske Racing. It's hard to believe that nearly a quarter of a century passed before the return of open-wheel cars to Pocono, which happened in the form of a Firestone tire test Wednesday.
"We've been waiting for this moment, and we belong here," commented Indy car legend (and local resident) Mario Andretti, who was on hand to watch his grandson, Marco, in action.
"This place was built for Indy cars. The facility is fabulous, and it was my favorite superspeedway to drive on. It's different from any other superspeedway we run because of the very different radius of every corner and also different banking. That's what I really enjoyed about this place."
Three other drivers (Will Power of Team Penske, Dario Franchitti of Ganassi Racing and Simon Pagenaud of Sam Schmidt Motorsports) ran laps Wednesday, and all four pilots comfortably eclipsed Emerson Fittipaldi's pole-setting track record from 1989 of 211.75 mph. No speeds were announced, but Firestone confirmed that the 215 mph barrier was easily surpassed.
Scheduled for July 7, the Pocono 400 is the second of three rounds in a revived "Triple Crown" of superspeedway races in which Fuzzy's Vodka will pay a $1 million bonus to any driver who sweeps all three events. The other rounds are the Indianapolis 500 and the IndyCar Series finale at Auto Club Speedway in Fontana, Calif. From 1971 to 1980, the Triple Crown consisted of 500-milers at Ontario Motor Speedway, Indianapolis and Pocono; Ontario closed in 1980 and was replaced by Michigan Speedway. Al Unser is the only driver in history to have swept the Triple Crown (1978).
As Mario Andretti alluded, the challenge of Pocono is the three distinctive turns, two of which are linked by the longest straight on any oval track Indy cars race on -- 3,740 feet, or more than seven-tenths of a mile.
Because none of the current drivers has raced there -- with the exception of Franchitti, who competed at Pocono in 2008 in a NASCAR stock car during his sabbatical from Indy car racing -- I asked three-time Pocono winner Rick Mears to explain the secret to being successful there.
"It was always one of my favorite tracks, just because it's so challenging," Mears related. "That's down to the layout, and it's tough to set up the car to work everywhere. You've basically got Michigan in Turn 1, with banking kind of similar to that, then Indianapolis in Turn 2 and Milwaukee in Turn 3. There was always a compromise in tuning the car because you could never get all three corners together. If you were good in 3, you usually weren't good in 1 and 2. But if you were good in 1 and 2, you weren't too good in 3.
[+] Enlarge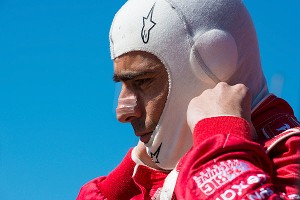 Robert Laberge/Getty ImagesFour-time IndyCar Series champion Dario Franchitti on his return to Pocono this summer: "It's going to be a very good race."
"Of course, 3 is a critical corner because it leads onto a long straightaway. So there was always a happy balance you tried to find to run well there, whether it was in qualifying or the race. Back then, we had bumps to contend with, but that was part of the challenge. Gearing could be critical for this race, with the narrower power band of smaller engines. Hopefully we won't have an aero package that lets them run wide open because pedaling it was what made it fun."
Remarkably, the modern Indy car drivers reported that they were able to lap the 2.5-mile track flat-out despite using the Indianapolis wing package that produces the lowest amount of downforce available for the Dallara DW12 chassis. It's likely that INDYCAR technical director Will Phillips will come up with a reduced downforce package by the time the series returns to Pennsylvania in July.
"It's a really nice track, very smooth with the resurfacing," Power reported. "It's very fast; I'm already wide-open all the way around. We're maybe a little bit heavy on downforce, but it's nice. It's going to be fun if your car is good. If not, you're not going to want to be out there."
Naturally, Franchitti was asked to compare driving the track in a stock car and an Indy car. It's apples and oranges.
"I had some preconceived ideas, having driven the Cup car," Franchitti said. "The tunnel turn [2] is probably the most similar car to car, but we're still, I think, 20 or 30 mph quicker in the Indy car. Going through 3 wide open right now defies logic, really, when you consider we have Indianapolis spec wings on the car.
"There's always compromise, especially at a track with three such different corners," he added. "You're always going to be better at one corner than another. The trick is to figure out which one you can give away the most in order to still be competitive. You've got to figure out which one is the one you can give away something to be perfect on the one or two other corners.
"It's going to be a very good race."
Just a few years ago, the notion of Indy cars returning to Pocono was unthinkable -- for safety reasons. But in recent times, the track was resurfaced and the old boilerplate wall was replaced by SAFER barrier-protected concrete.
"Needless to say, if you crashed, that could be like a razor blade chopping the car in half," Power observed. "I'm glad things have changed.
"I really hope when we come and race here we get a big crowd. I think these cars around here, with the corner speeds they carry, are pretty impressive. I hope people come and watch."