Viso fast on rain-shortened Fast Friday
May, 17, 2013
05/17/13
6:35
PM ET
INDIANAPOLIS -- E.J. Viso came within the blink of an eye of the first 230 mph lap in a decade at Indianapolis Motor Speedway on "Fast Friday."
Viso, driving a Dallara/Chevrolet for the Andretti Autosport team, uncorked a lap of 229.532 mph in his Citgo-sponsored machine.
Andretti Autosport claimed the top three speeds as Marco Andretti and rookie Carlos Munoz both topped 228 mph. Chevrolet-powered cars claimed the top eight positions on the speed chart, with three-time Indianapolis 500 winner Dario Franchitti the fastest Honda-powered competitor at 227.080 mph.
With an additional 10 mPA of turbocharger boost creating 40-45 extra horsepower, Friday practice speeds were approximately 4.5 mph faster than the previous best speed of the week -- 225.163 mph set by Munoz on Thursday.
Last year, the cool conditions of the final practice session on Saturday morning prior to qualifying produced laps about 0.3 mph quicker than Fast Friday of 2012.
[+] Enlarge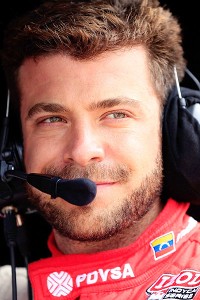 Jamie Squire/Getty ImagesE.J. Viso and the rest of the Andretti Autosport team were fastest on Fast Friday.
This year, Fast Friday conditions were not ideal for speed, with temperatures around 80 degrees and considerable humidity.
"I reckon we'd have been over 230 if we had a full day," Andretti said. "Obviously those were 'tow' laps.
"I think as a team, we're very comfortable with where we're at," he added. "But tomorrow is another day."
Andretti revealed that if he had his way, he'd sleep right through the Saturday 8 a.m. practice session.
"You don't learn a lot and in fact you can actually fool yourself," he said. "I think we were confident enough with our last couple of runs that we could just go out and qualify right now."
This is the second year that INDYCAR increased the turbo boost for Fast Friday and qualifying in an effort to produce speeds with a bit more sizzle. Last year, the drivers unanimously stated their desire to race with the additional horsepower, and most teams would prefer to have a consistent amount of power to work with as they develop their chassis setups.
"It's difficult for us to actually work on qualifying setups throughout the week, because typically the speeds build up gradually throughout the week and then on Friday you have this large buildup in terms of speed," explained Penske Racing president Tim Cindric. "You have to understand how the additional speed will affect the balance of the car. It's a lot to ask of these guys to have that difference in speed of 5-7 mph right before qualifying.
"I think it's good in terms of the overall impact to the sport, it's just difficult to do that in the short period of time like we have," he added. "But I'm certainly an advocate of trying to set new track records here, so I think we need to continue to work towards the right balance of safety and speed."
Teams lost nearly three hours of track time on Friday when rain swept into the Speedway at about 3:15 p.m. IMS officials called an end to the day's activity at 3:42 p.m. and moved the traditional draw for qualifying positions up to 5:00 p.m.
"Today is the day when the pressure really begins to mount for the drivers, and when you get a weather situation like we had today where it looked like we'd only be able to run up to about 3 o'clock, that just amplifies the situation," Cindric said. "It depends on the engine manufacturers, but I think you'll see 230 in tomorrow morning's practice. 230 might be a stretch, and I don't want to put that expectation out there. But I think we'll see those laps with some draft."
Last year's four-lap average pole speed was set by Ryan Briscoe at 226.484 mph. Helio Castroneves had the fastest individual lap speed of the month last year at 227.744 mph.
"It's very difficult to predict anything right now," said Ed Carpenter -- the IndyCar Series' most recent 500-mile race winner at Auto Club Speedway last season -- who was quickest on opening day, but 16th on Fast Friday at 226.768 mph. "I think the pole will be in the high 227 or low 228 for four laps.
"I have a good idea of what I think we can run on Saturday, but I'm not sure what everyone else can do."