Dinner with Unser, Jones and Rutherford
May, 22, 2013
05/22/13
11:24
AM ET
INDIANAPOLIS -- Media dinners can go one of two ways.
Some can be a great opportunity to get to know a driver or key team member in a casual setting. Others are less satisfying, cold and calculated affairs in which pretty much everyone involved would rather be someplace else.
I suppose you could technically say that I attended a media dinner on Monday night. Yes, there were a handful of media members there -- myself, Robin Miller from Speed Channel, photographer Michael Levitt and Dave Furst of WRTV-6, the local ABC affiliate.
[+] Enlarge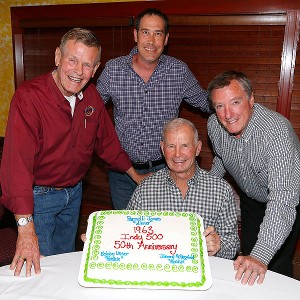 Mike Levitt/LATJohn Oreovicz, top, celebrates the 50th anniversary of the 1963 Indianapolis 500 with Bobby Unser, Parnelli Jones and Johnny Rutherford.
But Steve Shunck, the former CART and INDYCAR publicist now working on behalf of BorgWarner, didn't invite us to Mo's Steakhouse in downtown Indianapolis because he was looking to place a story.
Though it probably wouldn't hurt to mention that in addition to providing the iconic Borg-Warner Trophy to the winner of the Indianapolis 500, BorgWarner supplies the turbochargers for all of the Chevrolet and Honda engines in this year's Indy field.
No, Shunck just figured as friends who have a genuine, longtime love for Indy car racing that we would enjoy spending an evening with his pals Parnelli Jones, Bobby Unser and Johnny Rutherford.
Looking at Parnelli, still fit as a fiddle at 79, it's hard to believe that 50 years have passed since his famous victory in the 1963 Indianapolis 500. The statistics don't show it, but Jones was one of the dominant drivers of his era, especially at Indianapolis over the six-year period from 1961-67.
Rutherford and Unser were Indy rookies in 1963, set to enjoy long and prosperous Indy car careers. Both ended up winning national championships and tasted three wins apiece at Indianapolis -- Unser in 1968, '75 and '81, Rutherford in 1974, '76 and '80.
Unser and Rutherford had their wives along, and our table was completed by longtime Indy car mechanic and crew chief Tim Coffeen. There was no business being conducted, no message to convey, no reputation to rescue, no product to sell.
Just a group of good people, talking racing.
Miller, who has been around long enough to be old friends with all three legends, brought a stack of photographs from his vast collection. They got passed around the table, bringing back the memories.
They talked about Bud Tinglestad, Bobby Grim, Jud Larson, Joe Leonard, Lloyd Ruby, and Don Branson. Winchester, Salem, Trenton and Langhorne.
Unser got positively weepy when he saw a picture of his 20-year-old self, barreling up Pikes Peak back in 1955 in a homebuilt jalopy.
[+] Enlarge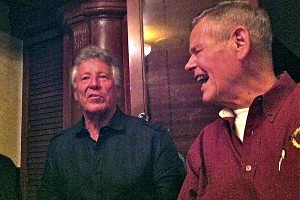 Courtesy of John OreoviczMario Andretti had plenty of stories to tell, and Bobby Unser, for one, was a captive audience.
"What a s---box!" needled Jones.
They talked in reverence of A.J. Foyt the racer, and they all had a funny story about Gordon Johncock.
Actually, they all had several hilarious Gordon Johncock tales.
As if the evening couldn't get any better, after dinner, a guy who has been around almost as long as Jones, Rutherford and Unser stopped by our table and offered to buy a round of wine.
Mario Andretti didn't break into Indy cars until 1964, but he immediately established himself as a star on and off the track. That much was obvious by the camaraderie he shared with his old friends.
Mario didn't have any obligation to visit, but he stayed and talked for an hour, trading quips with all the former racers.
"Remember going back and forth to Monza in '68?" Andretti asked Unser, before they shared the tale of trying to compete in the Italian Grand Prix and the Hoosier Hundred -- during the same weekend.
They chartered helicopters and private jets. They slept on the floor across the aisle of their TWA flights to and from Milan.
Although he was a native Italian, Andretti got Unser to drive their rental car over there and Uncle Bobby nearly ended up in jail.
"Twenty thousand will take care of it," Andretti told his American companion.
Unser panicked, not realizing that 20,000 Italian Lira amounted to about $10.
In the end, they weren't even allowed to race in Italy, on a rules technicality. In any event, it makes doing a double like Indianapolis and Charlotte look pretty tame in comparison.
All of those guys know they're lucky to be around; they survived racing's most dangerous era and lived to tell stories about escapades that even today's most colorful drivers couldn't dream of attempting.
It makes you wonder what a night out 40 years from now would be like with, say, Scott Dixon, Dario Franchitti and Helio Castroneves. Would they spark the same kind of reverence among younger generation race fans that the stars of the 1960s and '70s still earn today?
At the end of the evening, Jones, Unser and Rutherford signed copies of a 1963 Indianapolis 500 grid sheet. Of the 33 starters, only eight survive. Jones, a few months older than Unser, is the eldest.
They know they're not going to have too many more opportunities like they had Monday to get together with old friends to reminisce about old times. Good times.
"We've got to make sure to get Foyt here next year," Rutherford said.
"I don't know if he could make it up those steps," Unser replied.
They may be pushing 80, but the needle is sharp as ever.