Indy-car racing back in Portland? If only ...
October, 17, 2013
10/17/13
3:38
PM ET
PORTLAND, Ore. -- Every time I visit my father in Portland, it gets me to thinking that the Indy car circuit should still be stopping here.
CART and Champ Car staged Indy car races at Portland International Raceway from 1986 to 2006, and for most of that time, it was a pretty successful event.
Portland is the only major U.S. market I can think of that features a natural terrain road course within 10 minutes of the city center. PIR will never be mistaken for Road America or Spa-Francorchamps, but it was a track that the drivers generally liked, and it was convenient for spectators.
[+] Enlarge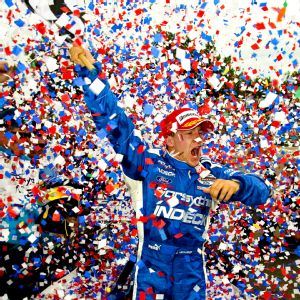 Gavin Lawrence/Getty ImagesAJ Allmendinger won the Champ Car World Series' Grand Prix of Portland on June 18, 2006.
Portland produced some memorable races from the start, when Mario Andretti passed his out-of-fuel son Michael in the sprint to the finish line to steal the inaugural victory. There was another photo finish in 1997, as Mark Blundell passed a prematurely celebrating Gil de Ferran at the stripe to claim PacWest Racing's first win.
But as is the story with several once-thriving Indy car events, Portland fell off the schedule when it lost its title sponsors -- Budweiser and the now-defunct chain of G.I. Joe's sporting goods stores. That left the promoter unable to afford a race-sanction fee, and the rest is history.
I also thought of Portland a couple of weeks ago when I was at the IndyCar Series doubleheader at Houston. That event made me reminisce about Cleveland, and Road America, and Michigan, and Phoenix, and a couple of other tracks that really ought to be on the modern Indy car schedule.
Houston is the fourth-largest city in America, so it makes sense for INDYCAR to try to crack that market. But staging races on a hastily erected, poorly conceived temporary circuit does not portray the IndyCar Series in a very positive light.
Of course the reason the IndyCar Series was racing in Houston is the money was there for it to do it. Shell Oil is headquartered in Houston, and it wanted a race in its hometown. Voilà!
I couldn't help but wish that Shell, or a similar company, would spend its sponsorship dollars at a more enjoyable venue for the participants and spectators. Like Road America. Or Portland.
Or Cleveland. In fact, Houston promoter Mike Lanigan also owns the rights to stage an Indy car race in Cleveland. But while Lanigan can't find the sponsorship to revive the popular Cleveland race (it was run from 1982 to 2006), the money dropped into his lap for the reviled Houston.
For longtime enthusiasts, it's frustrating to watch Indy cars bounce and lurch around on a slow, wall- and fence-lined parking-lot track like Houston when they really should be stretching their legs on proper racetracks, whether they are ovals like Michigan or purpose-designed road courses like Road America or Portland.
I would also argue that a purpose-built racetrack, whether a road course like Portland or an oval, is safer in most regards for drivers and spectators than temporary circuits are.
Cleveland is the rare example of a temporary track that really works. The unique Burke Lakefront Airport circuit creates exciting racing, and the entire track is visible from the grandstands, which is a rare treat in road racing. And only a small portion of the track is constrained by the walls and fences that are always a potential threat for drivers and cars.
Shell, or any other potential event sponsor, could create a ton of goodwill among Indy car racing's competitors and fan base if it just listened to what they are saying. Absolutely no one was clamoring for the revival of the Houston Grand Prix. But seemingly everyone wants to be at Road America.
Hulman & Co. CEO Mark Miles has said that the 2014 IndyCar Series schedule won't feature any significant changes, but a shake-up could be in store for 2015. Let's hope the future takes Indy car racing back to tracks where they belong.