Category archive:

IndyCar
February, 11, 2012
02/11/12
7:10
PM ET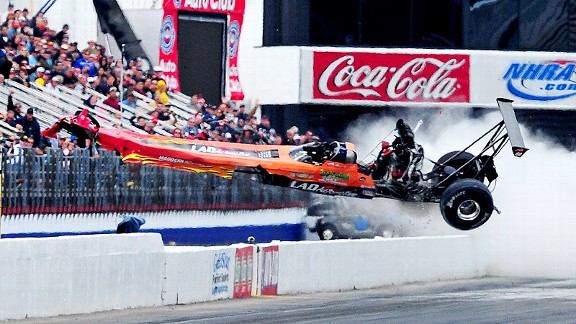 Mark J. Rebilas/US PresswireNHRA Top Alcohol Dragster driver Mike Austin goes for an involuntary ride Saturday at Pomona, Calif. He walked away from the crash.
POMONA, Calif. -- Just call Mike Austin the luckiest man in California on Saturday.
Austin walked away unhurt from a terrifying crash during the O'Reilly Auto Parts Winternationals, where his Top Alcohol Dragster flew over the retaining wall in the first round of eliminations.
Austin, who lives in Medford, Ore., was along for the ride when his dragster made a violent turn to the right from the right lane.
The car turned over on its left side before the nose went over the wall and shot the dragster into the air. At one point, the entire car was more than 10 feet off the ground and twirling around in the air.
Austin's car slammed back down to the pavement between the track and the grandstands. It slid all the way down the support lane, and slammed the underside of the chassis into the base of the timing and scoring tower.
Safety Safari workers rushed to the scene and the crowd sat in silence, hoping and praying Austin was OK. After a few minutes, word came that Austin was alert and speaking to safety officials.
He was helped out of the car and walked away, but safety officials said his first reaction was anger over tearing up his dragster.
Being mad never looked so good.
June, 9, 2011
06/09/11
2:48
PM ET
FORT WORTH, Texas -- Are race car drivers athletes?
It's an age-old debate, and a lame one at that. Of course they are, but trying to prove it backfired on Texas Motor Speedway officials Wednesday.
IndyCar Series driver JR Hildebrand tore the ACL in his left knee in a fluke accident during a promotional gimmick at TMS to prove racers are good athletes. He still will race Saturday night in the Twin 275s doubleheader.
Could anyone possibly have worse luck than this guy? The IndyCar rookie for Panther Racing had the Indy 500 victory in his grasp two weeks ago before slamming into the Turn 4 wall on the final lap. Now this for a 23-year-old guy who, believe it or not, really is a quality athlete.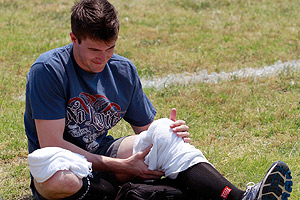 Tom Pennington/Getty ImagesJR Hildebrand tends to his injured left knee after tripping over a hurdle in the "Driven to Fitness" promotion at Texas Motor Speedway.
The promotion was titled "Driven To Fitness." Olympic gold medalist Michael Johnson came in to put three drivers -- the others were Ryan Briscoe and Will Power -- through the paces of a boot-camp style obstacle course to prove race car drivers are athletes.
It all went swimmingly until the final test, a short hurdles race. Hildebrand's knee hit a wood board on the final hurdle.
Hildebrand finished the race, then sat on the ground holding his knee. It was iced down before TMS officials took Hildebrand to the infield care center, where he learned of the ACL tear.
So all the skeptics out there who love to rip on racers will say, "See, race car drivers are not athletes."
Wrong, muffler breath.
In almost any test of athletic prowess, I'd take my chances with Hildebrand.
"The guy is a total adrenaline junkie," said Panther Racing spokesman Mike Kitchel. "He boxes, he does MMA stuff and mountain bikes. He can do anything athletically."
Hildebrand was a standout high school baseball player in Corte Madera, Calif., and it showed when he recently took batting practice with the Triple-A Indianapolis Indians.
"He was smashing line drives," said IndyCar spokesman Arni Sribhen. "One Indianapolis player asked, 'Who is that guy?'"
Hildebrand also threw out the first pitch, zooming a strike across the plate that popped the catcher's mitt.
So don't come up with a false conclusion based on one unlucky incident in a goofy promotion.
The next move for Panther Racing officials is to determine when Hildebrand should undergo surgery to repair his ACL. This is a similar situation to what NASCAR driver Denny Hamlin had last year.
Hamlin tore his ACL in a pickup basketball game in the offseason. He started the 2010 Sprint Cup season racing with the damaged knee, but decided a month later to have the surgery in March.
Three weeks after the surgery, Hamlin won in Texas.
Panther Racing officials have contacted Joe Gibbs Racing officials in hopes of talking to Hamlin to solicit his advice of what Hildebrand should do.
The IndyCar Series has three events (four if you count two at TMS Saturday) over the next three weekends, all on oval tracks, including Milwaukee and Iowa.
IndyCar has a week off after the Iowa Speedway race before returning to road/street races for three events.
No decision has been made, but one choice could be to undergo the ACL surgery before returning to the road courses, which are more physically demanding on drivers.
TMS officials feel horrible about what happened in what was meant to be a fun promotion.
"I was crushed and didn't sleep a wink last night," said Mike Zizzo, TMS vice president of media relations. "Now I know how that third-base coach for the Rangers felt when he sent Josh Hamilton home."
Hamilton, the 2010 American League MVP, suffered a broken arm earlier this season in a collision at home plate after third-base coach Dave Anderson gave him the green light to try to score.
Stuff happens. All in all, Wednesday's incident was horrible luck for everyone, especially a talented young driver with a bright future.
Keep your chin up, JR. Things will get better. Someday you will look back at this stretch and chuckle.
Just not today.