Four-Wide Nationals too good to be true?
April, 7, 2010
04/07/10
4:29
PM ET
Part of the reason I love it when the NHRA goes to Charlotte's zMax Dragway is I get to sit shoulder to shoulder with my man Terry Blount in the press box, something we rarely get to do because of travel schedules, assignments, etc.
On March 26, Mr. Blount and I sat together, and watched the pro stock and nitro qualifying sessions for the inaugural Four-Wide Nationals with our mouths agape. Especially as the final runs were made and the drivers were gaining a firmer grasp on the four-lane format, roaring down the strip in foursomes that could only be described as a nitro-burning ballet. On the final morning run, four 7,000-horsepower Top Fuel dragsters all ran 314-315 mph and all crossed the finish line within 25-thousandths of a second of each other.
[+] Enlarge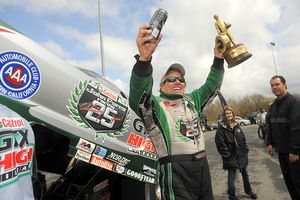 Courtesy NHRAFourteen-time Funny Car champ John Force hoisted his Wally after winning last month's inaugural NHRA Four-Wide Nationals at zMax Dragway.
Terry turned to me with a smile four lanes wide and said, "That was too cool."
This from a man who used to cover Nolan Ryan on a daily basis.
The media loved the Four-Wide Nationals. So did the fans. So did TV. Even "SportsCenter," which typically talks about drag racing only when someone gets killed, loved it. A series that is admittedly desperate for mainstream attention finally received it, thanks to the four-wide format.
So, naturally, the NHRA drivers and team owners have demanded that the sanctioning body get rid of it.
Why? Officially, they claim it is because of safety concerns and because it is too gimmicky, a WWE-like "circus," and it shortchanges their sponsors. Truth is, it was out of the norm and it made them uncomfortable, an out-of-the-box feeling that began with the very first qualifying run that Friday.
The morning was filled with mass confusion. No one seemed to understand how the newly modified Christmas tree was supposed to work. Drivers in the far lanes complained about sightlines, and drivers in the middle lanes complained about feeling boxed in. I started asking the NHRA media regulars seated around me to explain how the new blue light system worked. It became very apparent very quickly that no one really knew.
Down in front of the media center, which is located directly behind the starting line, dozens of drivers and crew chiefs gathered to watch the early runs. The nitro guys -- Funny Car and Top Fuel racers -- watched the first few runs of the Pro Stock motorcycles and cars, and then went back to their own machines.
All but one guy.
John Force never left. He watched every Pro Stock run, every Funny Car run he wasn't in and then every Top Fuel run. When the second round of qualifying began that evening, he was back out there again. In the middle of it all, he came in and gave a rambling, confusing news conference about how confused he was by the new light system and how lost he'd been all day.
Bull.
What Force did was exactly what everyone else should have. He didn't whine. He studied. Then he studied some more. He spent hours staring at the lights, picking up whatever he could, all the while telling everyone who would listen that he was totally lost. When his fellow racers gathered in Nitro Alley to complain about the new system, he joined in.
He went back to his camp and coached his teammates, daughter Ashley Force-Hood and son-in-law Robert Hight, on what he thought he'd picked up. Then they went out as a group and smoked everyone. Hight was the top early qualifier, and John narrowly defeated Ashley in the rain-delayed Monday final.
His Ford Mustang was, in fact, a Trojan horse.
"I know people don't like change," the champ said after his 128th career win. "And I'm not saying we should be racing four-wide all the time. But this was cool. Way cool."
Apparently, too cool to continue.