Andretti-Rahal rivalry a good place to start
May, 25, 2012
05/25/12
1:21
PM ET
INDIANAPOLIS -- IndyCar Series boss Randy Bernard held court with the media Friday morning and has a plan for future success that follows these points:
• Prop up current road and street courses to make sure they are profitable.
• Add a couple of short-track ovals and a new street race in Fort Lauderdale, Fla.
• Don't have competing events in the same geographic area.
• Continue to court more manufacturers.
• Say bye-bye to big ovals with too many empty seats.
[+] Enlarge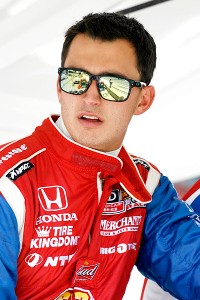 Brian Spurlock/US PresswireGraham Rahal on the possibility that he or Marco Andretti will win the Indy 500: "As much as I would hate to see an Andretti win this race, it would be really good for the sport. I'm sure Marco probably would say the same thing about me."
Will it work? Sure, as long as two or three of their current young drivers find a way to stardom. Otherwise it doesn't matter much.
The key to long-term success is national name recognition for a few drivers. Sort of like Danica Patrick had, except drivers who actually will win races.
Two drivers come to mind right off the bat -- Marco Andretti and Graham Rahal. They have a leg up on the name-recognition thing, thanks to the family history in open wheel. Now they just need to win regularly and compete for titles -- hopefully, against each other.
And the best-case scenario is to have that up-front rivalry come to fruition Sunday in the Indy 500.
"I think it would do incredible things for the sport," Rahal said Thursday. "It really would, without a doubt.
"As much as I would hate to see an Andretti win this race, it would be really good for the sport. I'm sure Marco probably would say the same thing about me. I'm not the guy he wants to see win either, but at the end of the day, we both get it. It would be a great thing."
It hasn't happened yet, but the time is right with the first Danica-less Indy 500 in eight years. Rahal says the best is yet to come for him and for Marco.
"I think what people have to remember about us is I'm only 23 and Marco is 25," Rahal said. "Don't write us off. Marco and I have many, many days of racing together ahead of us. And we want to do it for wins, which we will.
"But right now, it's hard for us to compete against a guy like Dario Franchitti. He's been doing this since 1997, since I was 8 years old. Think about that. He knows so many things that I still have to learn."
Franchitti is 39, a two-time Indy 500 winner and a four-time series champion. But his first win at Indy came at age 34, as did his first championship.
Bobby Rahal, Graham's dad, got his Indy 500 victory at age 33, the year he won his first CART title. Mario Andretti, Marco's legendary grandfather, won the Indy 500 at age 29.
So give the youngsters more time. In the meantime, Bernard has his agenda. Chevy returned to the series this year and Bernard thinks more manufacturers are coming.
"We have some very strong interest," he said Friday. "I think you will see some other manufacturers out there this weekend looking around."
Bernard talked about hopes of returning to short ovals at Richmond and Phoenix, but most big ovals with tons of seats are not in the picture.
"We saw some events last year that weren't very good," Bernard said. "We need races that have that wow factor. It's important we continue to look at ovals, but we don't want to go to a place with 150,000 seats if only 30,000 people are in the stands."
IndyCar racing doesn't get more of a wow factor than high-speed ovals, but it takes big names competing up front to put people in the seats.
Bernard also doesn't want to pit one event against another in the same geographic area. That's bad news for Michigan International Speedway (which falls into the big-oval category's well) with the series returning to Detroit's Belle Isle street race next week.
"It's important for us to give Roger Penske's group [the promoter at Belle Isle] a chance to succeed," Bernard said. "So MIS is not an option for us right now."
Bernard feels the same way about Road America in Elkhart Lake, Wis. It won't get a race with IndyCar returning to the Milwaukee Mile next month.
"Milwaukee is important to us," Bernard said. "Michael Andretti's group has taken over the promotion there. We are helping them every way we can to make it succeed.
"Let's see how well the Milwaukee Mile does this year. That track opened in 1903. It's the oldest track in America. I don't want to see it shut down on my watch. If we don't make a go of it this time, it will go to the mothballs."
The no-compete theory will be interesting news to Texas Motor Speedway president Eddie Gossage, who isn't happy about IndyCar's return to Houston next year for a race around Reliant Stadium.
Bernard said he also hopes to work a deal for a street race in Fort Lauderdale next year, and he has an interest in returning to Australia and possibly the West Coast.
"We are not interested in having dates,'' he said. "We are interested in marriages for many years."
That's great, but track marriages won't matter unless track stars are made, and an Andretti-Rahal rivalry is a good place to start.