Category archive:

C.J. Wilson
November, 10, 2010
11/10/10
4:20
PM ET
FORT WORTH, Texas -- Texas Rangers starting pitcher C.J. Wilson stood comfortably in the Texas Motor Speedway media center, describing to a few reporters the mental tug-of-war between the euphoria of his team's first World Series run, and the subsequent heartbreak of squandering it.
[+] Enlarge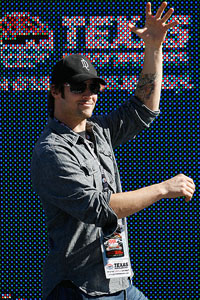 Tom Pennington/Getty ImagesC.J. Wilson got to drive the pace car for Sunday's Sprint Cup race at Texas Motor Speedway.
Minutes prior, outside, he had a close encounter with the track's retaining wall as a passenger of Sprint Cup pace car driver Brett Bodine.
"Being a passenger 6 to 10 inches from a concrete barrier isn't the most calm moment," said Wilson, who later that day would take the pace car wheel from Bodine and lead the field to the green flag. "It was a high-heart-rate moment. [Bodine] was like, 'Don't worry, I'm a professional.'
"Tommy Hunter [fellow Ranger] was in the backseat [screaming] 'Faster! Faster! I was bracing myself and getting a feel for what it looks like going that fast through the banking. It's very different from what you see on TV."
Just a bit. But Wilson is good with that. He has the racing bug, and he said if baseball didn't get in the way, he'd slam gears and mash the gas full time. Then he stopped, smiled, and offered a verbal self-reminder of how ridiculous that thought is: Without baseball he wouldn't have the bank account to race.
Baseball has never been better for the left-hander, who will celebrate his 30th birthday on Nov. 18. He won 15 games in 2010 and threw three complete games. His previous career high in wins was five. He'd never before gone the distance. If baseball is Wilson's first love, racing is his mistress. He loves speed, and said he once did 315 kilometers per hour (196 mph) on the Autobahn.
"In somebody else's car," he grinned. "That's over 185 mph. Maybe 190. I don't know the exact calculation."
I asked how he thinks Rangers' GM Nolan Ryan will feel when he reads that.
"It was years ago!" he laughed. "No, I take calculated risks. Life's too short to deprive myself of that pleasure. It's something I take very seriously, in terms of safety. I'm not cavalier at all. It's a level of pleasure I don't get doing anything else."
Wilson races as much as possible, some 19 times last year alone. The highlight of his 2009 racing schedule came last November, when he debuted in the NASA 25 Hours of Thunderhill, a sports car endurance race held in California. The next big jump would be the Rolex 24 at Daytona, which he said he'd love to try and figures he could perform every bit as well as Patrick Dempsey does.
All said, he has competed in more than 30 races.
When he said that, my interest was piqued. If he's raced that much, he has an opinion on whether drivers are athletes.
So I asked.
"There's a lot of race car drivers that have the hand-eye coordination to go hit a baseball or throw a football, but there's not a lot of baseball players that have the mental fortitude to drive a race car," Wilson explained.
"Racing is much more mentally taxing than anybody has a clue until they do it. Especially for NASCAR."
Why NASCAR?
"The ability for those guys to go in there and hang in there for three and a half hours -- and without the whole day to be alone and go grind it out. They have to do press interviews and sign stuff and interact with fans," Wilson said.
"People don't understand how hard that is. For us, we show up at 2 o'clock and don't play until 7. We're all by ourselves pretty much, other than some interviews here and there. You get used to the focus of turning it on.
"Physically, baseball is harder, over the course of a season in terms of having more aches and pains or whatever, but being a race car driver in NASCAR, and driving 36 races or whatever, that's a grind. I don't think anybody realizes how long that season really is. I think race car drivers are definitely athletes."
Amen, sir.
So does his post-MLB plan include racing?
"If I had a nice bank account and was done with baseball, I'd be doing it every weekend," he said. "I take it very seriously. I prepare. I read books. I have a simulator at home and I train. During the offseason it's really my main focus. I'd love to keep doing it. It's a matter of the finances and skill level getting to a point where it makes sense. Because I have to get sponsorship at some point to compete professionally."