Category archive:

Dale Earnhardt Jr.
October, 19, 2012
10/19/12
11:00
AM ET
Dale Earnhardt Jr. is a revolutionary. His decision to seek expert help regarding the recurring headaches that plagued him was in fact a step so dramatic -- so ballsy -- it'll take years to quantify.
Granted, he'll tell you different. Earnhardt isn't inclined to pay mind to others' analysis of his personal decisions. He looks at it in literal terms: his desire to ensure his long-term health. He doesn't invest in the prospect of legacies or the broader scope beyond the racetrack. He just wants to be smart about his noggin so he can race for a long time.
But here's the truth: That step will forever be a part of his legacy. Because when he sat down with Dr. Jerry Petty to discuss the ramifications of successive concussions -- and was ultimately told that he couldn't do the only thing he has wanted to do since he was old enough to form an opinion -- he told an entire generation of fans, drawn to the speed and fury of his passion, that it's OK to be vulnerable.
Tear-open-your-soul-and-bleed vulnerable.
Because for a racer there is nothing more vulnerable than idling while another man is holding your wheel.
Emotionally, Junior is sick about it. He is hurt. He is sad. He is heartbroken.
Idling is torturous.
But he is a stronger man for it. He is a smarter man for it.
The easy decision would have been to saddle up and ride.
The impossible decision was to cuddle up and watch.
But he did. And everyone watched.
There were athletes in locker rooms all over this country watching him live on "SportsCenter." In that moment, many of them looked at themselves and wondered if they'd make the same decision.
Every driver in NASCAR wondered if he or she would do the same.
Few human qualities are as dynamic as vulnerability. Those self-confident enough to acknowledge the deepest part of their personal weaknesses are in fact the strongest among us. Just are. They're on another level spiritually. It takes indescribable guts to peer into your soul that deeply, because you may not like what you learn.
We're now a week removed from Earnhardt's announcement. We're still digesting it and will be for quite some time.
It was a landmark moment.
He wasn't fired. He's not sitting at home because he has no wheels. He's sitting out because he's smart enough to listen to his body. That he chose to do it in a resurgent season, which erased four years of mediocrity, is even gutsier. He chose to do it in a season that, for the first time in a long time, he was relevant in the season's championship conversation. He did it during a year in which the wit and the grin and the confidence that defined him in the early portion of his career had returned.
It was a revolutionary decision.
But we won't realize how revolutionary until a young racer, or a young football or soccer or baseball player makes the same decision -- because Dale Earnhardt Jr. did.
June, 26, 2010
06/26/10
4:53
PM ET
On Friday evening, Dale Earnhardt Jr. will slide his body through the window and into the seat of the No. 3 Wrangler Chevrolet for 300 miles of Nationwide Series racing at Daytona International Speedway.
Until that moment, he cannot know how that car number on his door, and that blue and yellow paint before him on the hood, and memories of his father's win-at-all-costs attitude while driving them may impact him. Especially at that track.
[+] Enlarge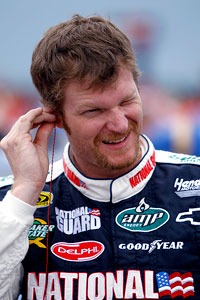 AP Photo/Matt SlocumDale Earnhardt Jr. on the pressure of driving the 3 car: "For the fans that feel a connection to the car, for the fans that have any emotion about this, anything less than a win is a disappointment."
But he is fairly certain about one thing: July 2, 2010, will be the last time he drives a race car with the No. 3 on the door.
"I just want to go to the racetrack and run it once before I retire, and this will probably be it," he said, leaning slightly forward in a folding metal chair. "After this I'll probably never drive a car with a 3 on it again. I can pretty much say I'm 99 percent sure that will never happen again."
This is a stark revelation, especially for long-suffering Earnhardt fans who dreamed Junior would close out his career in a black No. 3.
Junior, too, once thought that was his destiny. No more.
"It's not [my number] to take and use whenever I feel like using it," he said through a sheepish grin. "You just don't grab the car keys off the counter and go run out the door and haul down the road with your dad's car. I didn't do it when he was alive, and I won't do it now.
"I'm borrowing it once, and then maybe sometime down the road some kid will come up, and he'll have a connection to the 3 -- whether it's through my father or whether it's what his number's been since he was playing T-ball. Whatever, you know, that will be his. It will be someone else's."
To understand this philosophy you must first understand Earnhardt's respect for NASCAR history. He doesn't take it lightly. From his perspective, car numbers and paint schemes are vital relics that served as building blocks to today's billion-dollar industry, and are to be treated as precious antiques. NASCAR numbers are fundamental pieces of competitors' and fans' rooting souls. In NASCAR, cars and teams and people are referred to by number, not name.
It's not "Dale Earnhardt's car." It's "The 3."
The current Wrangler program is a dual initiative -- partly to honor Big E, partly out of necessity. Junior's sister, Kelley Earnhardt, Sprint Cup team owner and owner of the No. 3 trademark Richard Childress, and Teresa Earnhardt all played a role in putting the deal together, and wanted to tie it into Dale Earnhardt's Hall of Fame induction.
Junior just thought the car looked cool.
"It's a simple as that, for me," he said. "I'm proud of my dad and I'm honored by him going into the Hall of Fame, and I'm happy for him, but this in no way, for me, the connection really isn't there on the Hall of Fame. This race it's just about -- the car is cool, I just want to go to the racetrack and run it once before I retire."
The team Earnhardt owns, JR Motorsports, had sponsorship gaps throughout the season, including Daytona. And the idea was to take a business plan used several years ago and implement it again. He has a personal services agreement with Wrangler, and they would take a portion of that money and shift it over to the race team, as they did several years back when Martin Truex Jr. was gunning for the Nationwide Series championship in Junior's No. 8 car.
"We did a bunch of stuff with Truex and that team with old modified drivers and all kinds of people, just trying to honor people, and have an appreciation for the history of the sport," Junior said. "That's all [this] is for me. It's just as simple as, I think the car is cool, I want to put it on the racetrack, I want to drive it once in a race and then that's it."
So when Junior and Kelley began discussing Daytona, he told her he'd always wanted to compete in that paint scheme. In his mind it was that the blue and yellow paint and the No. 88. A month later, as he put it, "the stars aligned" and it was the No. 3. He was thrilled and humbled.
"It's a double-edge sword for me," he said. "When you're a little kid growing up, and you're young and you're little and going to the racetrack with your dad, you always want to drive his car, and wondering what it's like and all those things, and it's an honor for me to do it.
"But at the same time it touches a lot of emotions that you don't ever really bring up on a daily basis. These are emotions that are put away and never bothered at all throughout the year, and then they kind of come back to the surface."
Earnhardt appreciates Childress letting him compete in the number, and admits this project was an important, positive reconnection in the oft-cold relationship with Teresa Earnhardt, his stepmother. But the 3 on the track, with Junior behind the wheel, has a wide-ranging, deep emotional impact on millions of people.
"There's a lot of different emotions it brings up in that car, when people say, 'Hey the 3 is coming back,' and 'I'm driving the 3' and all those things, and there's a lot of emotion to that, and a lot of pros and cons, and people not happy and happy, so it's just something I want to do and that will be that," he said.
Junior drove a No. 3 Chevrolet for Childress in 2002, and won. It couldn't have gone better. But that was an Oreo car. This is the One Tough Customer car, made iconic by a roughneck scrapper revered by fans.
Winning is the only acceptable outcome.
"For the fans that feel a connection to the car, for the fans that have any emotion about this, anything less than a win is a disappointment," Junior said. "If the 3 is coming back, they don't want it to run second, you know, so I feel that pressure. I feel a lot of pressure to put this car up front and lead laps with it."
January, 21, 2010
01/21/10
11:06
AM ET
CONCORD, N.C. -- Few voices in the NASCAR industry carry the weight Dale Earnhardt Jr.'s does. He can't grasp why he's such a big deal, but fact is, he is. On Wednesday, he addressed several key topics about the 2010 season during the media-tour stop at Hendrick Motorsports. Here's a quick peek:
• Danicamania
So, how's Danica Patrick progressing in stock cars?
Don't ask her high-profile team owner. He only knows what he hears.
Granted, he hears great things, but he hasn't seen it for himself just yet.
"Tony [Eury] Jr. and Kelley [Earnhardt] have to tell me what to do with Danica," Earnhardt said. "It's up to them. I'd be fun to be more involved, but driving this Cup car [requires] little distractions."
Junior said he hasn't seen Patrick since they formally announced her move to JR Motorsports back in mid-December. Patrick lives in Phoenix, Junior near Charlotte.
He said having Eury as part-owner of the team is key. He's fully invested in ensuring Patrick's success.
•
Reality show
Speaking of distractions, Earnhardt can ill-afford any from the No. 88 Cup Chevy in 2010. He seems refreshed, invigorated. Was 2009 a wake-up call?
Negative.
"I appreciated how hard it was because it was a challenge for me from the very beginning," he said. "I won three races in the first half of my rookie year, and we'd won two straight Busch championships already. I thought, hell, we're gonna rock this deal just like Busch. Then we tanked out, so reality hit quick for me."
• Start me up (earlier!)
Earnhardt is the nostalgic type, loves old-school NASCAR and appreciates the sport's history like few others wheeling cars these days.
Evidence of his homage to days gone by: The Speed Channel show he once hosted (still may; I have no idea) about long-lost competition, and a penchant for emulating historic paint schemes with his own cars.
At Darlington in 2008 he ran Darrell Waltrip's '80s-era Mountain Dew No. 88, and it was the baddest-looking ride to grace the track in years. His driving suit, incidentally, was even better.
Then he one-upped himself with Buddy Baker's late-'70s Gray Ghost, black with silver numbers. It was even sharper than the Dew car.
That love of history is the main reason he's such a proponent of NASCAR's decision to implement unified, earlier start times.
It whisks him back to childhood.
"I'm super-happy about [the start time change]," Earnhardt said. "When I was a kid, one thing I counted on was rushing home from church to catch the start of the race. There's something really awesome about that routine."
He's right.
Many longtime fans remember it well.
• Chemistry experiment
Though some drivers -- Carl Edwards, for example -- don't believe in it, it seems chemistry is vital to many teams' success in NASCAR. Earnhardt isn't sure he's ever experienced great chemistry.
"I can't really say that I've really been in a situation yet where I feel like the chemistry for me was really golden," he said. "I've been with some great teams, and had good wins and great success at certain periods of time in my career. But it's hard for me to really be able to point out what exactly great chemistry is just yet."
Lance McGrew may be just the guy to show him. They're buddies off the track as well. For Junior, that's paramount.
"I get along great with Lance and we have a lot of fun, and I think that's important that we enjoy being around each other, and we can kind of build on that friendship and learn from each other at the racetrack in our work ethic and work habits," Earnhardt said. "That stuff should work itself out. I definitely think we're going in the correct direction, which is good compared to where we were going last year."
April, 16, 2009
04/16/09
11:04
AM ET
Earlier this week, I received the following e-mail on my SportsNation page and contemplated a long while whether I should integrate it into my weekly Door-to-Door column.
But this topic stands alone.
Marty,
I'm a charter member of Junior Nation. I've followed him religiously since he drove the AC Delco car for his dad. But I can't help but wonder of late if he's trying hard enough. When I see Jeff Gordon and Jimmie Johnson and now Mark Martin doing so great, and Junior's not, there has to be a reason. Does he have the desire it takes to be great?
-- Stephanie Pierce, Columbus, Ga.
[+] Enlarge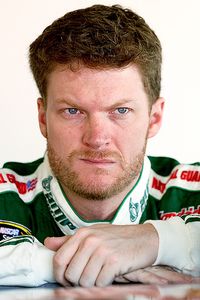 Matthew Stockman/Getty ImagesSome question whether Junior is giving it his all, but he's held to a higher -- almost unfair -- level of scrutiny.
Unreal. Just un-dadgum-believable. Imagine that type of scrutiny. Fact is, when you're the highest-profile driver with the most financial backing in the game, you have to produce. And it's time Junior does. You know it. I know it. He knows it.
And he's a realist. He doesn't shy away from that fact.
You're not alone in this thought, Stephanie. That famous phantom voice chimes in my ears 100 times a day: "You've got mail." What it should say is, "Hey man, another frustrated Junior fan on the horn." I thought about this phenomenon earlier in the week while preparing a monologue for the end of the NASCAR Now show Monday. Here's what I came up with:
Dale Earnhardt Jr.'s unrivaled popularity is both a blessing and a curse. His fans expect too much. The media, too. Fact is, to appease all he'll have to hoist the Cup. So when he struggles, a chorus of critics sings to the heavens, making his life a living hell. Or not. Earnhardt told me last week that criticism actually brings him hope. It means they expect us to excel, he said. I guess he listened well to the ol' man, who used to say: Boos or cheers, doesn't matter; so long as they're saying something.
I spent last Thursday and Friday down in Batesville, Ark., at Mark Martin Fanfest, during which I interviewed Earnhardt. Quite frankly, it was too poignant not to share.
I asked him if he was tired of defending his team -- particularly his cousin and crew chief, Tony Eury Jr. -- all the time.
"I ain't too tired of it," he said. "I mean, there's a side of you that gets a little frustrated sometimes, but at the same time that means that there's hope that it'll get right. Apparently there's a lot of people who feel like [the team] should be up [high], and that's where we want to be, and that's where we want to get to.
"And if the critics even feel like that's where we should be, that gives us hope that we can get there. I guess my point is, people aren't sitting around saying that's never going to happen. So as long as the possibility is there, I guess that's the lure that keeps you comin' back and keeps you working to get it."
Junior remains quite confident in his team's ability, but there are times certain members of his crew get down. At that point, they look to him for direction. Folks wonder why he keeps missing his pit box, how he keeps running into walls. But he's undaunted.
"I think the team's really good," he said. "We didn't finish in the top 10 at Texas because I got loose in Turn 1 and hit the wall, and I know I can fix that. It's frustrating when you're not running good and you don't know what the problem is.
"The team is positive, and one of the first things that really gets you disappointed and upset when you're not getting the results you want is when everyone's attitude starts to deteriorate. And it's one of the hardest things to stay positive."
What about him? Is it difficult to check himself?
"No, not for me," Earnhardt said. "I can get myself up and be ready to kill at any second. And you want all your guys on your team to be that way -- you really want them to be in attack mode.
"And even when things are down, you have to have that attitude, and you have to be fired up, get up on it. And when you see some of that start to slip, and you feel like somebody doesn't quite believe in it and just [isn't] buying into your theory, it's tough for everyone else. It takes just one guy to fall by the wayside, it affects the rest of the team."
That, then, begs the question: Is he willing to jerk a knot in somebody?
"Sometimes you just gotta say a few things to get them fired up, because they're lookin' at you, or they're lookin' at Tony Jr., and lookin' to some of the leaders of the team to follow them," he said.
"And they'll follow their lead and whatever their attitude is. So sometimes you have to let them know what direction we're going today. That's the No. 1 thing, trying to keep everyone fired up, showing up, being excited about being there and doing a hard day's work."
Mark Martin said last week that no one in the sport is driving as hard as Dale Jr. That's high praise from a guy whose preparation and desire set a lofty standard.
"He oughta know, he's out there running with me," Junior said. "I take a lot of pride in that comment from him, because you can see it when you're out there with people, you can see exactly how much they're giving and putting forth and how hard they're trying.
"So that means a lot, because I feel like I give 110 percent when I'm out there. I feel like I give a lot more than a lot of other guys do, specifically in the race.
"I feel like I just drive really, really hard, and it's great to hear that from your competitors because those are the guys who are the true judge of character on the racetrack. It's one thing to sit here on the sideline or sit up in the grandstand and try to tell the difference between who's working, and who's really good and who's not. The true judges are the people who are out there on the racetrack with you."