Category archive:

Kevin Harvick
May, 9, 2011
05/09/11
5:01
PM ET
Kevin Harvick versus Kyle Busch isn't over. Trust me. Even if NASCAR slaps them both with a penalty and even if both drivers say all the right things, their general intolerance for one another goes way back and won't wane anytime soon.
I'm not saying they'll intentionally dump one another every weekend. Not even. But drivers' memories are everlasting -- every wreck, every perceived injustice. And forgiveness is fleeting. I had that very conversation with a former Sprint Cup champion last fall in Fontana, Calif. When I asked, he laughed.
"Oh, hell yes, we remember everything -- forever," he said. "Anybody who tells you different is lying."
For that, we fans are the winners. It adds to the weekly grind an intriguing layer that is both captivating and, if you ask me, sorely needed.
I expect NASCAR to penalize both Harvick and Busch in some fashion, probably probation and a monetary fine. But if they do so it will be because the fracas occurred on pit road, where innocent bystanders could have been injured. Not because they don't like each other.
If this had happened in Turn 3 at Darlington, we'd move on down the road to Dover. But it was on pit road, and a car went careering into the pit wall with no driver aboard. That doesn't sit well in Daytona.
Harvick and Busch are the perfect candidates to resurrect the old-fashioned NASCAR rivalry. Both have a serpent's tongue and a laser wit and a general intolerance for one another. It's DW versus Dale circa 2011.
And while those characteristics add drama, none of them is as important as their respective on-track success. Both are championship-caliber drivers on elite teams. Both are weekly contenders. They run closely together every single race. Neither is apt to take much flack. And these days neither has to race as if the food on his table depended on his success. But both do so.
No matter how fans may perceive either one of them generally, most everyone appreciates their hard-charging approaches. I know I do.
Think for a moment about sports' great rivalries: Duke versus North Carolina, Yankees versus Red Sox, Michigan versus Ohio State, Lakers versus Celtics, Packers versus Bears, and so on. Why are those rivalries great? Because the teams are almost always competitive.
I grew up in Virginia. In my mind, Redskins versus Cowboys is the greatest rivalry ever. But even that has lost some luster through the years because the Redskins haven't been the Redskins since Joe Gibbs hung up the whistle the first time around.
Great rivalries engage the national audience. I'm neither a Yankees nor Red Sox fan, but I watch every game they play against one another because the general hatred is palpable and fantastic to experience.
And they're almost always in a battle for the pennant. I'd bet Harvick and Busch will both be in NASCAR's pennant race come November.
It's not over.
October, 1, 2010
10/01/10
10:47
AM ET
A couple summers ago, I was standing in Victory Lane at Bristol Motor Speedway on an August Saturday, staring into a camera positioned just in front of a packed Turn 3 grandstand. "SportsCenter" was on the other end, licking its chops for all the juicy details of NASCAR's soap opera du jour: Dale Jr. versus Teresa.
Dusk loomed. It was a gorgeous evening, an hour before the green flag in Thunder Valley. Around the track swirled a fleet of pickup trucks carrying in its beds the Sprint Cup starting field, two-by-two.
In one of those trucks rode Earnhardt Jr., who, not surprisingly, was all the talk after publicly defending his stepmother, Teresa Earnhardt, to a loyal, unapologetic fan base who had teed off on her on message boards and radio call-in shows after Junior's lifelong feud with her had gone nastily public.
I didn't know exactly what the anchor would ask me just then, but I had a good idea. I was prepared to discuss the feud, its history and how a decades-long relationship, always cold, had completely frozen. And when the red light came on and the question was posed, I suddenly changed course. The foundation of the feud's aftermath was simple, and age-old:
I can say whatever I want about my family. I can call them out. I can criticize them.
But you can't. No matter how close you and I are.
And if you try on my behalf, you won't get the response you desired.
I'll have my brother's back.

I thought about that story last Saturday, when Kevin Harvick sent a message to Denny Hamlin at Dover -- first on the racetrack then off it. Harvick's message was one of the coolest things I'd seen in a NASCAR garage in quite some time. It was loud. It was clear. It was forthright and honest, and there was no mistaking it.
And, fundamentally, it was no different than Junior's message to his fans about Teresa.
Harvick can be very hard on his guys. He expects excellence in all facets of competition at all times. And if they're not excellent, he rips them to shreds -- sometimes mercilessly. But they're his guys. And even if they hate the tongue-lashings (I would), they know why Harvick doles them out.
And when another driver (Hamlin) took it upon himself to criticize the entire Richard Childress Racing organization, to publicly label it a cheater, Harvick instantly made it his personal mission to retaliate.
I love that loyalty.
But it wasn't until I spoke with Hamlin this week that I got a true sense of the story. Hamlin was defending his guys, too. He felt Clint Bowyer had slighted the No. 11 team during his media session, and at that point Hamlin went into defense mode.
He knew there would be repercussions for his comments -- and my, there were -- but he felt it more important to make sure his team was given due credit than to concern himself with any repercussions.
Hamlin went too far. He readily admits that. His crew chief said it was stupid. His owner reminded him that not everyone needs to hear his opinion on everything.
That is true. And while Joe Gibbs probably wanted to pull his hair out, I bet deep down he admired Hamlin's loyalty, too, once the driver explained himself. The most intriguing revelation was Hamlin's close friendship with Harvick. In fact, he said Harvick is among his best friends on the racetrack -- if not the very best.
That in itself speaks volumes about how these men feel about their teams.
You may be my best friend. But don't go trashing my family.
March, 26, 2010
03/26/10
8:29
AM ET
I was going to leave this alone. It seemed as played out as Bret Michaels' reality TV career. But it's not. Obviously. Kevin Harvick versus Carl Edwards is a festering sore.
So let's analyze it.
Harvick says Edwards is fake, that he "can't be the nice guy, the bad guy and the bully," all at the same time.
I fully understand Harvick's feelings. He's not wrong. It is awful tough to like a guy who competes like Biff Tannen at a McFly family reunion, then climbs out of his car, grins like the Cheshire cat and pseudo-apologizes for it. Total Eddie Haskell.
The personalities are polar opposite, and flip like a switch. It's nearly impossible for most folks to comprehend how one guy can be both people. Harvick's not alone. Several folks have voiced a similar opinion.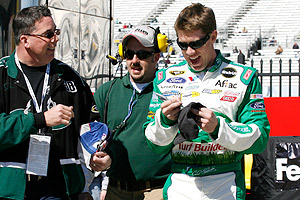 AP Photo/Glenn SmithNo matter what Kevin Harvick says, Carl Edwards remains one of the most popular drivers in NASCAR.
Not me. I understand full well who Carl Edwards is.
Because I'm him.
And understand this: I'm not making excuses for him. So you can flush that mess down the toilet.
I just get it. I'm uber-competitive. I'd rather shut my finger in the door of a 1981 Oldsmobile Cutlass Supreme than lose a beer-league softball game. Flag football? I nearly went rounds with the boys at Roush Fenway last year over some juvenile garbage mouth.
Pickup hoops? I'm Bob Knight without the sweater.
I don't even like to lose a debate about ... well ... anything.
I'm not a sore loser, per se, and I've grown up a lot in recent years. But I don't readily accept failure, either. I have a tendency to overreact in the throws of conflict.
When I'm hanging out with my buddies I'm pretty easy-going. I laugh a lot, cut up, genuinely care for the well-being of those I love -- and even most of the folks I don't.
I want the best for people. I appreciate good souls and openly recognize great talent. I don't have to like you to respect you.
But listen, when I'm posting up Dr. Such-and-Such from down at Presbyterian Hospital during noontime basketball, and he cuts my legs, that nice guy takes a vacation. I'm up in his wheelhouse like his daddy used to be.
I'm not saying it's right. In fact, it's not right. I spend a lot of time preaching that to my son now. That's not how anybody should react.
But it's what guys do. Competitors, when pushed too far, react. And it may not be pretty.
That's what Edwards does.
And for that matter, it's what Harvick does, too.
The difference is the aftermath.
Harvick says, "You gotta do what you gotta do" when he sends Joey Logano.
Edwards says, "Man, I hate that. I don't like to ruin someone else's day."
That's me. I'm not the guy enjoys leaving the gym with an unresolved conflict. After I've told the guy that's going to deliver my kid at the hospital that he couldn't guard Betty White and needs to spend some of my premium on some Speed Stick, I'm the first guy to go apologize for being an idiot.
Because of that win-at-all-costs philosophy, the kids at Narrows High School (Va.) in the early '90s hated me more than any words can describe. But once we started hanging out socially, and they saw what I'm really about, the tide shifted. Quickly.
Guess who some of my best friends are today?
I could be wrong, certainly. But I'd bet you Kevin Harvick and Carl Edwards are a lot more alike than either of them realize.