Category archive:

Brian Vickers
September, 3, 2010
09/03/10
12:15
PM ET
Brian Vickers leaned forward on folded arms toward a microphone in the center of a table, detailing his three-month absence from the Sprint Cup series. It was 2:15 p.m. on a blazing Bristol, Tenn., Saturday. He spoke of the surgery he'd undergone recently to close a hole in his heart -- and bluntly conceded that had a certain small clot gone up his left arm and into his brain, rather than down his arm and into his little finger, he'd be handicapped or dead.
If anything, Vickers is no-nonsense. He doesn't trivialize the clotting condition that stripped him of his identity in May. Race car drivers are race car drivers. When they're not in a race car they're lost. But Vickers said his medically forced hiatus was a gift and that he didn't plan to change a whole lot come January when he returns.
But he did admit: "I have a new appreciation for life."
As he plowed through the intricacies of his condition and emotions, facial expressions throughout the media center at Bristol Motor Speedway were that of shock and disbelief and bewilderment, both at the message and its delivery.
But seated just before me, closer to Vickers toward the front of the room, there was a head nodding at most every comment pertaining to the bigger picture. It was covered in a black and white knit hat, thick black hair peeking from beneath it.
It was Marcy Scott, the Atlanta Motor Speedway public relations director whom I wrote about in this space in March. She is battling breast cancer, and she is winning. On Dec. 1, 2009, her oncologist gave her a clean bill of health. She is cancer-free. All that remains for her is reconstructive surgery.
On Sept. 16, doctors will cut part of her latissimus dorsi -- the large muscle that runs the length of the outside of the back, from the shoulder to the waist -- and tunnel it under her arm to her chest. That muscle will support her implants. Marcy is told it will be extremely painful. Nobody suggests otherwise. She dreads it but knows it's another large step toward ending the battle.
"Basically, it's all boobies now," she said Friday, laughing.
The laughter tells all. Scott's friends are inquiring about her birthday, which is approaching. She wants to celebrate on Dec. 1 -- her one-year cancer-free anniversary. She plans to volunteer in programs that offer emotional assistance to those facing what she faced.
She recently spoke publicly at a Red Cross function and has a blog detailing her battle. Both, she said, triggered unforeseen response from the audience.
"Sometimes when you say things honestly, people are surprised at what you say," she said.
Vickers' words resonated with her, applied directly to her life. She may as well have been saying them. What used to weigh heavily on her -- deadlines and traffic and sour attitudes and the like -- now hold proper rank.
"I was nodding my head because what Brian experienced and what I experienced absolutely changes your perspective on life," Scott said. "You realize nothing is guaranteed. You realize every day is new opportunity. You have more patience for some people and less patience for others. When he said that, I was like, 'Yep.' Life's bottom line flip-flops."
In May, minutes after Vickers announced his condition to the world along with news that his racing future was uncertain, Scott approached him at Charlotte Motor Speedway. She had experienced blood clots when doctors implanted the port that would administer her chemotherapy. They couldn't get her medication levels right, either. She had some idea what he was going through.
"It was interesting to talk to him about it," she said. "Sometimes it helps to have someone know what you're going through. Mine was only for a few months of my life. I didn't miss much work. Bless his heart, he can't do his job."
So when Vickers confirmed that he'd been cleared, that he would, indeed, return in 2011 and got a second chance to fully appreciate his passion, millions were thrilled. No one more than Vickers. But this time it will be different. Scott knows.
"Prior to getting sick, I think most of us are just concerned about our world," she said. "Every day you wake up thinking about what you need to do, what you need to get accomplished today. It's me, me, me.
"Now, I tolerate more, in that I'm more forgiving of people. But you also realize, I only get one shot at this life, and I'm not going to mess around with it. There's things I want to get done. Because you realize how fragile life is, there's things you don't tolerate as much. I'm not going to miss out on opportunities. There may not be another day.
"That's what Brian was saying, in so many words."
Those words are important to people. Vickers' candor as a public figure inspires others.
Many times athletes try to mask the true depth of their personal obstacles, as if telling the full truth shows weakness or compromises their future.
Vickers doesn't, and countless folks appreciate it.
SPEEDWAY, Ind. -- Given that the Brickyard 400 is ESPN's first Sprint Cup Series race broadcast of each season, we studio types are asked to do many more live interviews than normal for "SportsCenter" and ESPNEWS and the like, to supplement the broadcast.
[+] Enlarge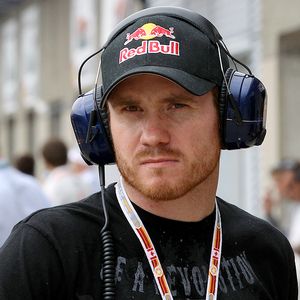 Bryn Lennon/Getty ImagesBrian Vickers is still hanging around the track as he recovers from blood clots. Question is, does he get mistaken for Marty Smith?
I did one such interview Friday at 12:30 p.m., way atop the track on the suite level of the Pagoda. As we finished a live shot, I handed the microphone to the production guys and walked off the platform. Directly adjacent to my position was the Red Bull Racing suite, which basically has been transformed into a New York City club, complete with chic red couches, flat-screen televisions and, yes, a disc jockey.
That's my kind of joint, so I was going over there to check it out, maybe grab some food. As I made my way there, two gentlemen, mid-40s or so, approached me.
Them: "Can we get a picture?"
Me: "Absolutely. How're you guys doing today? Hot enough for you?"
The small talk continued as one of the guys sat his drink on the table and fumbled around a bit for his camera. We prepared for the shot, and …
Them: "So when are you going to get back in a car?"
Me: "Aw fellas … I'm not Brian Vickers. I'm sorry."
I have decided it's high time I dress up like The Sheriff Brian L. Vickers for Halloween.
May, 21, 2009
05/21/09
9:30
AM ET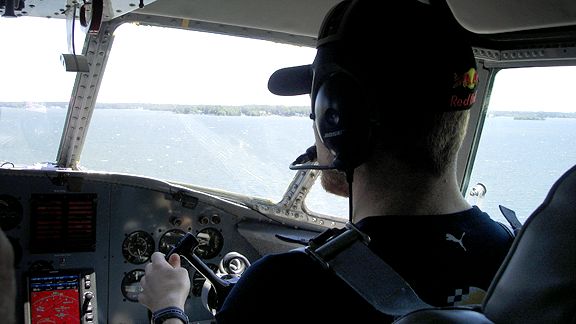 Marty SmithBrian Vickers is a man of many talents, as he demonstrates at the controls of the Red Bull Albatross.
CORNELIUS, N.C. -- Red Bull gives you water wings. I've seen it firsthand, courtesy of "The Sheriff" Brian Lee Vickers and his random sponsor exploits.
Vickers has an energy crisis -- he has too much of it. And when it kicks in full-throttle, Dennis the Menace comes out to play.
Dennis is Vickers' alter ego. And today, it's in full effect.
He's a decent enough airman, too. But don't tell Vickers that. He'll believe it.
Ol' Red Beard is at the controls of the Red Bull Albatross, a big ol' hunk of steel built in 1951 that takes off and lands on water. It's pretty awesome, seats about 15 and offers the opportunity to stick your head out the back during flight.
I did it. My hair actually moved.
The Albatross is in town for the Coca-Cola 600 to tote around media and sponsor types. We've been flying around Lake Norman, just north of Charlotte, for a half hour, 45 minutes, maybe, and Vickers will land it on the water.
He's been behind the wheel for 15 minutes or so. He has no license. Thank heavens the plane's full-time pilot is right beside him, wheel of his own in hand. Vickers is like a driver's ed student, sans the timidity.
At this point, I'm stationed in the nose of the plane, laying belly-down on what seems to be a polar bearskin rug, peering straight down at the water out a porthole. It's a stellar view. I live here, and I had never seen the lake like this. I see a few spots I recognize, some watering holes and a couple of my buddies' houses.
I suddenly think about the release waiver I signed, handing my life to Red Bull lawyers if The Sheriff happens to run out of talent.
Ultimately, the landing is smoother than USAir's.
As we drift to a halt, the plane makes the same creaks and groans that the Titanic makes incessantly throughout the movie. I am reminded of my landlubberliness.
After the flight, we boat back to the Rusty Rudder for lunch. Vickers discusses such things as NASA and the currency of Iceland. He reads the Wall Street Journal.
I need a nap, but I settle for a Red Bull.