Category archive:

Carl Edwards
October, 6, 2013
10/06/13
5:57
PM ET
The Heartland …
Sunup to sundown …
The melody of the plow is the pulse that pulls the second hand 'round …
Daybreak to dusk.
Every tick of the sunlight dial wrings dry the bountiful prospects of the land …
In the Heartland
Carl Edwards: I like where I grew up. I like the fact that you can have not enough money to pay for gas at the gas station and they say, 'Hey, don't worry about it. Get it tomorrow.' There's a big sense of community where I'm from.
Folks here don't expect handouts …
But are quick to lend a hand …
Their conscience is the memory of their father's calloused hands.
Generations of meticulous effort …
They will not accept shortcuts …
It's do it right …
Or don't do it at all …
In the Heartland.
Edwards: I'm blessed to have grown up around a lot of people who are good, hardworking, honest folks who held me to a really high standard -- which was painful sometimes. I'll be at the hardware store and they'll say, 'Man! I knew you. I used to see you go pick up cigarette butts at your dad's shop!' It's like they just can't believe it. It's neat to be around people who really know who you are.
Sweat that drips from a man's brow is as understood as the air that fills his lungs …
'Round here a handshake is a contract …
Word is deed … and faith is creed.
Aim as true and straight as the corn rows that define this place …
Edwards: You tell people what your hopes and your dreams are, and they laugh at you. Or they don't believe you can do it, and it's tough. Whenever people ask me for advice, I just tell them the simplest thing is three words: Never give up. I realized a couple years into this project that I'd beat about 95 percent of the people I was competing with just by not quitting. I think that's the key.
Look a man in the eye …
Square …
Roots run deeper than limbs extend …
In the Heartland.
Edwards: When [International Speedway Corp. president] Lisa Kennedy and the folks at ISC built this place [Kansas Speedway], it was when I was working as hard as I could, to do anything I could, to make it as a race car driver. This place was bigger than a challenge. It was almost an insult to have all of this racing right here happening, and, all of a sudden, people in the area I was living in were talking about auto racing. And I was like, 'I'm part of that, guys!' That's what I want to do!
Passion.
Edwards: I was a student at Missouri, and I was racing at my local dirt track and had a good deal going at school. And I was talking to someone about this race I ran on Saturday, and one of the students in the class says, 'What are you talking about? You're a race car driver?' And I said, 'Yeah. That's what I want to do.' He's like, 'You think you're going to race in the Daytona 500 or something?' To me, those were fighting words.
I hear people say, 'Oh, Carl just wants to be on TV.' To me, deep down, I still have this fear that whatever I do is not going to be good enough. So when I'm on TV with you guys, or talking to sponsors, I'm very aware that that's what makes this thing go around, and I don't look lightly on any of it. That's why I give it 100 percent all the time.
Pride.
Edwards: I remember driving past this place on the highway going to Colorado to a race, and I didn't even want to look at it because it was everything I wanted to be doing, right there. And so to me, it's a challenge. And for me, the last part of that challenge would be to win here.
You may leave it … but it never leaves you …
Edwards: I've lived two separate lives, man. I've lived the life of sneaking into these places and handing out business cards and having people laugh at me and living the life of people driving by yelling my name and honking. They're both fun. If this all ended tomorrow, I guess I'd high-five everybody and go find something that made me feel good.
Wherever you go … it is with you …
The Heartland.
November, 3, 2012
11/03/12
4:50
PM ET
For drivers marching relentlessly toward the hope of a life-changing first NASCAR championship, the mental toll of the challenge is every bit as taxing as the mechanical or the strategic.
While in the garage Friday at Texas Motor Speedway, I sought out Carl Edwards to discuss that dynamic.
[+] Enlarge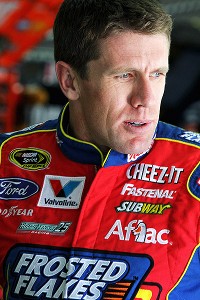 Jerry Markland/Getty Images/NASCARCarl Edwards, who lost the 2011 Sprint Cup championship on a tiebreaker, has zero wins and failed to make the Chase.
He's lived it. Three times during his eight-year-plus career, Edwards has been in contention for a championship in the season's late stages, in 2005, 2008 and 2011. Meanwhile this season, despite high expectations, has been wholly disappointing: zero wins and a failure to qualify for the Chase.
So how would he assess his team? How did his back-and-forth with Tony Stewart in 2011 affect his opportunity to win a championship? And what are Jimmie Johnson and Brad Keselowski experiencing right now?
Smith: What assessment would you give the No. 99 team right now?
Edwards: "The 99 team, right now, I think we're 15th in points or 14th in points, or something, so we're in a position that, No. 1, we didn't expect to be in, and, No. 2, is not acceptable to us. So what we're doing is, we're doing everything we can to make sure this Fastenal team gets running the way we know it can, the way it did last year -- the way our teammates are, for that matter.
"We're looking at every aspect of the team: the crew chief, the driver, the pit crew, everything that we can try to make better so that we can go out in 2013 and win a championship."
Smith: In what areas, specifically, do you need the most improvement?
Edwards: "There are a couple things that definitely we can do better. But that's the thing, there's no one big problem we have. Now, we have had a lot of bad luck. We have had a crew chief change. But there's not one specific thing.
"I think if we're honest with one another, we all have to be better in a small way. I know that's what we're working on, and hopefully we can accomplish it. We know how well we can run. We come to the races expecting to win, expecting to be on the pole, expecting to fight for the championship. And trust me, it is not fun running the way we've been running."
Smith: You've lived Brad Keselowski's current situation, a guy vying for his first Cup championship and negotiating all those emotions and pressure. What is that like?
Edwards: "My personal opinion is that Brad and Jimmie are experiencing a lot different type of pressure. I can only speak from my own experiences. In 2005, we had a real shot at the championship. We tied for second behind Tony Stewart. That type of pressure was kind of fun. There was no expectation. Anything we did was a good thing, and any mistake I made was acceptable.
"Then in 2008, we won nine races. We were battling Jimmie. Jimmie was on top of his game. Jimmie and Chad, as they always are, were very tough. Jimmie didn't play really any mind games. He didn't make any statements like he's making in this Chase, but I did feel a different type of pressure, started to feel like, 'Wow, I should win this championship.' And that was a little bit different than 2005.
"Then we go to 2011, and it was totally different for me. I had made all my mistakes. I knew that was my championship to win. And so, I felt like there was a lot more pressure on me. Fortunately, I can look back on that and say we went to Homestead with all the pressure in the world, qualified on the pole, led the most laps and just got beat.
"But that is a very, very difficult thing to do. And I think Jimmie, right now, realizes Brad's somewhere in that area where he needs to win this championship. I saw Jimmie kind of poking at him in the media. And if you remember, Jimmie spun out, he made a mistake at Kansas. And for him to come in to the media center at Martinsville to act like he's the man and all the pressure's on Brad, that's very, very telling of where Jimmie's mind is. He knows what he's doing."
Smith: What advantage does championship experience give a driver?
Edwards: "Tell you this, the difference between five championships and six. ... I mean, [Johnson's] just having fun. He's going to go home, no matter what happens, look at those trophies and, hey, he gave it his best shot. The difference between zero and one [championship]? That's a big difference.
"And if Brad Keselowski can do what he's done all year, I think that he's going to show everybody that he is very, very mentally tough. 'Cause it's tough. When you're dealing with a champion that's done it a number of times, it tests not only the driver but the team.
"Those guys, if they're in the hunt when they come down to that last pit stop, his pit crew, they're going to have to have nerves of steel because they know it's all on the line. And they don't want to be the guys that bump up against that heavyweight champ, Jimmie, and get pushed aside. They want to win."
Smith: We all thoroughly enjoyed the back and forth in the media between you and Tony Stewart in 2011. What affect do those mind games have on you?
Edwards: "I'm very fortunate. I've had a lot of life experience that's taught me that, usually, when people are talking a lot, they're trying to hide something, they're trying to cover something up. And I've dealt with Tony enough that I knew he was having a good time. It was a good show. But I knew deep down, I've read his book, I know what he's about. He wanted to win that championship.
"And in my opinion, I think that was something that he was doing to try to shake us. So that made it easier. But if that would have been my first year up there competing for the championship, it probably would have been a little bit tougher. It is fun. It's a neat experience to be a part of. It's definitely educational.
"Pressure can do a lot of things, but it can make diamonds too. I think it made me tougher, and I think that no matter what happens, I think Brad, just going through this, is going to be a really, really great competitor because of it. And he's going be driving a Ford next year, so for us, I think it's really good."
March, 26, 2010
03/26/10
8:29
AM ET
I was going to leave this alone. It seemed as played out as Bret Michaels' reality TV career. But it's not. Obviously. Kevin Harvick versus Carl Edwards is a festering sore.
So let's analyze it.
Harvick says Edwards is fake, that he "can't be the nice guy, the bad guy and the bully," all at the same time.
I fully understand Harvick's feelings. He's not wrong. It is awful tough to like a guy who competes like Biff Tannen at a McFly family reunion, then climbs out of his car, grins like the Cheshire cat and pseudo-apologizes for it. Total Eddie Haskell.
The personalities are polar opposite, and flip like a switch. It's nearly impossible for most folks to comprehend how one guy can be both people. Harvick's not alone. Several folks have voiced a similar opinion.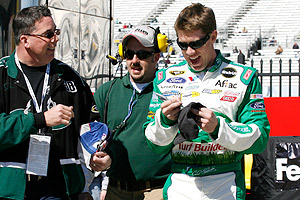 AP Photo/Glenn SmithNo matter what Kevin Harvick says, Carl Edwards remains one of the most popular drivers in NASCAR.
Not me. I understand full well who Carl Edwards is.
Because I'm him.
And understand this: I'm not making excuses for him. So you can flush that mess down the toilet.
I just get it. I'm uber-competitive. I'd rather shut my finger in the door of a 1981 Oldsmobile Cutlass Supreme than lose a beer-league softball game. Flag football? I nearly went rounds with the boys at Roush Fenway last year over some juvenile garbage mouth.
Pickup hoops? I'm Bob Knight without the sweater.
I don't even like to lose a debate about ... well ... anything.
I'm not a sore loser, per se, and I've grown up a lot in recent years. But I don't readily accept failure, either. I have a tendency to overreact in the throws of conflict.
When I'm hanging out with my buddies I'm pretty easy-going. I laugh a lot, cut up, genuinely care for the well-being of those I love -- and even most of the folks I don't.
I want the best for people. I appreciate good souls and openly recognize great talent. I don't have to like you to respect you.
But listen, when I'm posting up Dr. Such-and-Such from down at Presbyterian Hospital during noontime basketball, and he cuts my legs, that nice guy takes a vacation. I'm up in his wheelhouse like his daddy used to be.
I'm not saying it's right. In fact, it's not right. I spend a lot of time preaching that to my son now. That's not how anybody should react.
But it's what guys do. Competitors, when pushed too far, react. And it may not be pretty.
That's what Edwards does.
And for that matter, it's what Harvick does, too.
The difference is the aftermath.
Harvick says, "You gotta do what you gotta do" when he sends Joey Logano.
Edwards says, "Man, I hate that. I don't like to ruin someone else's day."
That's me. I'm not the guy enjoys leaving the gym with an unresolved conflict. After I've told the guy that's going to deliver my kid at the hospital that he couldn't guard Betty White and needs to spend some of my premium on some Speed Stick, I'm the first guy to go apologize for being an idiot.
Because of that win-at-all-costs philosophy, the kids at Narrows High School (Va.) in the early '90s hated me more than any words can describe. But once we started hanging out socially, and they saw what I'm really about, the tide shifted. Quickly.
Guess who some of my best friends are today?
I could be wrong, certainly. But I'd bet you Kevin Harvick and Carl Edwards are a lot more alike than either of them realize.