Category archive:

Kyle Busch
June, 4, 2013
06/04/13
2:33
PM ET
Kyle Busch is wearing a white hardhat, baggy jeans and a blaze-orange M&M's polo shirt bright enough for a prize buck hunt. He's in a neighborhood in Charlotte, N.C., swinging hammers during a Habitat for Humanity home-build shift. This is a couple weeks back.
It's muddy and he's dirty. Rain has pelted greater Charlotte all morning, and the red clay runoff from the mounds of dirt along the periphery has turned to pudding on the home's concrete foundation.
As I watch Busch slam framing nails into two-by-fours, the scene intrigues me, this contrast between his muddy shoes and the clear-blue-sky clarity of the statement he's saying to me.
It started when I asked what he considered to be the greatest accomplishment of his career to date. This is a guy who has 115 wins across the three major nationals series. He's won inaugural races (Kentucky) and won at home in Vegas. He's won Darlington and both road courses. That's just in Cup.
[+] Enlarge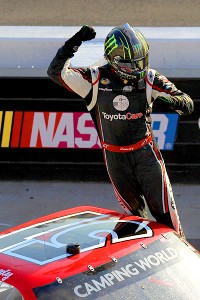 Todd Warshaw/Getty ImagesKyle Busch has 32 wins in the Camping World Truck Series, including Friday's victory at Dover.
He's done a few things with a wheel in his hand.
He didn't hesitate: The Bristol sweep.
"Not a lot of people really try for those things because they don't run Truck races -- the Jimmie Johnsons and Jeff Gordons don't run Truck races or very many Nationwide races," he said.
"That was pretty cool for what I'm all about and what I do, and for how many laps you run during a season and for what all can happen throughout a race -- as well as how we've seen how much bad luck I carry around behind me -- it's pretty special when you can win three races in a weekend like that."
As we chatted, he was fresh off another dominant performance in the Camping World Truck Series, this time at Charlotte Motor Speedway. As he bowed to the assembled in a cloud of tire smoke, they booed. They love him or they hate him. No in-between.
Here's the thing: Polarizing is a fine position, really, so long as it's properly channeled.
I wondered aloud how he felt about the criticism he takes for competing in -- and winning -- Nationwide Series and Truck series races so readily. What are his thoughts about the commentary that the beatdowns he lays are akin to Justin Verlander throwing filthy heat to Class A talent?
And what of the chatter that those wins don't count for much, anyway? They're not big-time wins, they say. If it ain't Cup it don't matter, so why bother, they say.
"For me, it's just an opportunity to go out there and get as much track time as I can, to get out there and feel the tire, feel the track, try different lines to see if they help you or hurt you, to not try that on Sundays," Busch said analytically.
"And I think all that helps me a little bit. Instead of going out on Sundays and trying all of that, and being behind the 8 ball a little bit, I already know what does or does not work. So that's my benefit.
"To people that discredit the wins and stuff like that, I mean, I'm not fighting with anybody, but everybody keeps saying my wins in Truck and Nationwide don't mean anything. That's not true. They mean a lot to me."
Fair. Expound, please.
What, exactly, do they mean?
"Everybody thinks I'm shooting for Richard Petty's 200-win record. That's not true," Busch explained. "Richard Petty won his 200 races in his era. That's cool, man. I mean, granted, he did it. Right? He's the all-time winner in the Cup series. For me, if I win 200 races over all three series, my record has nothing to do with Richard Petty's record, ya know?
"To me, it's just something I want to accomplish and I want to do, and I think everybody's making too much of it."
That answer is telling. Kasey Kahne has entered five Truck races in his life. He's won four of them.
Busch is wholly unconcerned what any of us think or say about his desire to race. It's not about exposure -- if it were about exposure he wouldn't fly to Slinger and Lanier to race obscure Late Model shows.
It's not about beating lesser talent -- truth told, most drivers in the Cup series have lesser talent.
It's not even about history. History is old hat.
It's simply about the opportunity to compete, to get out there and gas it up -- anytime, anywhere, in anything. Fire it up and let it eat.
I don't care if you detest the guy. In an era when drivers get rich and ride with no particular resume to speak of, that's oddly refreshing.
June, 5, 2011
06/05/11
1:36
PM ET
KANSAS CITY, Kan. -- As far as I'm concerned, it's high time Kyle Busch grabbed a shotgun and took off after Richard Childress. On a hunting trip.
Go to Montana with him. Or Wyoming. Or some remote land maps don't chronicle and nobody's ever seen outside of Childress, Dale Earnhardt and the locals.
That's the only way this feud will truly be quelled. They need to hash it out over cold beers and wet fishing line. With that comes honesty. And, ultimately, laughter.
On Saturday, witnesses said Childress removed his wristwatch, snatched up Busch in a headlock and went to beatin' on his head with his fist. There is neither footage nor photographs of the incident, at least that I am aware of. But I imagine it looked something like Nolan Ryan versus Robin Ventura.
[+] Enlarge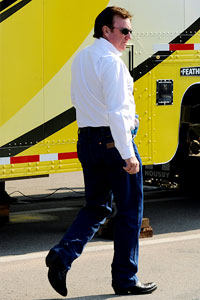 John Harrelson/Getty ImagesRichard Childress leaves the NASCAR hauler after meeting with officials prior to Sunday's Cup race at Kansas Speedway.
Whether it looked like it or not, we'll likely never know. But we do know this: The message was the same. Don't tread on me, young buck. This is my territory, and I'll see to it myself that you respect that territory.
As it pertains to racing, Busch did nothing wrong during -- or after -- Saturday's Truck series race at Kansas Speedway. Yes, he raced inexperienced drivers very hard -- too hard if you ask around the Cup garage. But this is Kyle Busch. If it has wheels, he's going to drive it like Junior Johnson running from the revenuers on the backroads of Wilkes County at dusk. We know that. It's not surprising.
During the race, Busch leaned on and crowded some kids who aren't prepared to be leaned on or crowded, including Joey Coulter, driver of Childress' No. 22 Chevrolet. He tapped Coulter after the checkers. That is driver code for, 'Hey, brother, I see you. I'm right here. And I don't like what you did to me.' It happens every weekend at every racetrack in this land.
The difference is this isn't Sprint Cup.
Coulter has eight Truck series starts to his name. He's learning on the fly. And he was racing the best of the best for a top-5 position. Welcome to the big show, kid. Coulter said after the race his truck began to handle differently than he expected. It got tight, so the front end wouldn't turn, and he pushed up into Busch's truck. Coulter ultimately prevailed in the drag race to the checkers, finishing fifth to Busch's sixth.
No matter the reasoning, Busch was none too pleased with the outcome and showed it with the love tap.
And that set Childress off. He would not be denied. He would prove to Busch once and for all that damaging his cars for no good reason would no longer be tolerated. This goes way back, even before Darlington or Dover. Multiple sources inside Richard Childress Racing tell me that there was a time years back, when Busch and RCR's drivers were wrecking far too many cars unnecessarily. That equals countless man hours to fix them. And that equals money spent.
So Childress confronted Busch, and told him if it continued he'd settle the situation himself. Saturday, it seems, he lived up to his word.
Childress hasn't commented on the matter, and Busch has said little more than yes, it happened, and that he'll support whatever action NASCAR deems appropriate. At this time he doesn't plan legal action outside of NASCAR's decision.
NASCAR said Sunday that Childress' actions were "unacceptable" for a team owner and "will not be tolerated." The sanctioning body will announce its findings this week, and I'll be very surprised if they suspend Childress. I base that opinion on his stature in the sport and the lofty respect NASCAR officials have for him. I could be wrong, but I expect he'll be fined monetarily, and that will be that.
What he did wasn't right. It's the old-school approach. It's the way it used to be handled. It's not how it should have been handled this time.
They should grab a couple of shotguns instead. And go hunting together.
May, 9, 2011
05/09/11
5:01
PM ET
Kevin Harvick versus Kyle Busch isn't over. Trust me. Even if NASCAR slaps them both with a penalty and even if both drivers say all the right things, their general intolerance for one another goes way back and won't wane anytime soon.
I'm not saying they'll intentionally dump one another every weekend. Not even. But drivers' memories are everlasting -- every wreck, every perceived injustice. And forgiveness is fleeting. I had that very conversation with a former Sprint Cup champion last fall in Fontana, Calif. When I asked, he laughed.
"Oh, hell yes, we remember everything -- forever," he said. "Anybody who tells you different is lying."
For that, we fans are the winners. It adds to the weekly grind an intriguing layer that is both captivating and, if you ask me, sorely needed.
I expect NASCAR to penalize both Harvick and Busch in some fashion, probably probation and a monetary fine. But if they do so it will be because the fracas occurred on pit road, where innocent bystanders could have been injured. Not because they don't like each other.
If this had happened in Turn 3 at Darlington, we'd move on down the road to Dover. But it was on pit road, and a car went careering into the pit wall with no driver aboard. That doesn't sit well in Daytona.
Harvick and Busch are the perfect candidates to resurrect the old-fashioned NASCAR rivalry. Both have a serpent's tongue and a laser wit and a general intolerance for one another. It's DW versus Dale circa 2011.
And while those characteristics add drama, none of them is as important as their respective on-track success. Both are championship-caliber drivers on elite teams. Both are weekly contenders. They run closely together every single race. Neither is apt to take much flack. And these days neither has to race as if the food on his table depended on his success. But both do so.
No matter how fans may perceive either one of them generally, most everyone appreciates their hard-charging approaches. I know I do.
Think for a moment about sports' great rivalries: Duke versus North Carolina, Yankees versus Red Sox, Michigan versus Ohio State, Lakers versus Celtics, Packers versus Bears, and so on. Why are those rivalries great? Because the teams are almost always competitive.
I grew up in Virginia. In my mind, Redskins versus Cowboys is the greatest rivalry ever. But even that has lost some luster through the years because the Redskins haven't been the Redskins since Joe Gibbs hung up the whistle the first time around.
Great rivalries engage the national audience. I'm neither a Yankees nor Red Sox fan, but I watch every game they play against one another because the general hatred is palpable and fantastic to experience.
And they're almost always in a battle for the pennant. I'd bet Harvick and Busch will both be in NASCAR's pennant race come November.
It's not over.
October, 8, 2010
10/08/10
7:24
PM ET
FONTANA, Calif. -- David Reutimann is generally the docile, self-deprecating type. He doesn't say much unless asked, and isn't inclined to get overly worked up about on-track skirmishes. Wrecking, he figures, is just part of racing.
But last weekend in Kansas, Kyle Busch pushed him too far, and their disdain for one another boiled over into unabashed hell-bent payback.
It's akin to Ralphy's Revenge in the "Christmas Story" movie. That redheaded boy picked on Ralphy one time too many, and the only way to end the torment was to wear him out like Rocky Balboa on a cow carcass.
When it came to fights, my old man used to stress to me: Don't start any of them, but finish them all. Otherwise the picking will never stop.
"Bottom line is nothing would have happened if he hadn't wrecked me. It's the bottom line -- it really is that simple," Reutimann said Friday. "It's not complicated. It's not rocket science. It's just all about respect. And the fact of the matter is he went down there he wrecked me 50 laps into the race backed my car into the fence and he never said anything about it, so he didn't care."
Several drivers -- including garage voice-of-reason Jeff Burton -- came to Busch's defense. From their perspective Busch didn't intentionally dump Reutimann. That doesn't necessarily matter, because the feud wasn't born at Kansas. I'm told it goes back years, and hit the rev-chip at Kansas following a summer full of verbal jabs at one another.
"I heard him get out of the throttle, but if you are David Reutimann and you've been wrecked over the last several weeks and you have had an issue with someone in the past, and now you are having an issue with him again, what recourse do you have?" Burton said. "There are two ways of doing it. You can take something they've got or you have to put fear in them. It can't be idle words. If you tell somebody what you are going to do and then if you don't do it, then it is worse than not ever saying anything."
Both drivers said Friday they'll gladly continue the drama if the other so desires. Certainly, both know it's best to move on. But it's never that easy when emotion is involved.
"I didn't cut him any slack, and you know, I got into him which was my fault, not meaning to, but why would I apologize to a guy that races me like an a------ every week? No point," Busch said.
Busch said Reutimann's banzai run to the fence was intentional, and done with "malicious intent." I asked Reutimann for a response. He didn't disagree.
The fallout from this is wide-reaching. Busch's title hopes took a serious hit, and many were left pondering playoff racing etiquette. Should non-Chasers defer to Chasers?
Negative. The consensus is to go like hell, just make sure you race me like you've always raced me. If you gave me room at Martinsville in April, give me room now.
"Every driver should race every driver the same way they race the entire year," said Ryan Newman, a non-Chaser known for his aggressive nature. "No matter Chase or no Chase.
"There are drivers that are in the Chase that maybe got in the Chase because of the way they raced before the Chase. Sometimes they got to get paid back for that, if you want to call it a payback. I don't think that there is anything different from a Chase racer to a non-Chase racer."
Kevin Harvick agreed.
"I think everybody needs to race as hard as they can," Harvick said. "You know everybody will race everybody with respect, and obviously if you feel like you've been done wrong, you are going to handle it how you think it needs to be handled."
It's the same Golden Rule my momma pounded into my brain until the day she died: Treat people like you want to be treated.
It's a simple principle with dynamic repercussions, both good and bad.
"You know, you have all of these past moments throughout the year that could rear their ugly head again if they haven't been settled," Harvick said. "And [Busch-Reutimann], to me, looked like something that hadn't been settled, hadn't been talked about off the racetrack. So there was just too much emotion involved in that whole situation."
"You have to drive people with respect all the time," Burton said. "You can't pick and choose when you want somebody to respect, and you can't pick and choose when you want to respect them. It has to be all the time or none of the time.
"As a Chase guy, and as a guy trying to win the championship, I don't want anybody messing with me. The guy that is second in points, and [the guy that] is 20th in points, I want them to race me the same way today as they did three months ago. And I don't have a problem with that, because I figure I race people with respect and I'm going to get that back."
Racer's have eternally long memories, no matter what they may say publicly.
The debate is rather fundamental, and centers on just one thing.
Qeue Aretha …