Category archive:

Jeff Gordon
May, 25, 2011
05/25/11
7:39
PM ET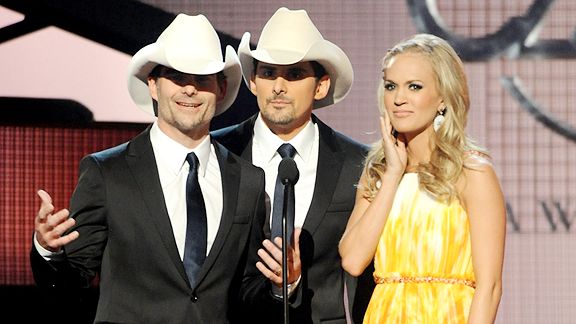 Rick Diamond/Getty ImagesCould Jeff Gordon, left, possibly be Brad Paisley's long-lost twin brother? Even Carrie Underwood did a double take at the 2010 CMA Awards.
Family, faith and Virginia Tech football not withstanding, my life's greatest passions are NASCAR racing and country music, and for the very same reason: Both are authentically southern and fundamentally rooted in an outlaw past.
Anyway (David Pearson shout-out), those passions collided at Charlotte Motor Speedway on Saturday. Brad Paisley showed up at the Sprint All-Star Race to hang out with a couple old buddies, Rick Hendrick and Jeff Gordon, and debut the video for his excellent new single, "Old Alabama."
It was the perfect scenario. Paisley already was planning to attend the race as a fan, then found out the track had a television screen on the backstretch big enough for the astronauts to watch from Endeavour. Why not debut a video on it?
So there he was, parked on site in the Nationwide garage, seated in the heavenly shadow cast by his blue and white tour bus.
Most folks in the racing industry are aware of my country music fandom. Including the Hendrick Motorsports folks. So they arranged for me to sit for a time in Paisley's shade to chat about the video, which includes a slew of Hendrick's classic cars and stars Gordon, naturally, as Paisley's buddy.
[+] Enlarge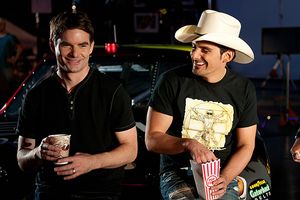 Hendrick MotorsportsReal-life pals Jeff Gordon and Brad Paisley play good buddies in the country music video "Old Alabama."
It was 4 p.m. And it was at least 8,000 degrees. In 2010, Paisley released a song called "Water." I thought I'd make a quip about the heat and how badly I could use some water. But then I realized that wouldn't be funny. So I didn't.
When I sat, I shared with him that I'm probably the biggest country music fan on Earth.
"Oh, wow, good," he said. "I'm glad to know that person exists."
Zing.
Paisley and Gordon may as well be twins. During the 2010 CMA Awards show that he co-hosted with Carrie Underwood, Paisley had the idea that he and Gordon should wear identical suits, and Gordon should walk onstage wearing his hat. Gordon played along, and the two took a photograph together beforehand.
"I went, 'Oh my God, that's me,'" Paisley chuckled. "He walked out with Carrie and started presenting. The trick was we didn't have him speak. When he talks, he sounds like Jeff Gordon. There's only one voice like that. We don't sound alike. But it was absolutely hysterical. He could have stood there the whole time.
"We have a common friend in John Lasseter [CCO] at Pixar, and have gotten to know each other through them. All it takes is one other family that you hang out with, and next thing you know you're all around together. I think the world of Jeff. He's a good guy."
So when the time came to write the video plan for "Old Alabama," Paisley had another idea for Gordon.
"This song is all about driving and listening to music in a nice car, so we did a NASCAR take on it," he said.
They shot the video on the Hendrick Motorsports campus, where Rick Hendrick opened the doors to his classic car collection.
"Rick's been so generous," Paisley said. "He let us use all these old cars and his facility. We couldn't have done this without him. We had '57, '59, '63, '65 Corvettes. You've got these backdrops that look like they're part of a set, but they're not. They're part of his facility. If we'd have had to pay for this stuff, it would have been a million-dollar video."
Paisley describes the production as "a buddy flick," in which he and Gordon cruise around the CMS backroads, then take a seat on the hood of an old car to watch a movie on a drive-in screen while they reminisce.
[+] Enlarge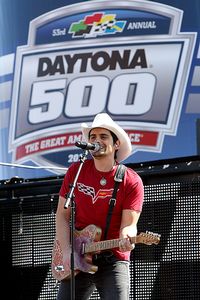 Kevin Kane/WireImageBrad Paisley rocked the house during a prerace concert at the 2011 Daytona 500 in February.
"We drove the 24 car around on the road out here," Paisley laughed. "We didn't make it street-legal. We just drove the thing. That's the beauty of videos -- they'll close down roads for you. People were freaking out, man. Imagine that car going by you -- Jeff himself was out there driving his race car on the roads. People saw him go by, and were like, 'What? He didn't even take time to switch vehicles before driving home from work?'"
As the video concludes, Johnny Law shows up and asks which one of them is Gordon.
Gordon points at Paisley.
Paisley gets the ticket.
That's how the video ends. But, in fact, it is only the beginning. Both gentlemen are quite philanthropic, and the video project offers an opportunity for more giving.
"We're using this video as an excuse to give some tickets away," Paisley said. "We're pairing up to give away tickets to the races to my fans, and tickets to my concerts to his [fans], and combining our charities here and there. We've only begun that process.
"Now we've got this video common-thread, in addition to it looking like my father made his way back to California or wherever. ... I don't think my dad was in California ..."
Zing.
"Anyway, it's a chance for both of us to do good that way. And it'll be a great use of a famous friendship."
The past year has been huge for Paisley. He was integral in helping buoy Nashville emotionally following the flood last spring, then helping rebuild it physically in the aftermath. Then, in November he achieved one of country music's highest, rarest honors: Entertainer of the Year.
"It's our Cup championship," he said. "Even though we don't necessarily earn it in points. It's a voted-on thing, so it's subjective. But it's a feeling of history in a way that only a few moments have matched. Like The [Grand Ole] Opry -- that's the gift that keeps on giving. When you get that, you can play there the rest of your life. That's better than the Hall of Fame, in my opinion, because the Hall of Fame is like, 'Nice job, you're done. I hope you had a good time because it's over.'
"Although, they put in George Strait recently and he's nowhere close to done. But the Opry is an award that's like the keys to the city. And Entertainer feels just as big, because it's achieved. Kenny Chesney called me and said, 'Enjoy this. They don't give these away. These are earned and you did a great, great job. Congratulations.'"
NASCAR is an obvious fit for Paisley. NASCAR people are his people. We're country and proud of it. And as a fan, one thing I really appreciate about him is, like us, he pays particularly genuine homage to the pioneers who built his platform.
"It was easy to cross right into [NASCAR] as a fan, because it's so much my world," he said. "Other than that it's a lot of the same types of people. I never feel out of place at races. I feel right at home."
February, 28, 2011
02/28/11
2:18
PM ET
Throughout Sunday morning, Feb. 20, the Daytona Beach air was electric, buzzing with an anticipation not felt, at least to that degree, in years. Many felt it, mentioned it. The grandstand was packed and the prerace entertainment decidedly Southern.
There was a palpable optimism, a sense that 2011 could be a cornerstone chapter in NASCAR's comeback story.
As Martina McBride completed a hair-raising National Anthem -- sung how it's supposed to be sung -- I began to make my way to the No. 29 team's pit stall. On the third lap of the Daytona 500, there would be a silent tribute, three fingers raised by every attendee in honor of Dale Earnhardt. I wanted to be with his team during that emotional moment.
The 29 pit was down toward Turn 1, and the walkway to get there was packed with people. I knew I'd never reach my destination in time if I didn't take an alternate route. So I grabbed my buddy, ESPN the Magazine senior writer Ryan McGee, hopped the pit wall and took off down pit road. It was empty, save for a few crew members sweeping their pit stalls and the team of NASCAR officials who work pit road every weekend.
As I walked I offered well wishes to many but stopped to shake just one hand, Leonard Wood's. I grew up in Virginia. My father's mother was born and raised on a farm in Stuart, just around the corner from the Wood brothers' homestead. I know what Wood and his family mean to folks back home. For decades they've proved small-town boys can make it big. There is a strange hope in that -- that people just like you can do amazing things.
Suddenly, a hair-raising realization hit me. The cars were rolling off. This was the Daytona 500. This was the moment I'd spent months waiting for and a lifetime dreaming of. And here I strolled, on the racetrack -- on the racetrack -- with the cars as they sped off into battle.
I can't lie. I was wide-eyed, humbled and plumb tickled, and I could tell McGee was, too. Like me, he completely understood and respected how impossibly rare and special this moment was. We hustled to the 29 pit and giggled all over ourselves, making sure we took copious mental notes of the experience to share with our children someday.
Several hours later 20-year-old Trevor Bayne was parked in Victory Lane and square in the American mainstream consciousness, a captivating, gracious and gregarious young man who achieved the impossible. He is the type of kid every father prays his daughter brings home, chivalrous, selfless and refreshingly unaware of what he'd just done.
It was an achievement that reminded us of heroes lost.
There is hope in that and it subsequently gave hope to NASCAR racing. But how do we follow that up? How do we harness that momentum and push it forward?
Easy. With a good ol' classic American comeback story, a redemption piece, one born from a once-hated silver spoon now humanized by an unforeseen topple from the pinnacle.
Jeff Gordon's win at Phoenix was the perfect way to continue the momentum from Bayne's Daytona 500 triumph. It was unexpected yet historic, and it wasn't handed to him. Gordon went and took it. That was the true beauty in it. For the first time in a long time, he hunted down his prey and completed the kill.
In recent years, as Gordon's nearly decade-long dominance of the sport became a distant memory, fans who once utterly loathed him suddenly had empathy for his struggle. Near miss upon near miss led many to consider him washed-up, done, shelved. He even began to question whether he'd lost the fire.
But Sunday, on the very same track that three seasons ago saw him equal his greatest and most respected rival, Dale Earnhardt, in career victories, he moved into a tie with legendary Cale Yarborough for fifth all time on the wins list. Two more and he'll own sole possession of third.
As I sat and watched Gordon and his boys spray champagne Sunday, I happened to look at his race car. It looked like a race car is supposed to look. It had an air dam on the front and a spoiler on the back. No wings. No spice rack. And there was confetti all over it. It looked like a big red Christmas gift.
And for NASCAR and many of its fans, that's exactly what it was.
After I interviewed Gordon about his win, I happened upon a longtime industry acquaintance who had been part of many of Gordon's wins over the years. He noted how different this one was from any he could remember. Gordon was completely engaged, thankful, relieved and, oddly, validated.
He soaked up every second of the moment.
We all should follow suit.
There is hope in that.
November, 7, 2010
11/07/10
9:30
PM ET
FORT WORTH, Texas -- Nov. 7, 2010, was a good day for NASCAR. It may well have been a landmark day.
In a time when we hear incessant complaints about boring races and vanilla drivers and runaway points championships, the Sprint Cup Series put on a show for the ages at Texas Motor Speedway.
There was anger. There were fisticuffs. There was divorce. There was bravado.
And the sport needed it. Every bit.
The drama began when Kyle Busch was cited for speeding off pit lane to beat the pace car and assessed a penalty. While serving the penalty in his pit stall, idling, Busch fired off a pair of single-digit salutes, double-barrel, Texas-style, at a NASCAR official.
It's not OK. NASCAR said its men and women work hard and fair, and deserve respect. That is unequivocally true. But right, wrong or indifference aside, many NASCAR fans understand and appreciate emotion in the moment. Just because it's childish doesn't mean we don't understand it. Many of us have been there.
It's real. NASCAR needs real.
The day ended with a furious dash to the checkers by Denny Hamlin that culminated in a gutsy (PC description) crossover move to win it, when he easily could have coasted to the points lead with a second-place effort. It was a man hell-bent to grab his title shot by the throat and squeeze. It was an offensive approach in a moment where better judgment may have suggested otherwise.
Fans appreciate that. That's what they paid 50 bucks to see.
There was a pair of soap operas to boot, one of which involved Jimmie Johnson's pit crew. They were benched on the big stage, right there in prime time for the world to see, in favor of Jeff Gordon's bunch. The 48 crew faltered one too many times, and Chad Knaus sat them. He didn't like doing it, but he's not here to run second.
"Everything's on the table," Knaus said. "If Steve Letarte can call a better race than me, I'm going to put him on my pit box."
There are two races remaining and the four-time defending champions are broken.
Johnson had no remorse, saying they're there to win a title and if anyone's feelings are hurt, too bad.
That may not have happened had Gordon not been dumped by Jeff Burton. Straight-up wrecked. Burton admitted fault, but Gordon wasn't much into hearing apologies. Gordon was so livid he exited his car, walked down the backstretch and shoved Burton. He then went for the headlock before the two were separated by NASCAR officials.
The grandstand went completely bonkers. If you didn't know better, you'd swear Junior just took the lead.
Gordon and Burton hollered at each other a little bit longer -- officials separating them all the while -- then climbed into the same ambulance for a ride to the infield hospital. Gordon said Burton did a lot of talking on that ride. He also said he didn't do much listening.
I've never seen Gordon come unglued like that. To me, he was much madder this go-round than he was at Matt Kenseth in Bristol a couple of years back.
And if you'd told me Sunday morning that two NASCAR drivers would get in a fight, those are the last two I'd expect.
It was awesome. Gordon said he was glad he had that long walk down the backstretch. Had Burton been closer, Gordon said he'd have done something he regretted. Gordon said he wanted to "do more" but thought better of it. He wasn't the least bit ashamed for anything he did.
He shouldn't be. It was raw, real emotion, uninhibited by the corporate conscience.
Back in 1979, a fight between Cale Yarborough and the Alabama Allisons helped catapult NASCAR into mainstream relevance.
Who knows? Maybe we'll look back someday at this brisk night in Texas and think Gordon and Burton helped keep it there.
July, 25, 2010
07/25/10
1:00
PM ET
Jeff Gordon is a captivating person, insightful and honest and very normal. He has the rare quality of meshing with most any crowd and making each individual feel comfortable.
Many of you hate him because he's won so much. He's OK with that. Many love him for the same reason. It amazes me that a racer with 82 wins and four championships has to answer for his lack of production. Then again, I was among those asking.
I couldn't help but wonder last year whether he'd had enough with the circus and would soon retire to that beautiful wife and family in that high-rise condo. That was naive. But it's human nature. As fans we become accustomed to seeing someone at the pinnacle, and when he's no longer there, our perceptions change. Just the way it is.
Just five men have more NASCAR victories than Gordon. Ever. Only three have as many Cups.
He's Jeff Gordon. He won 13 races in a single season and had three championships by the time he was 27 years old.
But he hasn't done much in recent years, and in competition, regardless of the genre, the general sentiment is always "show me, don't tell me." At times he wasn't overly competitive on the racetrack, and he became a father off it. His back hurt. Badly.
The whispers started, softly at first. Then got louder. Folks wondered whether he'd lost the edge. And to make it worse, his protégé just so happened to be kicking his tail in the same equipment.
But this year is different. This year, from the outset, there was an air of change, a noticeable edge to Gordon. He was less tolerant of other people's mess and was more visible in the media. (Hard to believe, but true.) He appeared on "Extreme Makeover: Home Edition" and did Special Forces training with the Texas National Guard and invited reporters into his Manhattan home.
And he feuded publicly with teammate Jimmie Johnson and didn't back down.
It all intrigued me (and my bosses) greatly. So we set out to get some answers. We'd done some similar interviews before, with Kyle Busch and Kevin Harvick. Gordon agreed to talk to me at Daytona. He arrived early.
We chatted for 30 minutes, and I'd gotten through only about 30 percent of my questions. He was bringing it, but time was short. He had another appointment to attend. He stayed a bit longer. He was again told it was time to go. He said "one more question." He stayed 15 minutes past the allotted time. Not all of the interview made it on broadcast television. The rest, though, is now available on ESPN.com.
I asked whether fatherhood had made him soft and whether he'd lost competitive drive. I asked whether the Johnson-Gordon rivalry was truly healthy when they're purposefully beating doors at 150 mph. And I wondered how long he'll hang around before he retires.
He addressed it all. Candidly.
He told me that he has something to prove and that the No. 24 team had lost its former swagger, but that his competitive spirit never waned. He discussed the rivalry with Johnson and how badly he initially wanted the No. 48 team to excel. When he and Rick Hendrick founded that team, Gordon was fresh off his fourth championship and dominating the sport. That decision, though, ultimately altered his place in NASCAR history. Had Johnson not been picked for the 48, there's no telling what Gordon's résumé might look like.
He mentioned purposefully not making friends with other competitors throughout his career. Why get close to someone you want to stomp on? But he and Johnson became inseparable for a time.
And he mentioned how fatherhood has only made him hungrier.
I learned a lot that day, got a new perspective on Gordon. Hopefully you guys will, too.