Jarrett's respect for friend Jeter deep
September, 23, 2014
09/23/14
3:00
PM ET
Dale Jarrett was sitting at a table inside the cave-black bass-thumping confines of the New York City club Marquee. It was 2004, and then-NASCAR sponsor NEXTEL had thrown a party for the sport's top stars during banquet week in Manhattan.
Many of NASCAR's Cup Series drivers had booths and tables that evening. And most were full of people. Jarrett, too, had his own table. But the 1999 Cup champion's table wasn't especially full when someone involved with the event approached with a request: Derek Jeter was in town just then to shoot a commercial, and Marquee was one of his favorite haunts.
He had arrived to realize there was a private party going on, and wondered if he might be able to hang out anyway. Because Jarrett had plenty of room, it was requested that Jeter sit at Jarrett's table. Jarrett, an avid New York Yankees fan from the time he was 5 years old, didn't hesitate.
"I just laughed out loud and told them, 'Absolutely!'" Jarrett said Tuesday afternoon. "I'd have booted half my friends if I had to!"
The two champions hung out for the night, and ultimately exchanged numbers.
[+] Enlarge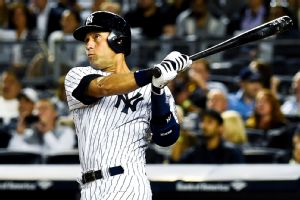 Alex Goodlett/Getty ImagesDerek Jeter has been an example for all athletes, according to his friend Dale Jarrett.
"He wrote his number down on a piece of paper," Jarrett said. "And as we got ready to leave that night I started laughing. He said, 'What's so funny?' I said, 'Do you realize there's 800 females in here who'd die to have this piece of paper with your number on it?'"
They've stayed in touch over the years, and Jarrett participates in Jeter's annual golf tournament in Tampa, Florida. They don't chat every day or even every month, but in the final moments of Jeter's Hall of Fame career, Jarrett had to get up to New York to see his friend play one last time.
"I'll put it like this: I think Derek Jeter is the very top standard by which athletes are measured," Jarrett said. "Not only baseball players, either. All athletes and competitors, regardless of what they do -- he's the top of that rung by which everybody else is measured.
"There's a lot great people involved in sports, but no one has handled themselves with more class, who had more ability and professionalism than Derek Jeter has had his entire career. Here's a guy that, for over 20 years, in the biggest city in the world on the biggest stage, with arguably the greatest team in history, and living in a city where so many people find so many wrong things to do, and he's done everything the right way. Every single thing.
"He's the ultimate professional athlete."
Like many Yankee lifers, Jarrett's favorite moment from Jeter's playing career was the relay to home in Game 3 of the 2001 American League Division Series against the Oakland Athletics, when Jeter, out of nowhere, appeared between home plate and first base and shovel-relayed a throw from right fielder Shane Spencer 20 feet, backhanded, to catcher Jorge Posada to tag out Jeremy Giambi. It was one of the most amazing plays in Major League Baseball history. He made it look routine.
"It's unbelievable, that play," Jarrett said. "He has such a sense for the game of baseball, it's just incredible. If there's anybody who's ever had more base hits to center and right-center as a right-handed batter, I'd be surprised. He is so disciplined. And there's too many backhands in the outfield to count.
"As much as he makes those plays, though, he's the type of teammate that has always brought out the best in his teammates, too. I looked at Michael Jordan like that. Michael Jordan didn't always have the best team around him, but you'd be sure he'd bring out the very best of whatever qualities those people had. Derek is the same way."
No one he's ever witnessed, Jarrett said, is more respected. Jeter's golf tournament is a who's who of professional sports. Every type. Even basketball players, Jarrett said, show up during their season, in January, just to support Jeter. It's about the person, not the athlete.
"The biggest thing for me would be to watch him handle it all," Jarrett said. "What strikes me is the respect he gets from everyone, and to watch him interact with people, whether it's those athletes or sponsors. It's incredible, the person he is.
"Obviously, he had a really good upbringing. But he took that to another level in being a good person. Just to watch him interact, the professionalism doesn't stop when he walks off the field. It carries on everywhere he goes and whatever he does.
"My daughters live up here in New York, so they were with me at the game. It's always nice to introduce Derek as a friend, and know he's someone they can look up to to do it the right way."