Is Junior just takin' it easy? Hardly
April, 16, 2009
04/16/09
11:04
AM ET
Earlier this week, I received the following e-mail on my SportsNation page and contemplated a long while whether I should integrate it into my weekly Door-to-Door column.
But this topic stands alone.
Marty,
I'm a charter member of Junior Nation. I've followed him religiously since he drove the AC Delco car for his dad. But I can't help but wonder of late if he's trying hard enough. When I see Jeff Gordon and Jimmie Johnson and now Mark Martin doing so great, and Junior's not, there has to be a reason. Does he have the desire it takes to be great?
-- Stephanie Pierce, Columbus, Ga.
[+] Enlarge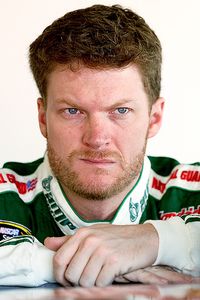 Matthew Stockman/Getty ImagesSome question whether Junior is giving it his all, but he's held to a higher -- almost unfair -- level of scrutiny.
Unreal. Just un-dadgum-believable. Imagine that type of scrutiny. Fact is, when you're the highest-profile driver with the most financial backing in the game, you have to produce. And it's time Junior does. You know it. I know it. He knows it.
And he's a realist. He doesn't shy away from that fact.
You're not alone in this thought, Stephanie. That famous phantom voice chimes in my ears 100 times a day: "You've got mail." What it should say is, "Hey man, another frustrated Junior fan on the horn." I thought about this phenomenon earlier in the week while preparing a monologue for the end of the NASCAR Now show Monday. Here's what I came up with:
Dale Earnhardt Jr.'s unrivaled popularity is both a blessing and a curse. His fans expect too much. The media, too. Fact is, to appease all he'll have to hoist the Cup. So when he struggles, a chorus of critics sings to the heavens, making his life a living hell. Or not. Earnhardt told me last week that criticism actually brings him hope. It means they expect us to excel, he said. I guess he listened well to the ol' man, who used to say: Boos or cheers, doesn't matter; so long as they're saying something.
I spent last Thursday and Friday down in Batesville, Ark., at Mark Martin Fanfest, during which I interviewed Earnhardt. Quite frankly, it was too poignant not to share.
I asked him if he was tired of defending his team -- particularly his cousin and crew chief, Tony Eury Jr. -- all the time.
"I ain't too tired of it," he said. "I mean, there's a side of you that gets a little frustrated sometimes, but at the same time that means that there's hope that it'll get right. Apparently there's a lot of people who feel like [the team] should be up [high], and that's where we want to be, and that's where we want to get to.
"And if the critics even feel like that's where we should be, that gives us hope that we can get there. I guess my point is, people aren't sitting around saying that's never going to happen. So as long as the possibility is there, I guess that's the lure that keeps you comin' back and keeps you working to get it."
Junior remains quite confident in his team's ability, but there are times certain members of his crew get down. At that point, they look to him for direction. Folks wonder why he keeps missing his pit box, how he keeps running into walls. But he's undaunted.
"I think the team's really good," he said. "We didn't finish in the top 10 at Texas because I got loose in Turn 1 and hit the wall, and I know I can fix that. It's frustrating when you're not running good and you don't know what the problem is.
"The team is positive, and one of the first things that really gets you disappointed and upset when you're not getting the results you want is when everyone's attitude starts to deteriorate. And it's one of the hardest things to stay positive."
What about him? Is it difficult to check himself?
"No, not for me," Earnhardt said. "I can get myself up and be ready to kill at any second. And you want all your guys on your team to be that way -- you really want them to be in attack mode.
"And even when things are down, you have to have that attitude, and you have to be fired up, get up on it. And when you see some of that start to slip, and you feel like somebody doesn't quite believe in it and just [isn't] buying into your theory, it's tough for everyone else. It takes just one guy to fall by the wayside, it affects the rest of the team."
That, then, begs the question: Is he willing to jerk a knot in somebody?
"Sometimes you just gotta say a few things to get them fired up, because they're lookin' at you, or they're lookin' at Tony Jr., and lookin' to some of the leaders of the team to follow them," he said.
"And they'll follow their lead and whatever their attitude is. So sometimes you have to let them know what direction we're going today. That's the No. 1 thing, trying to keep everyone fired up, showing up, being excited about being there and doing a hard day's work."
Mark Martin said last week that no one in the sport is driving as hard as Dale Jr. That's high praise from a guy whose preparation and desire set a lofty standard.
"He oughta know, he's out there running with me," Junior said. "I take a lot of pride in that comment from him, because you can see it when you're out there with people, you can see exactly how much they're giving and putting forth and how hard they're trying.
"So that means a lot, because I feel like I give 110 percent when I'm out there. I feel like I give a lot more than a lot of other guys do, specifically in the race.
"I feel like I just drive really, really hard, and it's great to hear that from your competitors because those are the guys who are the true judge of character on the racetrack. It's one thing to sit here on the sideline or sit up in the grandstand and try to tell the difference between who's working, and who's really good and who's not. The true judges are the people who are out there on the racetrack with you."