Driver intro songs? Leave it to an expert
March, 12, 2010
03/12/10
4:22
PM ET
Bristol Motor Speedway officials drummed up a brilliant concept this past fall, one used often in other sports to reveal a bit of a team's personality and the personalities of its players: Let each athlete choose a song, and blare it on the loudspeaker when he's introduced.
[+] Enlarge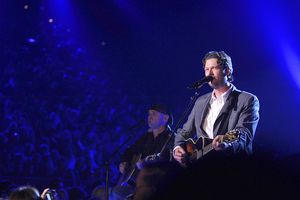 AP Photo/Mark J. TerrillIf country music star Blake Shelton could pick Kasey Kahne's driver intro song at Bristol, it'd be Aerosmith's "Dude (Looks Like A Lady)."
It hadn't been done in NASCAR before. It should have been. It was genius. Just before the race, all 43 drivers in the field walked across the track in Turn 3 and emerged from a makeshift tunnel to the song of their choice to the glee of 160,000 half-cocked and happy, screaming race fans.
Throughout the past week, many drivers have solicited help from fans via Twitter to pick a song for the March 21 event at BMS. I thought I'd assist.
To do so, I hit up my man Blake Shelton, he of the "Hillbilly Bone" ilk and general hilarity. Dude's funny. He also follows NASCAR pretty dang close. We were discussing the diminutive stature many drivers have, and he said, "Hmmm. … That explains it. No wonder Elliott [Sadler] sucks."
He was kidding, of course. Sadler is one of his best buddies.
Here's his list. I'm still laughing.
Kurt Busch -- "Now Kurt's the oldest brother, right? I don't know why, but the theme song to the 'Brady Bunch' comes to mind. Is that weird?"
Mark Martin -- "Easy one. 'Grandpa,' by the Judds."
Robby Gordon -- "'Some Beach,' by me because he wrecked me at Atlanta last weekend. I at least thought I could miss the first few laps and still see the car. Nope. At least he got me on TV."
Kasey Kahne -- "Oh, man. He's pretty. He's the prettiest man I've ever seen. 'Dude (Looks Like A Lady),' by Aerosmith. Great driver. And he's really pretty. Really pretty."
Denny Hamlin -- "Didn't he say something about his car recently, like his motor was bad or something? 'Piece Of S--- Car.' Adam Sandler."
Brad Keselowski -- "Is that guy OK? I thought Carl Edwards was the one that did the flipping. 'Ain't That A Kick In The Head,' by Dean Martin."
Tony Stewart -- "'My Way,' by Frank Sinatra. He bought his own team, and he's doin' it."
Matt Kenseth -- "From what I hear, he's funny, but people think he's boring as hell. 'Personality,' by Lloyd Price."
Kyle Busch -- "'We're Not Gonna Take It,' by Twisted Sister. Because he just gets so pissed and doesn't do anything wrong ever. Ever."
Elliott Sadler -- "'Ol' Red.' He's in the video with me, and played the part of my inbred cousin. He was a natural."
Joey Logano -- "We'll go with another one of mine here: 'The Baby.' Does he shave yet?"
Jeff Gordon -- "'I Kissed A Girl,' by Katy Perry. I don't really know what made me think of that song. But I did. So there you go. Enough said."
Kevin Harvick -- "'Loser,' by Beck. Wait. … He's leading the points, isn't he? We'll keep it just for the irony."
Jeff Burton -- "'Love Will Keep Us Together,' by Captain and Tennille. Y'all call him the Mayor, don't ya?"
Clint Bowyer -- "'Hillbilly Bone.' He does a race at his house every year called the Hillbilly 250. It works."
Jimmie Johnson -- "An old Mac Davis song works for him, called '[Oh] Lord It's Hard To Be Humble' when you're perfect in every way."
Scott Speed -- "'Karma Chameleon,' by Culture Club. We'll leave it at that."
Brian Vickers -- "'Wanted Dead Or Alive,' by Bon Jovi. That's true, right?"
Dale Earnhardt Jr. -- "'The More I Drink, The More I Drink.' This is one of mine. He's having that kind of luck."
Carl Edwards -- "'I'm Too Sexy' for my shirt, by Right Said Fred. Enough said."