Swan song for the famed No. 3?
June, 26, 2010
06/26/10
4:53
PM ET
On Friday evening, Dale Earnhardt Jr. will slide his body through the window and into the seat of the No. 3 Wrangler Chevrolet for 300 miles of Nationwide Series racing at Daytona International Speedway.
Until that moment, he cannot know how that car number on his door, and that blue and yellow paint before him on the hood, and memories of his father's win-at-all-costs attitude while driving them may impact him. Especially at that track.
[+] Enlarge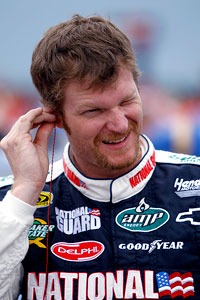 AP Photo/Matt SlocumDale Earnhardt Jr. on the pressure of driving the 3 car: "For the fans that feel a connection to the car, for the fans that have any emotion about this, anything less than a win is a disappointment."
But he is fairly certain about one thing: July 2, 2010, will be the last time he drives a race car with the No. 3 on the door.
"I just want to go to the racetrack and run it once before I retire, and this will probably be it," he said, leaning slightly forward in a folding metal chair. "After this I'll probably never drive a car with a 3 on it again. I can pretty much say I'm 99 percent sure that will never happen again."
This is a stark revelation, especially for long-suffering Earnhardt fans who dreamed Junior would close out his career in a black No. 3.
Junior, too, once thought that was his destiny. No more.
"It's not [my number] to take and use whenever I feel like using it," he said through a sheepish grin. "You just don't grab the car keys off the counter and go run out the door and haul down the road with your dad's car. I didn't do it when he was alive, and I won't do it now.
"I'm borrowing it once, and then maybe sometime down the road some kid will come up, and he'll have a connection to the 3 -- whether it's through my father or whether it's what his number's been since he was playing T-ball. Whatever, you know, that will be his. It will be someone else's."
To understand this philosophy you must first understand Earnhardt's respect for NASCAR history. He doesn't take it lightly. From his perspective, car numbers and paint schemes are vital relics that served as building blocks to today's billion-dollar industry, and are to be treated as precious antiques. NASCAR numbers are fundamental pieces of competitors' and fans' rooting souls. In NASCAR, cars and teams and people are referred to by number, not name.
It's not "Dale Earnhardt's car." It's "The 3."
The current Wrangler program is a dual initiative -- partly to honor Big E, partly out of necessity. Junior's sister, Kelley Earnhardt, Sprint Cup team owner and owner of the No. 3 trademark Richard Childress, and Teresa Earnhardt all played a role in putting the deal together, and wanted to tie it into Dale Earnhardt's Hall of Fame induction.
Junior just thought the car looked cool.
"It's a simple as that, for me," he said. "I'm proud of my dad and I'm honored by him going into the Hall of Fame, and I'm happy for him, but this in no way, for me, the connection really isn't there on the Hall of Fame. This race it's just about -- the car is cool, I just want to go to the racetrack and run it once before I retire."
The team Earnhardt owns, JR Motorsports, had sponsorship gaps throughout the season, including Daytona. And the idea was to take a business plan used several years ago and implement it again. He has a personal services agreement with Wrangler, and they would take a portion of that money and shift it over to the race team, as they did several years back when Martin Truex Jr. was gunning for the Nationwide Series championship in Junior's No. 8 car.
"We did a bunch of stuff with Truex and that team with old modified drivers and all kinds of people, just trying to honor people, and have an appreciation for the history of the sport," Junior said. "That's all [this] is for me. It's just as simple as, I think the car is cool, I want to put it on the racetrack, I want to drive it once in a race and then that's it."
So when Junior and Kelley began discussing Daytona, he told her he'd always wanted to compete in that paint scheme. In his mind it was that the blue and yellow paint and the No. 88. A month later, as he put it, "the stars aligned" and it was the No. 3. He was thrilled and humbled.
"It's a double-edge sword for me," he said. "When you're a little kid growing up, and you're young and you're little and going to the racetrack with your dad, you always want to drive his car, and wondering what it's like and all those things, and it's an honor for me to do it.
"But at the same time it touches a lot of emotions that you don't ever really bring up on a daily basis. These are emotions that are put away and never bothered at all throughout the year, and then they kind of come back to the surface."
Earnhardt appreciates Childress letting him compete in the number, and admits this project was an important, positive reconnection in the oft-cold relationship with Teresa Earnhardt, his stepmother. But the 3 on the track, with Junior behind the wheel, has a wide-ranging, deep emotional impact on millions of people.
"There's a lot of different emotions it brings up in that car, when people say, 'Hey the 3 is coming back,' and 'I'm driving the 3' and all those things, and there's a lot of emotion to that, and a lot of pros and cons, and people not happy and happy, so it's just something I want to do and that will be that," he said.
Junior drove a No. 3 Chevrolet for Childress in 2002, and won. It couldn't have gone better. But that was an Oreo car. This is the One Tough Customer car, made iconic by a roughneck scrapper revered by fans.
Winning is the only acceptable outcome.
"For the fans that feel a connection to the car, for the fans that have any emotion about this, anything less than a win is a disappointment," Junior said. "If the 3 is coming back, they don't want it to run second, you know, so I feel that pressure. I feel a lot of pressure to put this car up front and lead laps with it."