SPEEDWAY, Ind. -- Given that the Brickyard 400 is ESPN's first Sprint Cup Series race broadcast of each season, we studio types are asked to do many more live interviews than normal for "SportsCenter" and ESPNEWS and the like, to supplement the broadcast.
[+] Enlarge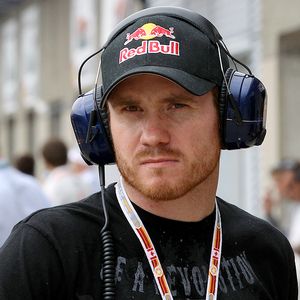 Bryn Lennon/Getty ImagesBrian Vickers is still hanging around the track as he recovers from blood clots. Question is, does he get mistaken for Marty Smith?
I did one such interview Friday at 12:30 p.m., way atop the track on the suite level of the Pagoda. As we finished a live shot, I handed the microphone to the production guys and walked off the platform. Directly adjacent to my position was the Red Bull Racing suite, which basically has been transformed into a New York City club, complete with chic red couches, flat-screen televisions and, yes, a disc jockey.
That's my kind of joint, so I was going over there to check it out, maybe grab some food. As I made my way there, two gentlemen, mid-40s or so, approached me.
Them: "Can we get a picture?"
Me: "Absolutely. How're you guys doing today? Hot enough for you?"
The small talk continued as one of the guys sat his drink on the table and fumbled around a bit for his camera. We prepared for the shot, and …
Them: "So when are you going to get back in a car?"
Me: "Aw fellas … I'm not Brian Vickers. I'm sorry."
I have decided it's high time I dress up like The Sheriff Brian L. Vickers for Halloween.