Feeling Hunter's loss, remembering his life
October, 30, 2010
10/30/10
12:05
PM ET
Few folks influenced me quite like Jim Hunter did. He invested in me fully, defended me when the Daytona brass wanted a chunk out of my hide, belly-laughed with me when I did something stupid.
He recognized and appreciated folks with a passion for life that equaled his. He celebrated that, and taught us to celebrate it, too.
[+] Enlarge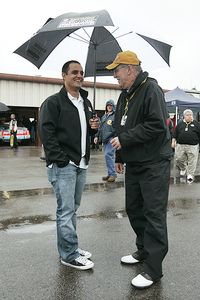 AP Photo/Paul SancyaJuan Pablo Montoya, left, was a frequent golfing companion with Jim Hunter. Hunter's trademark track attire made his love of golf obvious.
Sometimes, I'd come home to snail mail from Hunter. He'd print out something I wrote, and scribble notes in the margins. "This is great, BD! (But don't tell Mike [Helton] I said so!)" or "BD, this is crazy talk!" He'd always sign off with a little "Hunter smiley face." He'd draw a smiley with a mustache, just like his.
Hunter was a master craftsman, among the very best spin doctors the NASCAR industry ever saw. He would grab a Styrofoam cup of coffee and a pack of matches, light a Salem and draw a puff, adjust the trademark "NASCAR 1948" hat atop his head, and in a matter of minutes churn NASCAR's biggest messes into steaming casseroles of stretched truths and hilarity.
Recipients often knew he was feeding them a line of mess. But it was Hunter. So for whatever reason, it was OK. With Hunter came an unquestioned acceptance of his genius -- deflection. Nobody else had a chance to get away with his approach.
But he was old school. And for me, somewhere deep in the back of my mind, I knew he was Bill France Jr.'s best friend and had run with the old guard from town to town, building my path to right here, right now.
He'd held every position from reporter to track president to sanctioning body vice president. He was a revolutionary promoter, a hands-on guy who took out the trash and stapled fliers to telephone poles.
He loved NASCAR. He lived NASCAR.
So I listened intently always, scribbled some notes and laughed a lot.
No matter how heated any reporter got during a conversation with him, that reporter left with a grin.
He was one of those folks you just never wanted to disappoint.
At heart, Hunter was a gunslinger. That's why he and I were tight; thick as thieves for my entire career. Before I transitioned from print-only to television -- and therefore had to look something that resembled presentable -- I'd stumble into media centers from coast to coast with a scruffy face and red eyes in search of some Goody's Headache Powder. He'd sidle up beside me, grab a chair and chuckle out loud, then grill me for details about the previous night's escapades.
He loved it. And I did, too, because invariably my idiocy opened the door to a priceless account of his; of days gone by, back when Hunter covered the NASCAR tour for the Atlanta Journal-Constitution and ran hard with the drivers of the day. Nobody knew David Pearson like Hunter did. Pearson is the greatest driver ever, and his legend goes far beyond the cockpit of a race car. Hunter's accounts were classic.
I would always take Hunter's stories, log them away and immediately call my daddy to retell them. Daddy would howl -- he loved tales of men who manhandled steel and rubber for 500 miles and tossed back Old Milwaukee in the hotel lobby with the mortals afterward -- and Hunter would laugh just as hard when I told him about Daddy's reaction.
Hunter loved golf and slot machines almost as much as he loved racing. Possibly more, even. His attire was as sure as the sun -- golf pants, golf shirt, sleeveless golf sweater, golf shoes. Every day.
I busted his chops about it often -- so for Christmas one year he sent me a pair of golf shoes just like his: white-toed, brown golf shoes. Attached was a note, "You need these." I can see him chuckling while writing it. I don't play golf, yet. But I've been thinking about it. When I do, those shoes are ready. They're still in my closet. I'll keep them always.
Hunter had a bad back for a time, and as a result was unable to swing his clubs for a couple of years. He ultimately had surgery, and afterward returned to the links. He was reborn. He played with drivers often, guys like Jimmie Johnson and Juan Pablo Montoya. His face lit up when he discussed it. He went to Scotland to play, too. It was the time of his life.
As for the slots, when we raced at Dover and you couldn't raise him on the phone, you would just walk into the casino. In Vegas, he camped out in the Bellagio and pulled the lever for hours on end.
Nothing, though, made him smile more than his grandson, Dakota. Every time I saw him there was a new tale of Dakota's exploits. It is a wonderful blessing to see that level of pride.
To me, Hunter's legacy is transparency. Despite the way this column started -- making light of Hunter's casserole approach -- there is no question he changed the way NASCAR communicates. Today's executives are far more accessible than they were before he moved in at NASCAR HQ in Daytona. When NASCAR dialed his phone and implored him to direct its communications ship after Dale Earnhardt died, the game changed.
Prior to that, the answer was always "no." It is now, at the very least, "let me check." That is all Hunter.
He was the lynchpin between good ol' boy coverage and what we have today, with the Associated Press and USA Today and other national news outlets covering the sport daily. He was the face of the sport when adversity struck. When the Hendrick Motorsports plane crashed near Martinsville in 2004, Hunter told the world. When Jeremy Mayfield was suspended for drugs, Hunter told the world.
He was also able to tame NASCAR's fiercest lions. He'd go visit Kevin Harvick and Tony Stewart in their motor homes for a chat. And, like we reporters, they were always far better for it. He had an uncanny knack for common-sense perspective.
I'll miss him terribly. He was a wonderful mentor, with a laser-sharp wit that taught us all to have fun. He left an indelible mark on hundreds of people, and you will never find anyone with a cross word about him.
That's a pretty good run. RIP, BD.