Pastrana could breathe life into NASCAR
November, 5, 2010
11/05/10
12:22
PM ET
This is an account of a month-long rambling thought process. I love NASCAR racing and I want it to flourish. But right now it's not. Here's why I believe one racer with unparalleled commercial appeal can help.
NASCAR needs Travis Pastrana.
It was a sunny Saturday morning at Auto Club Speedway last month. The obnoxious hum of Sprint Cup Happy Hour practice was wailing in the background, and I was walking from the garage to the media room on the suite level, head buried in my Blackberry when a familiar voice hollered my name.
I looked down to ground-level and saw a longtime NASCAR industry friend of mine, obviously frustrated. We'd been in the sport together for at least a decade, and witnessed the gradual decline in interest before our very eyes.
Like me this person is eternally optimistic, and has long reminded me to remain so. But on this morning, she was not. She had called my name to voice concern and pose a question: What's wrong? And how are we going to fix it?
I was surprised. She finally caved.
[+] Enlarge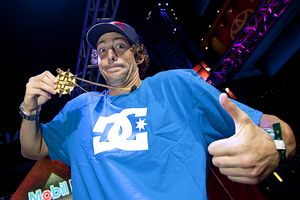 Christian Pondella/Getty ImagesTravis Pastrana would help get a major demographic instantly interested in NASCAR.
That's the biggest question facing NASCAR as we speed towards season's end. It is a simple question with a very complex answer. There is no single alteration that can fix what ails us.
What's wrong? And how are we going to fix it?
Years of evolution have stacked up to construct the current predicament.
To me, NASCAR competition is at an all-time high. The races -- the on-track product on Sunday afternoons -- are great. But -- humor me as I continue to beat this drum -- races need to be shorter. Three hundred miles of I-cant-sit-and-ride-and-wait-for-the-next-pitstop-adjustment-so-I-best -get-my-butt-to-the-front-right-now competition is the first big fix. The next one is a 26-to-28-race schedule.
We don't need to fight football. It is a losing proposition. Every. Time.
During the last decade some old-school fans became disenchanted and bailed out. But we still have millions of folks willing to hang on. We need to be as loyal to them as they are to us, and do whatever it takes to retain them as fans.
We need to lower ticket prices and we sure as heck need to get hotel prices under control. It's asinine in most towns. If ESPN didn't pay for my room, I wouldn't have a room. I couldn't afford it, and even if I could, principle would tell me to stay home.
But the biggest void is the old-school rivalry and the old-school hero. These days corporate American influence disallows our boys from being outspoken and unwilling to take any mess. Speak out? Get slapped. Punch a guy in the nose? Sit and watch for a while.
NASCAR can do whatever it pleases, and what pleases NASCAR is money.
Anything that jeopardizes the show will pay its own price. I understand that philosophy. The property and those that foot its bill are too important to tolerate riff raff.
But I'll be danged if riff raff didn't build the property.
That, then, got me to thinking about the new, polished NASCAR driver. These boys didn't grow up dreaming of mainstream fame and all that comes with it -- piles of money, lavish toys, gorgeous women, the like. They grew up dreaming of winning 500-mile symphonies in Daytona Beach or Indianapolis. They grew up simple with huge dreams of slingin' steel and rubber sideways at 190 mph.
They didn't grow up dreaming of peddling razors or wrenches or deodorant or energy drinks. They didn't grow up honing a likable personality that resonates in living rooms all over this country.
But truth told, the success of NASCAR racing all goes back to the drivers. As the drivers go, so goes NASCAR. Again, NASCAR owns the game and they can adjust it however they deem fit. But without stars it's hard to sell the sport. And the sport's foundation is green paper.
That rambling mess is what went through my mind that Saturday morning in California.
And that's when I began thinking about Pastrana.
Pastrana is a walking (flipping, flying, parachuting, jumping, sliding, crashing) tow-ball, to which NASCAR should find a way to hitch up its wagon. He is an international icon, revered for his daring and willingness to redefine "The limit."
As a result, his mainstream appeal is larger than any personality currently in the sport, including Dale Earnhardt Jr. and Danica Patrick. And if he came, the flat-billed X-Games crowd would instantly give NASCAR a look. Pastrana is authentic and charismatic, with a preexisting fan base that is ardently loyal. Few celebrities rival his cult following.
It is fascinating to see drivers from other racing disciplines flock to him. Even the craziest SOBs on Earth marvel at his calculated insanity.
Granted, he has said before he wasn't overly interested in stock cars. But he's pretty busted up from years of yard sales. He is passionate about rally car racing, not to mention quite good at it.
But Pastrana and his merry band of misfits are marketing geniuses, so for them the immense NASCAR platform would be magical: Nitro Circus meets the NASCAR circus.
I believe it will eventually happen, and I hope it happens soon, while Pastrana is young and vibrant and in his prime. I hope he hops to NASCAR and strives for excellence on and off the racetrack. I hope he does it, because like Danica, NASCAR would benefit greatly from his success in their arena.
I hope he aligns with a team owner and sponsor that allow him to be him -- possibly even start his own team. Not only is Pastrana the real deal. He is … well … real.
Why do hardcore NASCAR fans love Dale Jr. and loathe Jimmie Johnson? Because -- accurate or not -- they view Junior as real and Johnson as vanilla.
NASCAR could use more real right now.
NASCAR's fans yearn for it.
For all that ails us, one import would provide only a small boost. But it's a boost. And NASCAR needs to move the needle any way possible.
It's time to lure the 199.