NASCAR, Stewart alter one young fan's life
December, 20, 2010
12/20/10
3:25
PM ET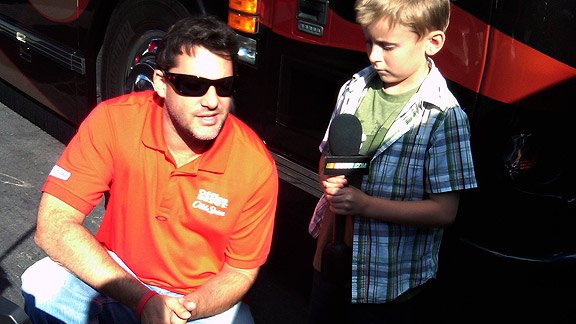 Marty Smith/ESPN.comTony Stewart was impressed with Parker Flack when the two finally met at Charlotte Motor Speedway.
Generally, we sports fans place sizable emotional investments in our respective teams and the individuals who play for them. Entirely too much at times. The cliché says we "live and die" by the blue-and-white or the black-and-gold or the pinstripes.
But truth told, when we face real, life-altering crises with tangible ramifications, we realize how frivolous our sporting obsessions can be. Suddenly it seems ridiculous that grown adults get all worked up over one burly man barbarically slamming another burly man to the ground.
Or does it? On paper, it's easy to analyze sports fanaticism as frivolous. But that's contextually inaccurate.
It doesn't account for inspiration or diversion.
This is a NASCAR era when we fans are quick to question all that's wrong with the sport and rarely celebrate what's right. That's natural, given that the NASCAR many folks grew up with packed up 10 years ago and moved uptown.
To be fair, that, too, is natural. Businesses exist to make money. For a decade-plus, NASCAR made money outside its core demographic and exploded in the mainstream. Those times, however, have changed. As a result, so, too, must NASCAR. That's an entirely different story.
This Christmas season, we'll focus on what's right, about how a sport and its stars can inspire a young man so deeply it could forever rewrite his future.
It is an uncharacteristically balmy mid-October afternoon at Charlotte Motor Speedway. It is Friday on a key Chase weekend. Tomorrow, the boys will fire 'em up for an old-fashioned backyard brawl. The garage area rings with the clinks and clangs of tossed tools and the beehive buzz back-and-forth of pre-happy hour adjustments.
But at points adjacent, CMS is mostly quiet.
Standing just outside the parking lot that houses the driving corps' fleet of sparkling motorhomes stands young Parker Flack. He is shy, unassuming and slightly overwhelmed. But at present he stares easily into a camera and details a dream.
He says he's always wanted to attend a NASCAR race, and here he is. He can't believe it. He ponders whether his favorite driver, Tony Stewart, will win for him tomorrow.
His mother, Vadessa, fights back tears as he speaks.
That he is speaking at all is a miracle.
Parker has thyroid disease, which inhibits his growth. He is 7 years old and weighs less than 50 pounds. He was basically mute for the first several years of his life. Vadessa says he was always a happy child, but was reserved and tended to isolate himself. Like any parent, she was worried.
Parker was about 4 years old when Vadessa took him to see Disney's "Cars." It was opening night, and the theater was packed. When the Flacks took their seats, Parker was so small that the folding theater seat kept snapping shut on him, so he climbed up in Momma's lap.
The movie began with a racing scene. Immediately, Parker began to yell. Initially Vadessa thought he was yelling, "'No!' In fact, he was yelling, 'Go!'" she said.
Parker was cheering for Lightning McQueen, the cartoon race car in the movie.
Vadessa and her husband beamed. It was a breakthrough.
With each passing scene and each cheer from Parker, Vadessa's concerns for her son's development slowly washed away.
It was the happiest the Flacks had ever seen their son. And it was only the beginning.
It was customary for Parker to accompany his grandfather on boys' trips to The Home Depot, and over time the family began to notice how often the boy mentioned the man who drove a race car painted like granddad's favorite store.
This was odd, because no one in the Flack family watched NASCAR. Ever.
"Who watches NASCAR anyways?" Vadessa says, laughing. "I encouraged him to just stick to the 'Cars' movie."
That changed one day soon after. While at a playdate, Parker drove up to his mom on a tricycle. She was chatting up a friend and paid little attention to her son's pleas. Parker was agitated. When she turned to address him, he informed her he needed four tires and a can of gas.
"That was when I realized this NASCAR thing was a true passion," she said.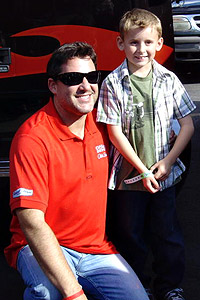 Courtesy of the Flack FamilyParker Flack wasn't even sure he should look at his racing idol, Tony Stewart, but Flack got more comfortable as things progressed.
Around this time, Vadessa tried teaching Parker numbers. He wasn't receptive and basically sat and blankly stared at her. He seemed to have no desire to learn, and Vadessa couldn't help but wonder whether he had a learning disability. She was upset and concerned until one Sunday afternoon in January 2007.
The family was at home relaxing after church. Vadessa was reading, and the kids were playing. Suddenly, Parker hopped up and ran to the television, hollering, "That's the Lowe's car! His number is 4-8!" It was a promo for the Daytona 500. And it was another breakthrough for Parker.
Vadessa grabbed a piece of paper and wrote 48. She asked Parker to repeat Jimmie Johnson's number. He did. She now knew exactly how to get through to her son. She asked whether he would learn his numbers if NASCAR provided the platform. His excitement was all she needed to see.
She ran out and immediately bought a NASCAR preview magazine, and the family spent January learning the drivers' names, sponsors and car numbers in just two weeks. They made flash cards to review during dinner. It became a family project, and come race day for the 2007 Daytona 500, they rushed home from church to watch their first race.
"We had never actually seen any of the racers, so when they walked across the TV, we giggled and yelled out their name, number and sponsor," she said. "It was such a special moment for our family."
NASCAR was the platform that Parker used to learn to count. Thanks to Carl Edwards, whose car number, of course, is 99, Parker was motivated to count all the way to 100.
"Thank goodness for Carl Edwards," Vadessa said that day at Charlotte, eyes now full of tears.
It wasn't long before the Flacks threw the alphabet into the routine, too. They used sponsor logos to teach Parker A through Z. He wasn't learning-disabled at all. In fact, he was quite intelligent.
NASCAR also helped Parker with speech and diet. He had been in speech therapy for years with marginal progress. But when NASCAR was instituted into the program, he flourished.
"Now he's completely out of speech [therapy]," Vadessa said. "It's amazing how far he's come."
Same with food. Parker wouldn't eat spaghetti, but when he found out spaghetti was Stewart's favorite childhood meal, he began eating noodles.
The Flacks decided the Charlotte fall event would be their first race as a family. When NASCAR learned of their plan, they provided garage passes and a tour.
Part of that tour is where this story begins, outside the gates of the driver motorhome lot where Parker details his dream to come to a NASCAR race. When he finishes, he is shuttled off through the gates to a row of buses, outside which he stands for some 15 minutes. He is asked a few more questions by the camera crew, and as he answers the last one, a door behind him opens.
Down the stairs walks Stewart. He kneels behind Parker and grins. Parker has no idea he's there until he turns and looks over his right shoulder -- square into the eyes of his hero.
He just giggles. It's one of those deer-in-the-headlights-where-do-I-look-what-do-I-do-what-in-the-world-is-happening-right-now giggles.
It is wonderful.
"You any good at this yet?" Stewart asks Parker of his reporting skills. "Bet you're better than that guy in the blue shirt."
The guy in the blue shirt, incidentally, is me.
Stewart was quite impressed.
"It was fun to watch him through the window, look into the camera and talk," Stewart said. "There's no way, at his age, I could have done that. I was way too shy. It's just so cool to meet kids like him.
You realize in their smiles how tough they are. The best thing about children is there are no hidden agendas -- every emotion is an honest emotion."
As Parker listens and grins, Stewart chats away and loads the youngster down with autographed hats, die-cast cars, shirts and backpacks. They take several photographs, even hug, and the family urges Parker to chat with Stewart.
Meanwhile, Parker isn't sure he should even look at Stewart.
"It's OK," the two-time champion says. "At that age, if I saw my favorite driver, you better believe I wouldn't have said anything, either. He's doing very well."
Finally, young Parker musters a quick comment.
"My dream was to come to a NASCAR race," he said. "This is better than a dream."
And that is worth celebrating.