Davey Allison had makings of a champion
February, 26, 2011
02/26/11
4:28
PM ET
AVONDALE, Ariz. -- Standing in Victory Lane at the Daytona 500, Trevor Bayne took time to shake every single hand that tightened every single bolt on the No. 21 Ford in the weeks leading up to that moment. It was genuine appreciation. He was completely bewildered by the accomplishment, and he wanted his boys to know he was fully aware that it was their sweat that got him there.
You don't often see that these days. And when Doug Yates did, it whisked him back to 1992, when 31-year-old Davey Allison won the 500 in the No. 28 Texaco Thunderbird. Here was this bright young kid, wide-eyed and humble with an infectious innocence, driving a famous number straight into history, the accomplishment overshadowed only by the promise of a limitless future.
Sadly, 17 months after he won the Daytona 500, Allison died in a helicopter crash at Talladega Superspeedway. He was 32 years old. Friday would have been his 50th birthday.
Discussing it now, Yates pauses to choke back tears. Bayne's victory in a Wood Brothers-prepared Ford, with Yates power under the hood, was a sorely needed reminder of how wonderfully hard work can pay you back, and how persistence can outlast heartbreak if you simply refuse to give up.
[+] Enlarge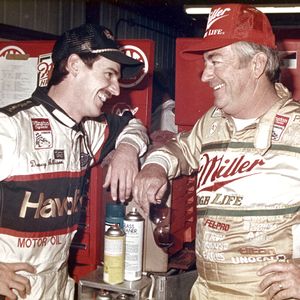 AP Photo/Russ HamiltonDavey Allison, left, finished second to his father, Bobby Allison, in the 1988 Daytona 500.
"It's amazing how that race made me feel," Yates said. "For Trevor to have the courage, as a 20-year-old, to say a prayer with his crew during the pace laps of the Daytona 500? Wow. To put himself out there like that? That's something special. He's awesome. It's great for the sport. It reminded me so much of when we won in '92 with Davey, the way he reacted."
Everybody loved Davey Allison. He had a magnetic personality. He was a jokester, Yates said, much like Tony Stewart is in today's garage. He was a family man who adored his children. He was an icon, the latest in a family full of racers.
Without Davey Allison there never would have been a Robert Yates Racing, Doug said, and subsequently no 1999 championship for Dale Jarrett. Allison made a commitment to stand behind Yates. If Yates was all-in, Allison was all-in. That's all Yates needed to hear.
"My dad sold his house and put it all on the line, and that was all about Davey saying he was behind him," Doug said. "His thought was, don't worry about me leaving you. We're going to do this thing right and be successful together. That means a lot to us."
Added Jarrett, "That was what spurred Robert on and gave him the confidence to race. Davey was the driving force behind it and the face of it. And even though it was a number of years after that that I went there, it was still very obvious to me why they were there -- it was because of Davey. That was their motivation.
"I'm very aware that if not for Davey Allison, his dedication and friendship that led them to that success, that that opportunity for me to go there and win races and a championship never would have happened."
Doug Yates recalled a race at Bristol Motor Speedway in 1990. Robert Yates Racing had fallen on tough times, Doug said, and Carl Haas had offered to buy the team. It weighed heavily on the family. Back then, Bristol had had just one racing line, and Allison was leading the race when the caution flew with some 50 laps to go. The crew implored Robert Yates, who was crew chief that day, to keep the car out. They did so, and Allison held off a field full of fresh tires to win the race.
"That was the turning point for the company," Doug Yates said. "That kept us going. He never gave up on us, or my dad. He and my dad were so close."
He paused again to collect his emotions, then noted Allison's intelligence as a racer. He was a perfectionist, Yates said. He was strategic in the quest to dial in his car and yearned to dominate races.
"When he got his car right he was unbeatable," Yates said.
Above all, Davey wanted to make his father proud. He wanted to one-up the old man. That's what drew five-time defending champion Jimmie Johnson to him as a young fan.
"I just thought it was so cool that he got to race with his dad, on the same track at the same time," Johnson said. "I remember that 1988 Daytona 500. Can you imagine that?"
Johnson, of course, was referring to the time Davey finished second to Bobby in the Daytona 500. Back then, drivers, owners and team members spent plenty of time together. They flew together. They stayed in the same hotels. In an age of private planes and motor homes, it's not that way anymore. It made rapport very strong. And Allison, Yates said, was always a cheerleader for the boys building his cars.
That's one reason Bayne's reaction reminded Yates so much of Davey.
Asked about his favorite memory, Yates instantly mentioned the Winston All-Star race in 1992. The previous year Allison had nearly lapped the field, prompting Bill France Jr. to remind Robert Yates, "Don't you stink up my show, boy."
In '92 they took it under the lights for the first time, and Davey was running third, behind Dale Earnhardt and Kyle Petty. Petty got a run down the backstretch, then tapped Earnhardt entering Turn 3 and spun him.
That set up an epic finish. Coming off Turn 4, Allison dove inside Petty and the pair drag-raced to the line. Petty turned Allison around and hard into the fence, on the driver's side. Allison won. He never went to Victory Lane.
"Everybody went to Victory Lane, and it was the best and worst feeling in the world," Doug Yates said. "The car was there, but Davey was flying off in a helicopter to the hospital. Your emotions are so weird. Is he going to be OK? Obviously he was fine, and that was such a special, strange victory.
"And after he got hurt at Pocono when Darrell [Waltrip] took him out, and he flipped and rolled, Dad went to see him in hospital, and his head was so swollen his hair was peeled back. At Talladega the next weekend, he lifted up his sunglasses and there were no whites in his eyes."
Yates hired Bobby Hillin to drive Allison's No. 28. Davey climbed into the spotter's stand and drove the car from there.
"We finished third that day," Yates said. "That never would have happened without Davey guiding him. He told him every move to make.
"I remember going to the funeral. I've never seen anything like it. The streets were lined with people. It was just amazing, the outpouring of support for their hero. It was sad, but made you realize how much he meant to his town, his state and this sport.
"He had the makings of a champion, for sure. You never know. There are no guarantees. But I think he would have been a champion in our sport."