Matthew Hansen demonstrates real courage
May, 14, 2011
05/14/11
1:35
AM ET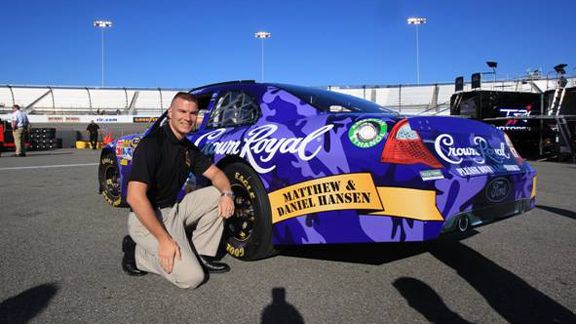 Courtesy Taylor StrategyMatthew Hansen was proud to see his and his brother's names all over Richmond.
I was very late. I had a date in Victory Lane at Richmond International Raceway with Matthew Hansen, the Marine for whom the Sprint Cup race later that evening was named, and I was double-booked. So I quickly wrapped up an interview with NASCAR president Mike Helton about NASCAR's new foundation initiative, NASCAR Unites, and hustled across the garage.
Hansen waited. He was there at the track with some folks from Crown Royal, and I wanted to hear the story he was there to tell. It was a story about brotherly love, and about a tribute to a hero. It was a sobering reminder of sacrifice. It was an alarming wake-up call.
When I arrived he was cutting up over in the far corner with some of the boys on Matt Kenseth's pit crew. He respected them, and would later tell me that the intricate choreography of pit stops at NASCAR's highest level was his favorite thing about the sport.
He wore a tight polo shirt and khaki pants. He was tall and lean with flat-top hair and a no-nonsense attitude. He made me feel ridiculous -- stupid, really -- for generalizing all men and women in uniform as soldiers. He was a Marine, and made it abundantly clear that Marines don't appreciate being called soldiers. I corrected myself with an apology that I won't soon forget, and settled in for the particulars on he was here.
I appreciate my wife more than anyone. But if she is 1A on that list, the men and women fighting for my freedom are 1B. Their sacrifice, collective and individual, is remarkable and truly indescribable for those of us who've not lived it. We try to grasp it, but most of us take it for granted every day. We shouldn't.
That's why I sought to chat with Matthew Hansen. He went to war for us. And his twin brother, Daniel, died for us. Daniel was killed by a roadside bomb in Afghanistan on Valentine's Day 2009, and when Matthew won Crown Royal's "Your Name Here," contest at Richmond, he honored his brother by including him in the race name.
"We used to always tell everyone we were best friends and worst enemies," Matthew Hansen said, peering off into the distance through dark sunglasses. "If you've ever had someone you competed with, that's who he was for me. It was that competition that made us so good.
"Even though we had different jobs, we got promoted at almost the same time, only months apart. As soon as one would get promoted, we'd call the other and give him a hard time. We were what made each other strive to be better. But at the same time we were each other's biggest fans, too."
Both brothers joined the Marine Corps in 2002. Matthew spent the better part of four years in the Middle East, in Kuwait and Iraq. When he returned in 2008 he enrolled in drill instructor school, and during training suffered a knee injury that required surgery.
Daniel, meanwhile, was a member of President George W. Bush's personal security staff for several years before being reassigned to Camp Pendleton to serve on Lieutenant General Richard F. Natonski's security team. He then joined another security detachment and deployed to Iraq. During this deployment the brothers saw one another several times, which Matthew fondly recalls today. Upon return to the United States, Daniel moved to explosive ordnance disposal, for which he underwent a year's worth of difficult schooling. He then joined a unit in Okinawa, Japan, and following several more months of explosives training, he deployed to Afghanistan.
"He loved his job, and one day it just didn't work out, and he was killed in an explosion during a foot patrol," Matthew said. "Combat happens."
The news of his brother's death was devastating for Matthew.
"It was not good, to say the least," Matthew said. "I didn't react well at all. It was easily the worst day of my life.
"My only thought was I wanted to get out there. At that time I was undeployable. I'd had surgery on my knee. I was trying to heal up. It hurt me a lot not to be out there with him, let alone lose him. I can't stress enough how much he loved what he did. He loved being a Marine. What more can you ask for in life, really?"
The opportunity to honor Daniel at Richmond was humbling for Matthew. But he feels he has unfinished business overseas. Once his knee was repaired he re-enlisted for the Marine Corps, and immediately requested orders back to the Fleet Marine Force. He currently serves with VMM 561 Pale Horse, in Marine Corps Air Station Miramar in California.
"This is great," he said. "To have him honored and tell everyone his story is really amazing. But I can't wait to be back out in the action."
We should all appreciate that attitude.