Danielle Frye rallies NASCAR effort
May, 19, 2011
05/19/11
10:44
PM ET
It was sometime around midnight on Thursday, April 28, and Danielle Frye, former NASCAR publicist and wife of Red Bull Racing general manager Jay Frye, couldn't sleep. So she went to the couch and turned on the television.
Channel-by-channel, horrific images of the tornadoes that decimated the Southeast the previous day filled the screen. Among the areas affected was her hometown, tiny Pell City, Ala., located in the shadow of Talladega Superspeedway.
Fourteen people were killed in St. Claire County, which houses Pell City, and as Frye watched the devastation she was moved to help her own. So she grabbed her laptop and over the next 90 minutes sent and string of emails to her husband.
They were blessed. They had the platform to make a difference. They had to do something.
In the morning, Jay Frye went to work. His first call was to an old friend, Marshall Carlson, general manager at Hendrick Motorsports. Carlson didn't hesitate, and in fact raised the ante.
If you're sending a transporter full of supplies, he said, we are, too.
[+] Enlarge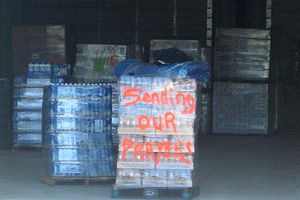 Danielle Frye, Special to ESPN.comPallets of food and other goods await distribution to the tornado-ravaged South.
Next up was a call to J.D. Gibbs. Then Ty Norris at Michael Waltrip Racing. Then Richard Childress Racing. No one hesitated.
"This was obviously a very personal cause for Danielle and a general humanitarian cause for the nation," Norris said. "When Jay and Danielle asked MWR to participate, we reacted as quickly as we could to participate. There are so many families who need people who care, and the families of Alabama found that in Jay and Danielle, who didn't just say they felt bad about the situation but they did something positive about it."
MRN Radio mentioned the initiative, and when the Jeff Gordon Foundation got wind of it, they, too, joined in. Gordon's foundation is specifically tailored to assist children battling cancer, but in this instance, Frye said, an exception was made. An online donation was organized. In three days, Danielle Frye said, JGF raised more than $6,000, all of which went towards assisting children affected by the tornado.
Over the following days two transporters were packed far past legal capacity with supplies and sent south to St. Claire County. HMS worked with the Charlotte Pepsi bottler to provide a palate of soda and water. Red Bull donated palates of product and water, as well. Frye estimates some 70,000 pounds of goods were on those trucks. The Red Bull Racing transporter alone, she said, was 6,000 pounds overweight.
"Fortunately, the weigh stations understood," she said with a laugh.
Upon arrival, the transporters were met by the St. Clair County Sheriff's Department and escorted by deputies into town. There, the Alabama National Guard waited to help unload supplies. In order to deliver the goods, volunteers were forced to float the supplies on Humvees.
The devastation was unspeakable.
"It was so sad," Danielle Frye said. "I try to tell people, it's not like it was a low-income or underfunded area. These are people that have things. And now they have nothing. Nothing.
"Think about everything you've used this morning. Those people don't have any of that right now. There are babies that need formula. There are kids that are separated from their families or lost their families completely."
She pauses briefly. Then starts again.
[+] Enlarge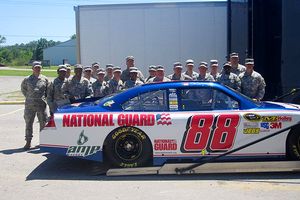 Danielle Frye for ESPN.comMen and women of the Alabama National Guard stand proudly behind Dale Earnhardt Jr.'s National Guard car as they work to distribute relief to the tornado-ravaged South.
(Disclaimer: This is one of the saddest things I've ever heard.)
"There's one story about a little boy in St. Clair County that the EMTs found wandering the street, and he was carrying his 3-year-old brother," she said. "He stopped the medic and said, 'Would you sit with us for a few minutes until our parents come back? We can't find them, and they would never leave us. My brother is asleep right now, but I'm kind of scared.'
"Come to find out, his 3-year-old brother was dead. He wouldn't leave his brother. That breaks my heart. Those stories are all over. That is everywhere."
She told the story of a farm not too far from the racetrack, where 100 horses were found in a nearby lake. She recalled seeing cows grazing on insulation in a remote field.
"The saddest thing for me, there was a house where the only thing left was a carport," Frye said. "There was a tire swing on a tree, and the entire tree was gone except one limb with the tire swing on it.
"And that's just one small area. The larger cities got all the attention, and rightfully so. But there were smaller communities that weren't getting what they needed. That's where our initiative went. I was familiar with the people and the area."
The Hendrick transporter carried on it one of Dale Earnhardt Jr.'s No. 88 cars. The National Guard volunteers were so excited to take photographs with it that they tried to climb up into the area that housed the car. Eventually, the car was lowered and removed so they might all have that opportunity.
"It was the least we could do," Frye said.
As we speak, Frye is driving north from downtown Charlotte with a car load of supplies. Next week, another smaller truck full of goods is headed to Alabama.
"You want to take the hurt away," she said. "You want to help them. When your own people are in need, and you know where the stuff is going and how it's impacting them, you need to step up. That's what we're trying to do."