Jay Frye joins Hendrick juggernaut
January, 6, 2012
01/06/12
5:22
PM ET
More often than not over the past several years, when I picked up the phone to call Jay Frye the voice on the other end was exhausted, frustrated and borderline disgusted. For 15 years Frye had run a race team at the Sprint Cup level. There was MB2. Then Ginn. Then Team Red Bull.
And when the doors effectively closed on Red Bull after the 2011 season finale, there was little more left than "now what?"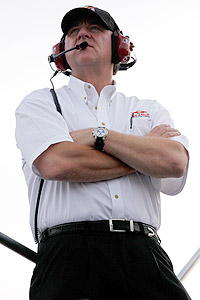 Geoff Burke/NASCAR/Getty ImagesJay Frye on joining Hendrick Motorsports: "Everything I learned in this sport -- and much of what I've learned about life, in general -- came from Rick Hendrick."
He tried to piece together an opportunity with the remaining parts and people from Team Red Bull, but no true investor properly engaged. As we've seen all too often recently, you can't race without money. A pile of it. During that same time he sought advice from an old mentor, Rick Hendrick, on multiple occasions. Those conversations spawned a new partnership between old friends.
Frye joined the Hendrick juggernaut recently in an executive role, focused mostly it seems on business development. He has no title and doesn't know exactly what his responsibility is yet. Not that he especially cares.
"Rick is a mentor. If I need advice I go to him, always," Frye said. "When this whole thing went down I met with them about other things, and basically outright told them I'd sure like to be here. I didn't know what they had, but whatever it was I'd do it. They basically came up with some ideas on what I could do to help. And that's how we came up with this role. I'm honored and flattered.
"Their sponsors don't leave and their people don't leave. There's a reason for that. They do it right. I'll contribute however I can. They don't need me."
For Frye, the move to Hendrick is a homecoming of sorts. In the early '90s, when Frye managed the NASCAR account for Valvoline, his office was at Hendrick Motorsports. He dropped a ceiling in an old barn up on the hill, in which legendary crew chief Harry Hyde used to restore old Volkswagens. They called it the "Bug Barn" for a reason.
"Everything I learned in this sport -- and much of what I've learned about life, in general -- came from Rick Hendrick," Frye said. "I was never more proud than I was of that office in the barn. That was a great experience for me. I have huge respect and admiration for Rick."
The respect is mutual.
"Jay is one of the most well-connected people in the sport, and he's going to be a great resource to help develop strong partnerships," Marshall Carlson, Hendrick Motorsports president, said in a statement. "We've known him for a long time, so there's an immense level of trust and respect between us. The opportunity to work with Jay again and have the benefit of his experience is something we're excited about."
What's left of Team Red Bull is still on the market. Investors still call Frye about Red Bull. He directs them to the corporate folks in Austria trying to sell the team. Frye says there is a fantastic opportunity sitting right there in plain view for the right investor.
"Up until the last couple of weeks there was something new happening every day, people calling all the time," he said. "I'm not directly involved so I don't know exactly what's going on. There's a very good facility with great cars ready to go, and if you hire some people over the next couple weeks you can go race immediately. There are great people on the street, great drivers, looking for work. You could put a great team together in a week. Red Bull has great people from Austria still trying to make things happen. I wish them the best."
Above all, Frye is relaxed. For the first time in more than a decade it's not his responsibility to keep mouths fed. I could sense it in his voice.
"It was 11 years with MB2 and four years with Red Bull, and it was a huge responsibility that I took very seriously every single day," Frye said. "I took it very seriously that no one would ever miss a paycheck. Part of our success was our survival. I'm very proud of that."