Addington excited about No. 14's chances
January, 23, 2012
01/23/12
3:07
PM ET
CONCORD, N.C. -- It was barely Nov. 21, 2011, 2:30 in the morning on a Monday in North Carolina, and Steve Addington's mind and heart were racing. He was lying in bed, restless.
The NASCAR season had been over for six hours.
The transmission on the car Addington built to race in the NASCAR season finale, the No. 22 Penske Racing Dodge, had come apart early in the running. When it did, a piece from the drive shaft opened a softball-sized hole in the grill of Tony Stewart's Chevrolet.
At the time, that development didn't seem to bode well for Stewart's run at a third career championship -- and lying there in the dark, Addington felt it might not bode well for his future. Because at the very moment that universal joint pierced Stewart's grill, Stewart effectively became Addington's boss.
Or so Addington still hoped.
"This is a funny business -- you never know what's going to happen the next day," Addington said. "We almost cost Tony a championship, so I'm thinking, 'What's he thinking? He's just won a championship and going to change [his] mind.' I couldn't sleep."
Despite Stewart's unprecedented success during the 2011 Chase for the Sprint Cup -- five wins in a 10-race stretch and a dramatic third career title -- he decided to part ways with the man that directed his team to that championship, crew chief Darian Grubb.
And he did it in favor of Addington.
[+] Enlarge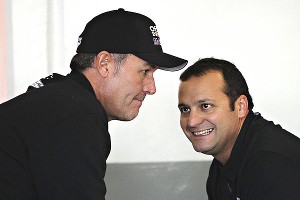 Jerry Markland/Getty Images Friends Steve Addington and Greg Zippadelli have the task of getting Tony Stewart a fourth Sprint Cup championship.
Stewart reassured Addington throughout the Chase that he was the man in 2012. But as the weeks passed and the wins piled up for Stewart and Grubb, Addington couldn't help but wonder if Stewart might change his mind.
Then his phone buzzed. It was Stewart with a simple yet profound message: "No pressure, bud."
"I'm not going to tell you what I replied," Addington chuckled.
Given the unique dynamics surrounding his introduction to Stewart Haas Racing, one might infer that Addington enters 2012 feeling substantial pressure. He says that he doesn't. As if the Grubb variable isn't reason enough, there's also the prospect of Greg Zipadelli peering over his shoulder.
Zipadelli, the newly minted SHR competition director, crew chiefed Stewart to a pair of NASCAR championships. Yes, Addington and Zipadelli are close friends, but what if the No. 14 team starts especially slow? What then?
"Not at all," he said. "I've got a lot of respect for Zippy. I'm going to feel good with him back there, giving his support. He knows Tony very well, and when you need to crack the whip and when not to. Tony told me I'd have to jerk him back in line when he's out of line, and that's what he wants out of me. That's when I'm going to lean on Zippy, to help me figure out what that point is."
Addington's accustomed to working with fiery drivers, of course. His past two jobs were with Kyle Busch and Kurt Busch, respectively, so his disposition is fitting for Stewart. He hopes his track record is what got him the job.
"I hope the wins got me the job," said Addington, who led the Busch brothers to 16 combined victories. "I wouldn't be here if I didn't think we could go out and win a championship. A lot of people will look at it like, 'You're the only thing that's changed on that race team.' And that's true. But I feel good about it.
"I'm confident enough in my position and experience in races to give him what he needs. Yes, we can go win a championship."