Neil Bonnett was more than a great driver
February, 11, 2012
02/11/12
5:44
PM ET
The picture on the front page of neilbonnett.com tells the tale: The jacket is blue and pink and purple, as colorful as the man wearing it; the smile all pearls. On that jacket's left breast, in embroidered red, yellow and black thread, it reads: Winston Legends.
Neil Bonnett is most certainly a NASCAR legend, as much for a laser-quick wit as for the 18 victories he accrued at the sport's highest level. Bonnett was among the most colorful characters the NASCAR garage has ever seen, a charter member of The Alabama Gang whose on-track success typically gets lost in the shadow of the person and the pranks -- not to mention the Allison family legacy.
Bonnett won at Richmond and Rockingham and Darlington and Wilkesboro, the toughest tracks the South ever produced. He won for Junior Johnson and Wood Brothers, some of the greatest owners the sport ever produced.
[+] Enlarge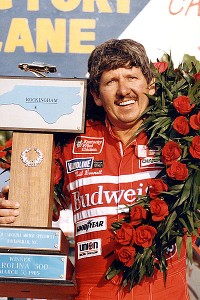 ISC Archives via Getty ImagesNeil Bonnett won some of the biggest races for some of NASCAR's biggest owners and sponsors in his career.
"In the sport he gets lost in the shuffle sometimes, because he was so lighthearted and so fun to hang out with that you almost forget to give him credit for being a pretty doggone good race car driver," NASCAR president Mike Helton said.
In 1994 Bonnett was staging a comeback from three years spent recovering from cracked ribs, a broken sternum and amnesia sustained in a 1990 wreck at Darlington. He'd been integral in testing the new Monte Carlo race car Chevrolet would unveil in 1995. Entering Speedweeks, he was confident he would contend to win the Daytona 500 in James Finch's No. 51 Chevy.
It was not to be.
On Feb. 11, 18 years ago, Bonnett died in a crash during the opening practice for the Daytona 500. He was 47 years old.
"That was my first year with NASCAR. We'd lost Rodney Orr a few days before that, so when Neil was the second incident of the weekend it was certainly much more difficult," Helton said. "It was really tough. Coming on the heels of losing Rodney, and it being Neil, magnified the impact of it all. It was very tough to be braced for that."
Helton is one of the folks in today's garage who knew Bonnett best. They were fishing buddies out on the lakes of Alabama, near Talladega and Birmingham. When I asked him to recall his favorite story about Bonnett's exploits, he literally laughed out loud.
Bonnett, see, was as proud of the motors in his boats as he was of those in his race cars. And one day out on a lake near Birmingham (where most everyone knew his name), he'd gone and wet a line in a no-fishing zone. When the game warden approached and asked if he knew he was fishing illegally, Bonnett looked at him and asked, "Do you know who I am?" When the Warden said, "Nossir, I don't know who are," Bonnett slammed that boat down in gear, hollered, "Good!" and took off like a bat outta hell across the water.
That warden didn't have a chance.
"Neil loved that story. He always told it," Helton said through the chuckle. "He was a big outdoorsman, and he and Dale Earnhardt had got to become good friends because they shared a lot of common loves and laughs and things they did, so they migrated to each other.
"You should have seen Neil try to play golf. He wasn't a good golfer. But then again, most of the folks that played with him, we weren't either. It was so fun. He was such a quick thinker and fun personality; such a practical joker."
And a fine broadcaster. Bonnett hosted "Winners," a weekly program on The Nashville Network that highlighted NASCAR's greatest drivers and personalities. It was wildly popular.
"Neil was a really easy person to warm up to because he kind of pulled you in," Helton said. "His personality was just so strong. As soon as he walked up to you for the first time, you felt like you'd known him for 20 years.
"Neil's legacy will be reflected on paper statistically, but I'm not sure that anybody can do him justice any other way. You had to know him. He had a show where he interviewed characters in the sport, like Bill [France] Sr. and Richard Petty and Buddy Baker. That show had a huge following to it because of his personality. Hopefully somebody resurrects those someday."
That was a different era. These days drivers must toe a thin line between showing too much and not enough personality. The driver that most reminds Helton of Bonnett?
"It's funny you ask this, because I said to somebody the other day who did not know Neil that Clint Bowyer is a very down-home personality that has a great sense of humor, is quick on his feet and, oh by the way, can drive a race car," Helton said.
"In today's world I look at Clint and see a little bit of former drivers in him. I see a little bit of Neil in Clint Bowyer. He's entertaining. That was Neil Bonnett -- as quick and witty as Clint is, he's the modern-day Neil."