Kyle Busch: I'm not chasing Richard Petty
June, 4, 2013
06/04/13
2:33
PM ET
Kyle Busch is wearing a white hardhat, baggy jeans and a blaze-orange M&M's polo shirt bright enough for a prize buck hunt. He's in a neighborhood in Charlotte, N.C., swinging hammers during a Habitat for Humanity home-build shift. This is a couple weeks back.
It's muddy and he's dirty. Rain has pelted greater Charlotte all morning, and the red clay runoff from the mounds of dirt along the periphery has turned to pudding on the home's concrete foundation.
As I watch Busch slam framing nails into two-by-fours, the scene intrigues me, this contrast between his muddy shoes and the clear-blue-sky clarity of the statement he's saying to me.
It started when I asked what he considered to be the greatest accomplishment of his career to date. This is a guy who has 115 wins across the three major nationals series. He's won inaugural races (Kentucky) and won at home in Vegas. He's won Darlington and both road courses. That's just in Cup.
[+] Enlarge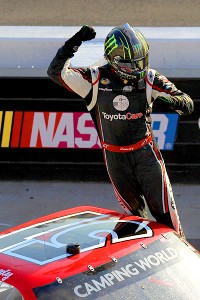 Todd Warshaw/Getty ImagesKyle Busch has 32 wins in the Camping World Truck Series, including Friday's victory at Dover.
He's done a few things with a wheel in his hand.
He didn't hesitate: The Bristol sweep.
"Not a lot of people really try for those things because they don't run Truck races -- the Jimmie Johnsons and Jeff Gordons don't run Truck races or very many Nationwide races," he said.
"That was pretty cool for what I'm all about and what I do, and for how many laps you run during a season and for what all can happen throughout a race -- as well as how we've seen how much bad luck I carry around behind me -- it's pretty special when you can win three races in a weekend like that."
As we chatted, he was fresh off another dominant performance in the Camping World Truck Series, this time at Charlotte Motor Speedway. As he bowed to the assembled in a cloud of tire smoke, they booed. They love him or they hate him. No in-between.
Here's the thing: Polarizing is a fine position, really, so long as it's properly channeled.
I wondered aloud how he felt about the criticism he takes for competing in -- and winning -- Nationwide Series and Truck series races so readily. What are his thoughts about the commentary that the beatdowns he lays are akin to Justin Verlander throwing filthy heat to Class A talent?
And what of the chatter that those wins don't count for much, anyway? They're not big-time wins, they say. If it ain't Cup it don't matter, so why bother, they say.
"For me, it's just an opportunity to go out there and get as much track time as I can, to get out there and feel the tire, feel the track, try different lines to see if they help you or hurt you, to not try that on Sundays," Busch said analytically.
"And I think all that helps me a little bit. Instead of going out on Sundays and trying all of that, and being behind the 8 ball a little bit, I already know what does or does not work. So that's my benefit.
"To people that discredit the wins and stuff like that, I mean, I'm not fighting with anybody, but everybody keeps saying my wins in Truck and Nationwide don't mean anything. That's not true. They mean a lot to me."
Fair. Expound, please.
What, exactly, do they mean?
"Everybody thinks I'm shooting for Richard Petty's 200-win record. That's not true," Busch explained. "Richard Petty won his 200 races in his era. That's cool, man. I mean, granted, he did it. Right? He's the all-time winner in the Cup series. For me, if I win 200 races over all three series, my record has nothing to do with Richard Petty's record, ya know?
"To me, it's just something I want to accomplish and I want to do, and I think everybody's making too much of it."
That answer is telling. Kasey Kahne has entered five Truck races in his life. He's won four of them.
Busch is wholly unconcerned what any of us think or say about his desire to race. It's not about exposure -- if it were about exposure he wouldn't fly to Slinger and Lanier to race obscure Late Model shows.
It's not about beating lesser talent -- truth told, most drivers in the Cup series have lesser talent.
It's not even about history. History is old hat.
It's simply about the opportunity to compete, to get out there and gas it up -- anytime, anywhere, in anything. Fire it up and let it eat.
I don't care if you detest the guy. In an era when drivers get rich and ride with no particular resume to speak of, that's oddly refreshing.