Category archive:

Kurt Busch
July, 3, 2012
07/03/12
7:11
PM ET
Since it's my blog, I'm going to imagine that you asked why I thought Brad Keselowski's win on Saturday was so impressive. Let me tell you.
Keselowski has won on a short track, a restrictor-plate track and a superspeedway this season. That's just about all of them.
Let's not forget how down of a season Brad K. had in his first full season with Penske in 2010. He finished 25th in points, with just two top-10 finishes, both 10th. Since then, he's won six races, three last year and now three in 2012.
How can we put Keselowski's performance in perspective and try to find a driver whom he resembles?
Well, let's sort out all the drivers who had a sub-par first season but rebounded nicely who didn't run the full schedule the previous year, or drivers like Tony Stewart and Jimmie Johnson who won three-plus times each of their first two full seasons.
Five drivers who've pulled that off. Mark Martin, Kevin Harvick and Terry Labonte did it well into their careers -- not early like Keselowski.
That leaves Carl Edwards and Kurt Busch, and the parallels between Keselowski and Busch are uncanny. Busch went winless his first full season, like Keselowski, and then won four races in 2002 and 2003. In 2004, he was the champion.
So, you can call Keselowski "Kurt Busch without the baggage," and I'm sure lots of owners would like a driver with that combo.
Trivia break: Keselowski now has seven career Cup wins. Who is the only driver with exactly eight in his career?
Chase Countdown
This is the time of year when I start thinking Chase. And I'm sure the drivers are, too.
In every year of the Chase, there's been a driver in the field with both nine and 10 races to go to move into the Chase field after being out at that time.
So, who could move in and who could move out? Kasey Kahne moved into the field with his second-place run at Kentucky, taking the second wild-card spot. But that's an obvious one.
Off the radar, watch out for Marcos Ambrose. In the past five races, only five drivers have more points than the Aussie. If he can steal a win at Sonoma, he could be racing for a title.
On the other end is Ryan Newman. Newman's falling out of the second wild-card spot, and since his Martinsville win, he's been terrible without a finish better than 12th in 11 races. That after having a win and three top-10s in the first six races.
Trivia break: Who is the only driver to make the Chase after being outside the top 20 with 10 races to go?
First Time Dominance
Austin Dillon, welcome to the club.
Dillon picked up his first Nationwide Series win Friday night at Kentucky, and it was never really in doubt.
Dillon led all but eight laps in the victory, the fourth-most dominant first win in series history, according to our friends over at Racing Resources.
Ryan Newman led all but six laps in his first win, Morgan Shepherd all but two and Dale Jarrett went wire-to-wire in his first win.
Trivia break: Dillon's victory followed Nelson Piquet Jr.'s first win. Who were the last drivers to get their first Nationwide Series victories back-to-back?
Trivia Break Answers
1. Kyle Petty is the only driver to finish his career with exactly eight Cup wins.
2. Brad Keselowski was 22nd with 10 races to go last year before getting a wild card.
3. Trevor Bayne and Sam Hornish Jr. pulled it off last year.
June, 26, 2012
06/26/12
3:20
PM ET
Last year was lauded for having a variety of winners and wild endings. While this year hasn't lived up to the crazy finishes (last year set a high bar), we've kept up the string of variety in Victory Lane, which shouldn't surprise anyone.
Clint Bowyer marked the 12th driver to win a Cup race this season, the 13th consecutive year we've had at least a dozen different winners. Before this 13-year run, we had a stretch of eight straight years without more than 12 winners in a year.
And while we have some overlap from year to year, we're seeing new names pop up, too. Whether it's Joey Logano, Dale Earnhardt Jr. or Bowyer, there's no shortage of drivers with the equipment and ability to win, and Michael Waltrip Racing has shown that we're only adding to the pool.
MWR already has eight top-5 finishes this season, the most its ever had in a season, and is just one short of a team record for top-10s in a season.
And who would've thought that Bowyer could win a race on a road course? Oh yeah, he was the Eliminator pick on Thursday.
But also, we're getting to a point where road-course races have never had so many drivers capable of winning on straight-up ability. The past eight Sonoma races have been won by eight different drivers, and the past six all picked up their first career road-course win.
Trivia break: Who is the only driver to pick up his first career Sprint Cup win at Sonoma?
Two For The Road (Course)
Let's heap some much-deserved praise on Kurt Busch and Brian Vickers for finishing third and fourth, respectively, at Sonoma.
For Busch, it's not only his first top-5 finish since joining Phoenix Racing, it's also tied for the second-best finish in team history, and the first time it's had a top-5 finish outside of a restrictor-plate race.
Vickers picked up his second top-5 finish in three races driving the 55 this season for MWR. Vickers' average finish this season is a 9.0. The sample size is small, but that does rank as the fourth-best in the series. It's also the first time Vickers has ever finished in the top 10 at Sonoma.
Trivia break: Besides Busch, who are the three drivers with top-5 finishes for Phoenix Racing?
Piq-uet Of The Litter
I usually don't cover much Nationwide in my little corner blog, but the history of Nelson Piquet Jr.'s win Saturday at Road America was too much to ignore.
First, he was the first Brazilian-born driver to win a race in the Cup, Nationwide or Trucks series, and just the fifth foreign-born driver to win a Nationwide Series race.
And thanks to my friends at Racing Resources, I found out that Turner Motorsports now has five Nationwide Series wins from five different drivers.
They're the first team, Cup, Nationwide or Trucks, to ever get its first five wins from five different drivers.
Piquet was the first of those winners to lead more than one lap in his win. That also gives Turner Motorsports the record for most Nationwide victories where the driver leads just one lap with four, thanks again to Racing Resources.
Trivia break: Who were the first four drivers to win a Nationwide Series race for Turner Motorsports?
Trivia Break Answers
1. Juan Pablo Montoya picked up his first win at Sonoma in 2007.
2. Brad Keselowski won at Talladega for Phoenix in 2009, and Geoff Bodine and Mike Wallace each had a top-5 in the Daytona 500.
3. Mark Martin, Justin Allgaier, Reed Sorenson and James Buescher have won Nationwide races for Turner.
October, 6, 2011
10/06/11
6:15
PM ET
What does the 2011 season have that past seasons haven't?
A second race at Kansas!
OK, that may not have been the most delightful riddle. Try this one on for size instead.
Why did I try the fish? Just for the halibut.
That's terrible … I love it! Now back to NASCAR.
What I was actually getting to was that we have a little more of a baseline to reflect back on to predict what will happen this Sunday.
When you take a look at just the last Kansas race versus the six races at the track since NASCAR began tracking loop data information, you get two totally different pictures.
If you look at the six-year approach, two drivers have distanced themselves from the field in most categories, Jimmie Johnson and Greg Biffle.
Biffle is the series leader in that time in overall driver rating and average running position. Johnson has run the fastest lap more often than any other driver and has the fastest average speed both early and late in runs.
However, just looking at the Kansas race from earlier this season, we get some other names to focus on. If you remember, Brad Keselowski got the win, his first of the season, but he did it by stretching fuel mileage, not by having one of the dominant cars in the race.
No, the dominant car seemed to belong to his teammate and last week's winner, Kurt Busch. Busch led about 57 percent of the race, and led basically every loop data category there is to lead. Plus he has the big-time momentum on his side after winning at Dover.
Who else to like? Well, Tony Stewart and Carl Edwards were in the top three along with Busch in nearly every category in the race, but with one exception.
Stewart had the second-fastest car early in runs, but dropped to eighth late in runs. Watch to see if they can make improvements based on the lengthy green-flag runs we've seen this year.
So what wins out at Kansas, recent history or a more thorough look back? Just settle down, wait, and we'll figure it out together.
The Eliminator: Kansas Edition
Most people just pick winners, some by hunches, some by stats, and some by just picking a name off the top of their head. I don't pick winners, I pick losers. I'll make my race pick by telling you why all but one driver in the field just can't win.
1. Every fall Kansas winner had a previous top-six finish at the track (27 drivers eliminated, 19 remaining).
2. The past seven Kansas winners finished 19th or worse in the last Charlotte race (11 eliminated, eight remaining).
3. The last five fall Kansas winners finished in the top 10 in the last Texas race (seven eliminated, one remaining).
Your winner: Jimmie Johnson
September, 22, 2011
09/22/11
1:06
PM ET
Color me intrigued by the Chase so far (or for our international friends, colour me intrigued)
Chicago provided a wild start, with fuel-mileage issues and penalties resulting in a shuffled Chase field in a year with a new points system in which poor finishes are punished even more and consistency is even more valuable.
New Hampshire marks the start of an interesting stretch of the schedule. First of all, it starts a stretch of distinctive tracks, after the flat magic mile, we get the high banks of Dover and then a couple of intermediates before heading to Talladega.
But it's also the stretch of eight straight tracks that the series has already visited this year. So it's time to use what we've learned. I hope you've been studying.
At New Hampshire, I like one driver near the top of the Chase to stay near the top, while I like a guy near the bottom to start making his way back up.
Earlier this year, it was Ryan Newman getting the win at New Hampshire in a race in which he had the most laps led and best driver rating. But I like his owner and teammate, Tony Stewart, to excel Sunday.
Dating back to 2005, Stewart leads the field in fastest laps run, and has the fastest average speed early in runs and in traffic. Plus, despite finishing second to Newman, Stewart has the best overall speed, plus the most fastest laps run.
And in the category that appeared to be Smoke's great weakness, speed late in runs (in which he ranks sixth since 2005), he was the strongest in the field earlier this year.
But don't rule out Mr. Four-Time, Jeff Gordon. Despite a ho-hum 11th-place finish at Loudon earlier this year, Gordon was running fourth with 10 percent of the race left.
Since 2005, Gordon ranks in the top four in all speed categories at New Hampshire, including first in overall speed and second in speed in traffic.
With six championships among them, I expect one of those two to come out on top Sunday (and hopefully not Monday again).
The Eliminator: New Hampshire
Most people just pick winners, some by hunches, some by stats, and some by just picking a name off the top of their head. I don't pick winners, I pick losers. I'll make my race pick by telling you why all but one driver in the field just can't win.
1. The last nine fall New Hampshire winners had a top-15 finish in the last Richmond race (31 drivers eliminated, 15 remaining).

2. The last five New Hampshire winners had a top-seven finish in the previous Sprint Cup race (10 eliminated, five remaining).

3. The last four New Hampshire winners finished 14th or better in the previous two New Hampshire races (three eliminated, two remaining).

4. The last four New Hampshire winners had a top-10 in the last Phoenix race (one eliminated, one remaining).
Your winner: Kurt Busch
July, 5, 2011
07/05/11
7:55
PM ET
Who needed to go out to see a summer blockbuster when you have Daytona?
What didn't Saturday night's race have? It was a tale of redemption, as David Ragan came back from disappointing 2009 and 2010 seasons and the heartbreak of this year's Daytona 500. I'm definitely rooting for the protagonist.
Maybe you want a little more action? The two-car drafts again caused that, and if you weren't on the edge of your seat during the two green-white-checkered finishes, then you might not have a pulse.
Want a love story? I was loving that pizza I was chowing down on throughout the race.
What about some of the other staples of the summer blockbuster? Car chase scene? Check plus. Stunning starlet? If the Victory Lane girls want to reach me, my e-mail address is in my bio. Explosions and special effects? Um, maybe it's best we didn't have those, unless you count the postrace fireworks.
One thing the summer blockbusters do lack is a sweet statistical analysis. Luckily for my dedicated readers, I'm all over that, and here we go.
Feels Like the First Time
After not having a single first-time winner all of last season, we've already had three this season, with Trevor Bayne and Regan Smith joining Ragan.
Ragan took 163 Cup starts to reach Victory Lane. That's the most for a driver before his first win since Johnny Benson won in his 226th in 2002 at Rockingham.
Ragan also became the seventh driver to get his first Cup win in the July race at Daytona and the first since his teammate Greg Biffle did so in 2003.
Among the previous six, two never won again, and two won only one more race at the Cup level. The others were Biffle, with 16 career wins, and A.J. Foyt, with seven career wins.
Trivia break: The last time a track had two first-time winners in a year was Daytona in 1994. Who were the drivers?
When It Baynes, It Pours
Call it the curse of the Daytona 500 winner.
But with Trevor Bayne's 41st-place finish at Daytona, five of the past six Daytona 500 winners have now finished outside the top 30 in the July race at Daytona that same season.
The only exception was in 2009, when Matt Kenseth followed his 500 win with an eighth-place finish.
Trivia break: Who was the most recent driver to sweep both Cup races at Daytona in a season?
The Big One Times Two
Thanks to ESPN Stats & Information's Trevor Ebaugh for this note.
Since the start of 2008, there have been almost 37,000 laps run in 125 points-paying Cup races. Over that span, 994 cars were involved in multi-car accidents, 189 of those coming at Daytona (19.0 percent).
Saturday's race saw two wrecks on green-white-checkered attempts that each collected 15 cars, the second-highest total in a single accident. Of the past 125 races, only last July's race at Daytona had a larger wreck, a 19-car wreck late in the race.
The average track on the Cup schedule sees a multi-car collision every 154.6 laps, compared to one every 34.8 laps at Daytona. To put that into perspective, Las Vegas has averaged 534.0 laps per multi-car accident over the past three years.
Trivia break: Mark Martin became the eighth driver to win 50 poles. What track has he won the most at, with nine?
Trivia Break Answers
(1) Sterling Marlin and Jimmy Spencer both got their first wins at Daytona in 1994.
(2) Bobby Allison swept at Daytona in 1982.
(3) Martin has won nine poles at Bristol.
June, 28, 2011
06/28/11
1:05
AM ET
Driving in to work Monday morning, I was listening to some NASCAR talk radio, and they made the thought-provoking point that road-course racing is the new Bristol.
They have a point. Bristol used to be about one-lane racing, and if you were in the preferred lane, you could be just seconds away from a quarter-panel ramming and a trip to the high side of the track, where driver after driver would go by you.
Except, now, at a place such as Infineon Raceway, the preferred line changes sides of the track on a turn-by-turn basis, and you don't get shoved to the high side as much as you find yourself forced into the grass or a gravel pit.
Hey, at least it's not quicksand. Although watching drivers try to get out of them at Road America does make me wonder.
And where does that leave us? With some old-school, Bristol-style fussin' and a-feudin'. What would you like? Brian Vickers versus Tony Stewart? Juan Pablo Montoya versus Brad Keselowski/Kasey Kahne? Robby Gordon versus Joey Logano? Jacques Villeneuve versus Max Papis/Brian Scott?
There's no wrong choice, but Kahne did have the best post-wreck interview, implying that Montoya was mad at himself for his inability to win on an oval.
But, for now, let's focus on the winner, since there was actually a race or two run through all the carnage.
A Decade Of Wins
Kurt Busch's win at Sonoma was his first of the season, marking the 10th straight season in which he's won at least one Cup race.
Busch is the 16th driver in Cup series history to win at least one race for 10 consecutive seasons. His streak is also tied for the second-longest active streak with Jimmie Johnson. The only longer active streak belongs to Tony Stewart at 12 straight.
He has a ways to go to reach the record, though. Like most records, this one belongs to Richard Petty, with 18 straight, while David Pearson is second at 17.
Trivia break: Which two drivers are tied with wins in 16 straight seasons?
Even Road?
With so many road-course ringers in the field and Cup regulars who excel at that style of racing, you might have been surprised to watch Kurt Busch win.
But it shouldn't have been a shocker, as Busch marked the fifth straight Sonoma winner to get his first career road-course win.
It just goes to show the skill level of the drivers who are out there each and every week, for our entertainment's sake.
Trivia break: Who is the last "road-course ringer" to win a Cup race?
Carl's Choice
In order to get his Cup car dialed in, Carl Edwards decided to skip Saturday's Nationwide Series race at Road America.
Hey, it worked, he rebounded to finish third at Sonoma. But, thinking of Edwards as a Cup driver, you don't realize the run he's had in the Nationwide Series.
The race snapped Edwards' streak of 210 straight Nationwide Series starts, the fourth-longest streak in series history. Check out that chart.
So, to summarize, Edwards has more than four times more career Cup starts than the three guys ahead of him combined.
Trivia break: Who now has the longest active Nationwide starts streak?
Trivia Break Answers
1) Rusty Wallace and Ricky Rudd both won in 16 straight seasons.
2) Mark Donohue won at Riverside in 1973.
3) Jason Leffler has made 202 straight Nationwide starts, fifth-longest all-time.
October, 14, 2010
10/14/10
12:32
PM ET
Watching last Sunday's Cup race at California, a thought popped into my head. Is Jimmie Johnson winning the Chase, or did several other drivers just lose it?
Johnson has left the door more open in the past, an opinion I shared in my last blog. If you want the details, please just go ahead and glance at my last entry -- I won't go anywhere. In fact, I'll stop typing for a bit, grab a drink, maybe a quick 10-minute nap, let you catch up. Of course, you'll never know that -- it'll seem instantaneous to you.
It's not just the drivers who have crashed out or blown engines -- the drivers directly behind Johnson and within shouting distance have given up some points, too. Tony Stewart ran out of gas while leading the Chase opener. Jeff Gordon and Kevin Harvick both got speeding penalties on pit road this week, leaving some points on the table.
Second-place Denny Hamlin hasn't had a bad finish but went into the past few races with an attitude of just trying to survive and advance. Going in with that mindset can cost you, and it did. After dominating Richmond in the regular-season finale, Hamlin has not led a lap in the Chase, leaving 20 possible bonus points on the table.
Now we're heading to a track where Johnson is tied for the most career wins, but is he as good there as labeled? This is where my numbers come into play, because here come my favorite loop data stats previewing the weekend at Charlotte Motor Speedway:
Seamless transition
Usually I use those section titles to preview the note, but I thought that was funnier.
Like I was saying, Johnson's numbers in 2002-06 at Charlotte were just unreal. In 10 races, he had five wins and no finish worse than seventh. Since 2007 he has just one win in seven races, and that's his only top-5 finish in that span.
NASCAR's loop data numbers go to 2005, and time and lack of raw data prevent me from getting specific numbers since 2007, but the figures speak for themselves. Johnson still leads all drivers in that time in driver rating, fastest laps run, speed in traffic and overall green-flag speed.
And despite some bad finishes, Johnson's shown an ability to get to the front, leading in each of his past 17 Charlotte starts.
Other than the 48
In the three previous Chases, we've had only one race winner come from outside the Chase. That was Jamie McMurray last year at Talladega, but it wouldn't surprise me if a non-Chaser won at Charlotte, and it might come from out of nowhere.
Joey Logano has only seven top-5 finishes in his young career -- one of those last year in the fall race at Charlotte -- and he comes in with momentum, as two others have been in the past four races.
Charlotte is Logano's best track in terms of driver rating, and he leads all drivers since 2005 in quality passes (green-flag passes in the top 15) per race and in speed in traffic. So don't be surprised if Logano plays spoiler Saturday night.
Charlotte sweep?
No driver has won both points races and the All-Star Race at Charlotte in the same year. Well, it could happen this year (why else would I bring that up?), courtesy Kurt Busch, who might have something to prove after a little run-in with David Ragan at California.
Busch dominated at Charlotte in the spring, putting up a near-perfect driver rating of 147.8. A perfect rating is 150 and has been done only 10 times since 2005, and not this year. He led 252 of the 400 laps in the 600-miler at Charlotte in the spring, running all but one lap in the top 15. He also ran the fastest lap on 77 circuits. No other driver ran more than 39.
Could this be Busch's opportunity to get himself back in the Chase? Let's wait and see.
That's all I have for this week. Enjoy the race!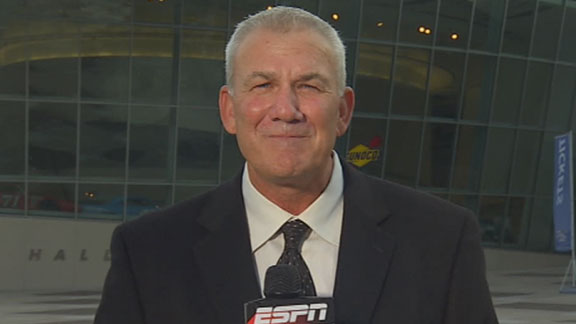 July, 29, 2010
07/29/10
11:37
AM ET
I consider myself a man of the people. In fact, I've been a person myself for quite some time. In being a man of the people, I like to go to bat for the little guys, those pushed around and badmouthed by the public.
Today, I stick up for Pocono Raceway.
Yes, I realize the racing there can be a little on the boring side, but what track doesn't see some down laps? Yes, the facilities are outdated and the track one of the less safe on the circuit, but those things can be spruced up.
Hmm, I'm not doing a very good job of sticking up for Pocono right now, am I? But wait, I'm going somewhere.
NASCAR needs Pocono, the same way I need a cool beverage right now. Ah, that's better. Now let me tell you why.
I hear the chatter that fans don't like the abundance of "cookie cutter" tracks. The cry is for more short tracks and restrictor-plate tracks. Now I'd love some more short-track action, and we might see a driver revolt if another plate race is added, but we also must think outside the box.
While Pocono might not be the most exciting, you have to appreciate it for the test it sets up for drivers, crew chiefs and engineers. There are three distinct corners with straightaways that challenge the engines. Pocono combines elements from several types of racing.
So, not only do we need Pocono, we need tracks that don't fit any other type of mold on the schedule. Let's think outside the box, especially in this time when the 2011 schedule is still in flux.
Now, on to this week's preview, using the finest in stats from NASCAR's loop data.
Denny's Den
I played an awesome game called paddleball in college, and one of the coaches that played with us used to try to get in my head (unsuccessfully) by telling me he was in my kitchen.
Let me tell you, this week, Denny Hamlin's in everybody's kitchen.
There's no doubt that Pocono is Hamlin's domain. He's won each of the last two races there and has four wins in nine career Pocono starts.
To go a step further, look at this list of the most fastest laps run at Pocono since 2005.
Denny Hamlin -- 328
Kurt Busch -- 241
Kasey Kahne -- 155
Carl Edwards -- 141
Jimmie Johnson -- 119
What makes that more impressive is that Hamlin's run only nine of the 11 races in that time. Imagine where he'd be with two more races.
It's Miller Time
OK, Hamlim's clearly number one at Pocono. But there's a clear number two as well, looking at the numbers, which is sort of my thing.
Kurt Busch's average finish numbers are dragged down by a couple of bad breaks at Pocono, but if you look at the time he was on the track, Busch has been solid. Since 2005, Busch has the second-fastest car late in runs, on restarts, in traffic and overall.
And let's not forget that Busch has put up a perfect driver rating, not a common feat, twice in that time in winning at the Triangle.
Har-Slick
I've talked about points leader Kevin Harvick often in this little column. But that doesn't mean I'm not going to do it again.
Mike Forde, NASCAR's Sultan of Stats, had a fun Harvick nugget in his prerace notes this week. He's really starting to hit a solid stride heading into the last few races before the Chase. Harvick, not Forde. Forde's always doing good.
Over his last five races, Harvick's had a driver rating nearing 110. But what really impresses me is that he has an average running position of 8.8 and an average finish of 2.8.
So, not only is Harvick running well, he's finding a way to move up through the field late in races.
That's all I have for you this week. Enjoy the race!
June, 24, 2010
06/24/10
10:58
AM ET
Greetings, friends, countrymen and minions.
Now things are getting exciting. If you didn't think the wildness at Sonoma was enough, we're officially on our way to the Race to the Chase, the 10-race stretch leading up to the 2010 Chase premiere at New Hampshire Motor Speedway.
I hope you're not too attached to the 12 drivers currently in the Chase field. That's because going back to the start of the Chase, we've yet to have a year in which the drivers in Chase positions at the 10-to-go mark all made the Chase.
In 2004-06, when only 10 drivers made the Chase, two drivers moved into the Chase field in the final 10 races, most notably Matt Kenseth, who made up a 271-point deficit in the final 10 races and had to pass 10 drivers along the way to do it.
In 2007 and '08, one driver each year (Kurt Busch in '07 and Kevin Harvick in '08) went from being out to in during that time frame. Last year, both Kasey Kahne and Brian Vickers played the role of comeback kids at the expense of Kyle Busch and Matt Kenseth.
So don't be so quick to start throwing away the hopes of some key drivers. Juan Pablo Montoya sits 20th, like Matt Kenseth in 2005, and has only a 161-point deficit behind 12th-place Carl Edwards. Kahne has looked strong over the past few weeks, and you know how he can get on a roll. Then there are drivers like Clint Bowyer and Dale Earnhardt Jr., who are just outside the top 12 and in top-notch equipment.
So, unless you're a Dave Blaney fan, I'm probably willing to give your driver at least a shot to make the Chase. And it all starts with this week's race in New Hampshire. What a great segue to my stats preview!
A new Jeff Gordon?
Jeff Gordon has been criticized and praised alike for his actions last week at Sonoma. While some of his tactics might be objectionable, people seem to think that a newly aggressive Jeff Gordon could contend for that elusive fifth championship, even reaching that mark before his teammate, Jimmie Johnson.
But until Gordon starts winning some races, he'll have a tough time winning a championship. No driver has ever won the championship in a season in which he was held winless. Even in the inaugural NASCAR Cup Series season of 1949, which had only eight races, Red Byron won twice on his way to a title.
Well, Gordon could get that elusive win this weekend at New Hampshire. Although he hasn't won there since 1998, Gordon has been very impressive there over the past five years and has finished second in three of the past six races at Loudon, including two of the past three spring races.
Over the five-year span, Gordon leads all drivers with a 7.4 average position and 341 quality passes (green-flag passes in the top 15). He also has the second-highest average speed and driver rating in that span.
So watch for Gordon's focus to switch from postrace call-outs to Victory Lane.
The other Hendrick Guy
As much as he gets killed by his legions of fans, it's important to note that Dale Earnhardt Jr. is currently just one spot and 57 points out of a Chase position, so he's right there. This week, he goes to a track where he's never won and hasn't had great recent finishes, but I'm still going to classify as one of his best.
Let's take a second to go behind just his finishes and look at his speed since, as we all know, speed tends to be important at this level of racing. List it!
Dale Earnhardt Jr.'s speed ranks at New Hampshire over the past five years
• Overall -- Third
• Early in run -- Third
• Late in run -- First
• In traffic -- Second

Junior Nation can send their praises and well-wishes to me at ESPNMattWillis@yahoo.com.
Getting Kurt with you
The best overall performance last year in the two races at New Hampshire may have come from Kurt Busch. Busch finished third and sixth in the two races, but ran better than that in both.
Busch was second in average position in the June race, and third in the September race. In terms of overall green-flag speed, he was the second-quickest in June and had the best overall speed in September.
Busch has won at New Hampshire three times, including sweeping there on his way to the 2004 championship. He had only three wins total that season, so consider him always a threat to win there.
That's all I have for you this week. Enjoy the race!
Greetings, my friends. It's your Uncle Matty here to bring you yet another addition of America's favorite twice-weekly NASCAR statistical blog.
As you might've realized, especially if you're a regular reader of my blog, this is the halfway point to the Chase. What better way to celebrate it than with 500 miles of triangle-related goodness at Pocono?
Subsequently, what better way to celebrate that than with a Matt Willis mailbag? The big issue, of course, being that I don't really get questions in my e-mail inbox.
That, obviously, is a call to action for my readers.
So, what to do than to ask those sitting closest to me, my fellow ESPN researchers, for their NASCAR questions heading to Pocono?
Is Kyle Busch going to end up on anybody's Christmas card list this winter?
-- Tom McKean, fifth row
Well, Tom (everybody check out Tom McKean's F1 blog), you have to imagine that those wins are doing somebody some good. He has about 800 sponsors on his Cup car, most of which are edible and make for great gift baskets.
In light of Jim Joyce blowing Armando Galarraga's perfect game, could somebody screw up a milestone for a driver?
-- Jason McCallum, fourth row
The thing is that NASCAR decisions are made by people sitting in a mysterious trailer that I presume doesn't have doors or windows. You can only get in by teleportation. Luckily everything timing-wise is decided by electronic scoring, which I imagine incorporates lasers and mirrors and stuff like that.
Well, I only get so many words per blog, so let's move on to some loop data preview for Pocono.
This one goes to 11
Denny Hamlin leads every stats blog on Pocono. There's a good reason for that: The dude cleans up there.
Hamlin won each of his first two starts at the track, and also won the most recent race there last summer. That's three wins in eight career visits to Pocono.
Predictably, the numbers there are beyond excellent. He leads all drivers over the past five years in all categories, and his driver rating is 10 points higher than the second-highest, Kurt Busch.
What's even more amazing is that Hamlin doesn't just have certain situations he excels in. He's the fastest early and late in runs. On restarts and in traffic.
Trifecta?
Kurt Busch has won his past two trips to the racetrack. Only one was for points, but the other netted him a cool million dollars.
We could see the blue deuce make it to Victory Lane again this weekend. Busch has a pair of Pocono wins, one apiece with Penske and Roush Fenway Racing, and put up a perfect driver rating in both races.
He comes into the race second behind Hamlin in both overall speed and fastest laps run. But if he wins, look for a dominating performance.
The good and the bad
We won't add any ugly, we're keeping things beautiful on this blog.
Now that we're at the halfway point, it's a great time to take a look back at what the first 13 races brought us.
A few guys who might've been considered Chase favorites and championship contenders have been off the pace this season in terms of driver rating. Carl Edwards has the 19th-best driver rating through 13 races. Kasey Kahne is 20th, Joey Logano is 21st.
On the flip side, several drivers have been running better than their finishing positions have suggested, quick list time!
Clint Bowyer: eighth in driver rating (13th in points). David Reutimann: 11th in DR (19th in points). Juan Pablo Montoya: 10th in DR (20th in points).
Look for these guys to make a move in the second half.
That's all I have for you this week. Enjoy the race!