Category archive:

Jamie McMurray
March, 10, 2011
03/10/11
10:17
AM ET
In my little corner of the ESPN.com NASCAR page, I usually focus on the "what is" and not the "what if." But since it's an off week, I think I'll wander off the beaten path and play the what-if game (so much better than Hungry Hungry Hippos).
It wasn't too long ago that I wrote about what would happen if there was a Chase in every season since NASCAR started its modern points system in 1975. (You can read about it here.)
This offseason, NASCAR instituted its first major points overhaul since 1975, going for a simplified and more streamlined system. Quite simply, one point per position.
The researcher in me wondered: What if NASCAR had this points system when it instituted the Chase in 2004? Now I know things may have turned out differently if different drivers were running for the championship, but stick with me and we'll have some fun.
No titles would've changed hands and Jimmie Johnson would still be going for his sixth straight, but one career might've turned out far differently.
Jamie McMurray would've made the very first Chase, qualifying on points instead of Ryan Newman after his ninth-place finish in the regular-season finale at Richmond.
Then on the strength of eight top-10 finishes in the Chase, McMurray would've rallied to finish fourth in points, 17 back of champion Kurt Busch. All that in just the second full season of his Sprint Cup Series career.
How would that have affected McMurray's career, and the future of Chip Ganassi Racing?
Would McMurray and Ganassi have stuck together? And, spurred by the young driver's marketability and success, could Ganassi have attracted the sponsors to keep his team afloat, instead of having to merge with DEI to form Earnhardt Ganassi Racing?
Furthermore, how would that have affected drivers like Sterling Marlin, Casey Mears and Reed Sorenson, whose careers took hits with the downfall of Chip Ganassi Racing?
McMurray, reunited with Ganassi at EGR last season, also would've made the Chase based on his two regular-season wins, which I deem "The McMurray Rule."
Last year, McMurray would've made the Chase despite sitting 15th in points after Richmond based on his two regular-season wins. He added another win in the Chase, but his inconsistency (he had a win but only two other Chase top-10 finishes) would've doomed him to just a sixth-place finish in points.
The landscape of NASCAR may not have been overhauled by the points change had it taken place in 2004 instead of 2010. But the careers of McMurray and all of the drivers who came through Chip Ganassi Racing in that time may have been drastically altered.
Now, for all you fans who thirst for knowledge, drink up, my friends. Here's how the fields for the past Chases would've changed had this new points system been in force:
• 2004 -- Jamie McMurray goes from out to in, making it on points. Rusty Wallace and Ryan Newman make it on wild cards.
• 2005 -- The top 10 in points stay the same, so Jeff Gordon and Kevin Harvick take the wild cards.
• 2006 -- The top 10 stay the same again, but Tony Stewart and Greg Biffle make it on wild cards. Stewart, who won three Chase races, goes into the Chase finale two points behind Jimmie Johnson, but finishes third.
• 2007 -- In the first 12-driver Chase, no changes.
• 2008 -- Two midyear wins get Kasey Kahne in on the wild card at Matt Kenseth's expense.
• 2009 -- Brian Vickers misses the Chase (how would that have affected his status at Red Bull Racing?), and Kyle Busch gets in.
• 2010 -- McMurray makes the field and finishes sixth in points. Clint Bowyer misses the Chase.
October, 28, 2010
10/28/10
10:21
AM ET
As a NASCAR fan and a writer, I find it quite an honor to be featured here on ESPN.com, and I'm willing to accept the fact that maybe I'm one of the lower-profile writers here on the Web site. Who doesn't love the lowered expectations? I thrive on them.
However, my role often directly leads to a lack of reader interaction. Namely, I don't get reader e-mails. But everybody loves a mailbag column, so why should I get left out of the fun?
I mean, I don't have the history in the sport like Ed Hinton. Maybe I don't have the news contacts of a Terry Blount or David Newton. And I certainly don't have the southern charm of a Marty Smith. But, if he has his six, I can at least have my two!
So, with the Chase very much in the air and moving ahead to one of the most exciting races on the schedule, a wild card if there was one in the Chase, I thought this would be an ideal time to guilt two friends I know read my column regularly into representing my legions of rabid fans with the following preapproved questions:
Matt,
I've heard a lot about possible changes to the Chase next season and I for one am completely in favor of expanding the field. How about an automatic Chase berth for any son of a seven-time cup champion? Anyone who just so happens to fit this criteria should be in. Maybe they could even start the Chase with a 100 point lead. What do you think?
-- Jrfan88, Kannapolis, N.C.
Dear Junior fan, I can clearly see this letter's bias and will not be fooled by your favoritism. The truth is that Kyle Petty's best days are long behind him, and while he might've won a few races, he'll never be a championship contender again. Not until he cuts of that ponytail, you hippie!
Matt,
What offseason moves does Joe Nemechek need to make to become a contender again?
-- Mark, Garfield Heights, Ohio
Geez, I can't believe I had to wait two whole questions to get to the Joe Nemechek conversation. Well, my Ohio native friend, if this past summer has taught me anything, it's that his first move to becoming a championship contender is joining the Miami Heat.
Now it's time to take my talents to my Talladega prerace notes!
Back in the mix
And all of a sudden, Denny Hamlin is just six points behind Jimmie Johnson for the Chase points lead. However, he's failed to finish each of the past two Chase races at Talladega, putting up a 38th and 39th in those two races. And he's never won a restrictor-plate race.
On the flip side (which is totally the better side), Hamlin does a good job of getting to the front, having led at least one lap in each of his nine career Talladega starts. And his loop data numbers back up the fact that Hamlin is in a ride that he can drive to the front.
Despite the lack of wins, no driver has a better average position at Talladega dating back to 2005 than Hamlin's 13.8, and his teammate Joey Logano is second in that category. Likewise, Hamlin's 95.9 driver rating at Talladega is also tops, with Logano right behind in second.
Making a pass
No, don't get the wrong idea. Unless you're beautiful, single and interested in NASCAR bloggers, then you can contact my editors for my information.
The key at Talladega obviously is being able to make up ground through the field late in the race, so I checked out the green-flag pass differential at Talladega over the past five seasons. The mission: Simply to be able to pass more than being passed, for when you have to drop the hammer and get to the front.
Two drivers separated themselves from the field. Jamie McMurray was a plus-187, while Dale Earnhardt Jr. was a plus-186. One has won recently at Talladega, the other won a lot several years ago. Unless they get caught up in the "big one," you can expect them to be factors on Sunday.
Third on that list, just for the record, is my dark horse for Sunday's race. Roush Fenway's David Ragan.
Talladega tidbits
Although I'm always of the opinion that the best drivers, the cream of the crop, will find their way to the front at Talladega, I'm also going to say that we'll see a lot of drivers up front, and there are many potential candidates for a win Sunday.
I mean, look at the spring race, which set NASCAR Cup Series records with 29 leaders and 88 lead changes. Those lead changes completely blew away the previous record, which was 75 at Talladega in 1984.
Furthermore, no driver ran the fastest lap more than eight times in the spring race. Clint Bowyer finished in the top 10 and didn't run the fastest lap a single time in the race. Kevin Harvick, the race winner, was only in the top 15 for 28 percent of laps.
But you don't need me to tell you this is anybody's ballgame. So, that's all I have for you this week. Enjoy the race!
October, 19, 2010
10/19/10
5:41
PM ET
Do a simple Google search (or whatever your favorite Internet search engine is, I'm not here to judge) for outdated laws, and you'll give yourself a few minutes of chuckling.
For example, in West Virginia, you can't hold a public office if you've ever participated in a duel with a deadly weapon. In Tennessee, it is illegal to shoot any game other than whales from a moving automobile. And here in Connecticut, you can't walk backwards after sunset. I'm going to break this one on my way to my car tonight, just because I consider myself an outlaw.
Now, allow me to group NASCAR's points system in with those other outdated ideas.
Ed Hinton brought this up on "NASCAR Now" on Monday, and it's long been an issue which I've tried to bring to the voting public's attention. Jamie McMurray didn't make the Chase despite his two regular-season wins. If McMurray had made the Chase, he'd currently be fourth in points, just 87 behind Jimmie Johnson.
The solution seems simple. Offer a whopping number of points (say 200 or 250) for a win. Then drop it down to 150 for second. Points drop incrementally from there until you get to 25th or 30th or so, then a set number of points from everyone finishing 30th or lower, say 10.
Advantages: It rewards winning to promote racing up front. It'll keep damaged cars off the racetrack (since there's no difference finishing 30th and 40th) to cut down on debris cautions. Plus going in increments of five or 10 points would make the points easier to digest.
Disadvantages: None
The system NASCAR uses now was invented to reward consistency. It would force drivers who normally wouldn't go to tracks far from their backyard to show up in order to win the title. Now, however, we get all the top teams coming out every week, the money, fame and prestige of winning the title is more than enough incentive, so we no longer have to entice teams with points to get them to show up.
The answer to fixing the system isn't creating a system where there are all sorts of wild cards to get drivers into the Chase. We don't need to give a multiple winner or the Daytona 500 champ a free pass into the Chase. We need a system that if a driver, such as McMurray, goes out and wins multiple times and runs second several times to boot, he can't miss the field because the points system won't allow it.
It's so easy, and my consulting fee is relatively low.
Playing Spoiler
Let's not ignore what McMurray's done this year. From nearly out of a job to three wins, including two in the biggest races of the year, is a turnaround worth admiring. He's won three times this year, or 9.7 percent of the races. Before that, he had won three of his 258 career starts, just 1.2 percent.
He also became just the third driver to win multiple Chase races as a non-Chaser, Greg Biffle and Tony Stewart each have won three. He's also the only non-Chaser to win a Chase race over the last three seasons, with his Talladega win last year.
One more great, or pointless, research nugget. McMurray now has six career Cup Series wins, the only driver with exactly six Cup wins. A number of drivers have seven, a number have five. McMurray is the only one with six.
Trivia break: McMurray started 27th on Saturday night. Who is the only driver to win from deeper in the field at Charlotte?
That Dude In The 48
I don't have records for the most consecutive blogs appeared in, but I figure Jimmie Johnson is getting up there.
Johnson had yet another top-three finish Sunday night, his fourth in a row and 33rd in his Chase career. The only other driver with even half as many top-three Chase finishes as Johnson is Jeff Gordon, who has 17. From there, it drops to Greg Biffle with 15 and Carl Edwards with 14.
Johnson's numbers obviously are going to drop off at Charlotte from where they were from 2003-06, when he failed to finish outside the top three in eight races, but he's still put up a 9.8 career average finish at Charlotte, despite finishing 37th there earlier this year. That's the second-best mark all-time at Charlotte with a minimum of five races, trailing only Rex White.
Trivia break: If we drop that minimum down to three races, who takes over the all-time top spot at Charlotte?
History Denied
I wrote briefly in my blog about how Kurt Busch had a chance to make history at Charlotte by becoming the first driver to win both points races and the All-Star Race at Charlotte in the same season. Well, he ended up making history, but of the wrong variety.
Busch was the seventh driver to go into the fall Charlotte races with an opportunity for the sweep, but he's the first of those seven to have a finish outside the top five. Davey Allison (1991) and Kasey Kahne (2008) each finished second, the closest to pulling off the sweep.
Trivia break: In honor of the Tim Richmond "30 for 30" special, who are the four drivers that won more races in a season than Richmond's seven during the 1980s?
Trivia Break Answers
1. Jimmie Johnson started 37th when he won at Charlotte in 2003.
2. Joey Logano has a 8.5 career average finish in four career Charlotte starts.
3. Bobby Allison (8 in 1982), Darrell Waltrip (12 in 2 seasons), Bill Elliott (11 in 1985) and Dale Earnhardt (11 in 1987) were the only ones to top Richmond's seven wins in 1986.
September, 9, 2010
09/09/10
11:28
AM ET
You know I love me some short-track racing, and this weekend we get the fifth of six short-track races of the season. If that intro wasn't exciting enough, I can give you the hard sell: It's also the Chase cut-off race. Too bad the battle at the bubble isn't too thrilling this season.
So that begs the question: If this bubble battle isn't exciting, do we need to make some changes? Or is this type of season inevitable, regardless of the system?
Is there another tweak in the rules forthcoming? Perhaps an expanded Chase field with eliminations along the way? A system where if you win a race, maybe two, you're in the Chase? Should there be another points reset during the course of the Chase?
One thing is for sure: I'm glad I don't have the weight of making these decisions on my shoulders, because you can never please everybody. Then again, I bet the people who make those decisions make more money than yours truly. And I do have the lovely personality trait of thinking that I'm always right on issues such as the best Chase format.
So, yes, on second thought, I would like that job.
Then again, maybe the stress would get the best of me. Perhaps it's best if I just stick to a little loop data look-ahead to Saturday night's race at the action track, Richmond International Raceway.
Red-hot Smoke
Tony Stewart finally broke through at Atlanta and got his first win of the year, perhaps ending the sophomore slump that has dominated his second season as an owner-driver. This weekend, he could make it two in a row and enter the Chase as a trendy pick to win the title.
Going back to 2005, Stewart has been quite solid at Richmond and has proved tough to pass, with a plus-201 green-flag pass differential in those 11 races. That's 74 spots better than the second-best driver on the list, current points leader Kevin Harvick.
Only one other driver is even within 100 spots of Stewart, and that, rather unpredictably, is 2000 champion Bobby Labonte, with a plus-106 mark.
I won't go out on that limb saying Labonte is going to be a force to be reckoned with Saturday, but I will stick my neck out a little and say that Stewart will again be running up front.
It's for lovers
Richmond is in Virginia, and Virginia's for lovers. Denny Hamlin's from Virginia, so I guess this note is also for lovers. But seriously, this blog always brings the necessary love, and often a heaping helping more.
Hamlin's coming off a last-place finish last week at Atlanta, and if he's going to go from worst to first anywhere, it might be Richmond. Last year at Richmond, Hamlin put up a perfect driver rating of 150 in winning this race heading to the Chase.
During that race, his average position was an eye-popping 1.3, as he led 299 of the 400 laps and ran the fastest lap on 108 of those circuits. Even more impressive was that Hamlin was passed under green-flag conditions only six times.
Bubble trouble
Richmond is Clint Bowyer's best track in terms of average finish. That, coupled with his sizable lead over Ryan Newman for the 12th and final Chase spot, means he should be in pretty good shape in the regular-season finale.
And while Newman and Jamie McMurray had solid runs this season at Richmond, they were looking up at Bowyer. Newman was ninth in average position and 10th in driver rating. McMurray was one spot behind Newman in each of those categories.
Bowyer, on the other hand, was fifth in average position and sixth in driver rating.
Well, that's all I have for you this week. Enjoy the race!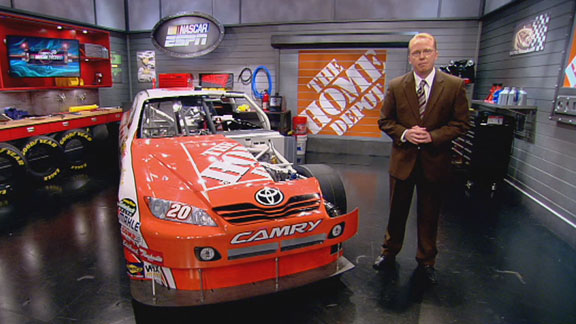 August, 3, 2010
08/03/10
4:13
PM ET
Greetings, my brothers and sisters in NASCAR. Today, because I feel so close to each and every one of my readers, I'm going to let you in on a little secret.
But also, because this is a public column and all (it comes free with the Internet), I'm going to randomly drop my name in there occasionally so people just can't copy and paste my idea and steal my millions of dollars.
OK, here we go, a multimillion dollar idea from your friend, Matt Willis (that's one).
We've got SAFER barriers at many of the tracks on the NASCAR circuit now, and they leave some space between the old wall and the new wall.
Why not put some tarps in there that could be released and would roll down the track in the case of rain? Remember, that idea is from Matt Willis (that's two).
I'm sure there's a lot about the engineering I don't understand. Let's leave that one to the eggheads. Sure, I'm a researcher, but just a sports researcher.
It's probably not feasible, and that is a lot of tarp to buy. But think of the track-drying time it would save. The cost? Offset eventually by the cost of that jet fuel and the amount you have to pay track workers to come in on a Monday.
Genius? Please, I'm just your old friend, Matt Willis (that's three).
Now on to some of my favorite post-Pocono notes.
Tale of Three Seasons
In a word, Greg Biffle's season started off hot. Five top-10s in the first five races left him fourth in points and in the championship picture.
Then, in the next 14 races, Biffle failed to record a top-5 finish and led only 17 laps, putting up the 19th-most points in the Sprint Cup Series over that time.
Flash forward to the past two races. Biffle had one of the cars to beat at Indy, eventually finishing third. Then the drought-breaking win Sunday at Pocono. Two top-5s in a row after just two in the first 19 races of the year.
All of a sudden, The Biff is looking like a title contender.
Trivia break: That was win No. 15 for Biffle. Of his teammates at Roush Fenway Racing, who has the most Sprint Cup wins?
Ford the River
I've written about Ford's winless streak to start the season on this little ol' blog before, but let's wrap it up once and for all after Biffle put Ford in Victory Lane.
The final count was a 20-race stretch to start the season without a Ford win, the second longest over the past 35 seasons.
The longest in that time came in 1977, when Ford didn't win a race.
Trivia break: Before Biffle, who was the last Ford driver to win a race?
Floating On the Bubble
So here we are, five races before the Chase. A road course, two short tracks and two intermediates.
I hate to be the bearer of bad news, but we might be devoid of a wild race for the last Chase spot. However, there are still a couple of drivers who could make things interesting.
After Pocono, only Mark Martin is within 100 points of the final Chase spot among those currently outside the Chase field.
Don't give up hope for those currently outside looking in, though. Three drivers have come back from more than 100 points outside the Chase with five races left. List time!
Drivers making up 100+ point deficit to make the Chase with five races remaining
Season -- Driver -- Points deficit to cutoff
2005 -- Matt Kenseth -- 168 points
2004 -- Mark Martin -- 123
2009 -- Brian Vickers -- 104
Trivia break: Who is the only driver to fall out of the Chase despite being 100 points ahead of the cutoff with five races remaining?
Trivia Break Answers
1. Matt Kenseth has 18 wins, two ahead of Carl Edwards and three ahead of Biffle.

2. Jamie McMurray won last year's second race at Talladega, the last Ford to win before Biffle.

3. Last year, Matt Kenseth was 102 points ahead of 13th but failed to make the Chase.
July, 27, 2010
07/27/10
6:48
PM ET
So here I am, back in Connecticut after a week at the Brickyard. After a successful week of remotes -- my only work road trip of the year -- it's good to be back in my own bed.
How should I sum up the week in Indianapolis? I think the only way is with a little story. Feel free to print this out and read it in bed as you doze off. I've been told this blog is a great sleep aid. Hey, wait …
Jamie McMurray came into NASCAR as a hot prospect, and won in his second career start, subbing for the injured Sterling Marlin. After a couple semi-successful years for Chip Ganassi Racing, in which he nearly made the Chase, McMurray moved on to one of the superpowers, which is now Roush Fenway Racing.
There, he inherited a team that Kurt Busch had driven to a title just a couple years prior. After finishing 13th, 11th and 12th in points with Ganassi, McMurray finished 25th, 17th, 16th and 22nd with Roush, despite adding a couple restrictor-plate wins to his résumé.
When Roush Fenway was forced to cut back from five to four teams for this season, McMurray was the odd man out, leaving him job hunting as the 2010 season drew near.
Then came what I'm sure was an emotional reunion with Chip Ganassi, which I'm sure included crying, man hugs and somebody uttering the line "You had me at hello."
The issue here is that the sponsor didn't see McMurray as their kind of guy, almost costing him the ride. Guess they don't mind now that their logo has been in Victory Lane at the two biggest NASCAR races of the year: the Daytona 500 and Brickyard 400.
I'm also sure that one-year contract at Earnhardt Ganassi Racing will be extended, too.
Now, since I'm quickly filling up my word limit, let's move on to some postrace notes from the Brickyard 400.
McWinner
I feel like the move here is just to blow through some McMurray nuggets, lightning-round style.
McMurray became just the third driver to win the Daytona 500 and Brickyard 400 in the same season, joining Dale Jarrett in 1996 and Jimmie Johnson in 2006. Johnson won the title, Jarrett finished third. McMurray is still 151 points out of a Chase spot.
As you heard leading the postrace coverage on "NASCAR Now," Chip Ganassi became the first owner to win the Daytona 500, Indianapolis 500 and Brickyard 400 in the same season. As a matter of fact, he's the only winner to have won all three of those races.
I may have mentioned at some point leading up to the race that no driver outside the top 10 in points had ever won this race. Well, McMurray entered 18th, but this is misleading, seeing as he's now finished second or better in the four biggest NASCAR races of the season.
He won Daytona and the Brickyard, and was second in the 600-miler at Charlotte and the Southern 500 at Darlington.
Trivia break: Who is the only other driver to finish in the top five in the Daytona 500, Coke 600, Southern 500 and Brickyard 400 in the same season?
Juan Gone
Oh, the humanity.
A year after giving away a Brickyard 400 win with a pit-road speeding penalty, Juan Pablo Montoya again proved to have one of -- if not the -- driver to beat at Indy. But it was not to be after taking four ineffective tires late in the race, leading to his hitting both the inside and outside walls.
Only four times has a driver led more than half of a Brickyard 400 and failed to win the race. Montoya's now done it twice.
At least he can still go home and look at his Indy 500 and Grand Prix of Monaco trophies.
Trivia break: Who were the other two drivers to lead more than half of a Brickyard 400 and not win?
Bowtie Brigade
One of my favorite notes of the weekend came from Saturday morning during qualifying, courtesy of our friends at Racing Resources.
Nine of the top 10 qualifiers were in Chevrolets, and while you might yawn at that (how dare you!), it's the first time since the 1993 season finale that a single manufacturer had nine of the top-10 qualifying spots.
In that race, at Atlanta, Harry Gant's Chevy sat on the pole, and the next 11 qualifiers were in Fords. The race winner? Rusty Wallace in a Pontiac.
Trivia break: Ford remains winless for this season. What was the last year Ford went winless in a season?
Trivia Break Answers
(1) With an asterisk, Jeff Gordon did it in 1997. I add an asterisk, because in 2006, Jimmie Johnson was a top-5 at the only Darlington race, but it wasn't a Southern 500.
(2) Rusty Wallace did it in 2000 and Jeff Burton did it in 2006.
(3) Ford was winless in 1977, the last time it has gone this far into a season without a win.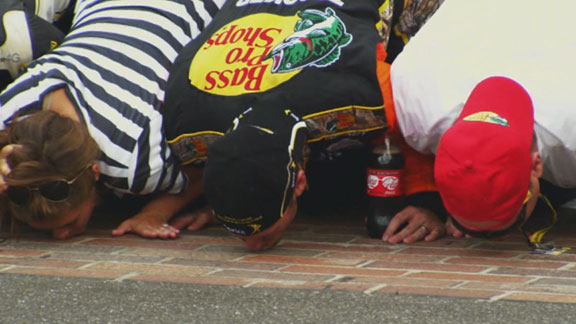 June, 1, 2010
06/01/10
12:46
PM ET
Everybody get out and stretch your legs, maybe take a little bathroom break. Shake your foot around to get it to wake up.
Have we all recovered from 1,100 miles of racing? I was right here in my office chair for the majority of it. At least I could walk around and take occasional snack breaks.
So, what did we learn?
We learned that Jimmie Johnson, upon further investigation, does not have a golden horseshoe either surgically implanted or naturally placed on his person. Have you seen that commercial where his car falls on a toolbox, only for it to hold up under the weight? Well, lately it seems he would've been better off with it falling on top of his car.
We learned that Ashley Judd still makes for good TV.
We learned that even Jeff Burton can get angry, if you give him a flat tire after 550 or so miles.
I learned that trying to figure out which NASCAR drivers would play which characters in "The A-Team" movie could be a 15-minute endeavor. I would go with Carl Edwards as Face, Juan Pablo Montoya as "Howling Mad" Murdock, Mark Martin as Hannibal and Tony Stewart as B.A. Baracus. Feel free to argue these choices with me, but I'm right.
And, finally, we learned that Kurt Busch is a very real contender for a second career championship. Meanwhile, Jeff Gordon and Mark Martin put up great points days to show why they're also going to be tough to beat.
Now, let me dish out some of the finest research notes from 600 miles at Charlotte:
Busch bash
In Kurt Busch's first nine 600s, he had nary a top-10. In fact, he had led only 174 laps in those nine races, with an average finish of 25.9. On Sunday, Busch led 252 laps on his way to a win. Those 252 laps were the fifth-most in a 600-mile win in NASCAR's modern era, which goes back to 1972. List time!
Most laps led in 600-mile race win at Charlotte (modern era)
• Jimmie Johnson, 2004 -- 334
• Richard Petty, 1977 -- 311
• Rusty Wallace, 1990 -- 306
• Davey Allison, 1991 -- 263
• Kurt Busch, 2010 -- 252

You might've already heard this, but Busch became the seventh driver to win the All-Star Race and the 600 in back-to-back weekends. Kasey Kahne was the last to do it -- he finished 14th in points that season. But the other five all finished third or better in the final standings.
Trivia break! Who are the three drivers to win the All-Star Race, 600 and the championship in the same season?
A near double
First, however, an actual double, as Chip Ganassi became the first owner to win a Daytona 500 and Indianapolis 500 in the same season, with Jamie McMurray and Dario Franchitti. Congratulations, and enjoy your giant piles of cash.
Ganassi and McMurray nearly pulled off their own double, winning the Daytona 500 and finishing second in the 600-miler at Charlotte in the same season. Needless to say, that doesn't happen often. McMurray came that close to joining six other drivers who won Daytona and the 600 in the same season. One more list? Why not?
Drivers who've won the Daytona 500 and the 600-mile race at Charlotte in same season
• 1997 -- Jeff Gordon
• 1996 -- Dale Jarrett
• 1989 -- Darrell Waltrip
• 1976 -- David Pearson
• 1969 -- Cale Yarborough
• 1965 -- Fred Lorenzen

Trivia break! McMurray's first career win was at Charlotte in 2002. Who was he driving for?
Pole woes for Newman
Nate Ryan got me thinking about this via a tweet, and being the good little researcher that I am, I had to follow up.
Ryan Newman got his ninth career pole at Charlotte. Only David Pearson, with 14, has been on the pole more than Newman at Charlotte. Newman, however, has never won a race at Charlotte, which is starting to become a trend with Newman and poles. He is now winless in his past 34 starts from the pole.
That is a series record. In fact, only three other drivers have gone more than 20 consecutive races without a victory after winning the pole. The others were Geoffrey Bodine (26), Ricky Rudd (26) and Ken Schrader (23).
Trivia break! When was Newman's last win from the pole?
Trivia break answers
1. Kurt Busch will try to join Darrell Waltrip (1985), Dale Earnhardt (1993) and Jeff Gordon (1997) as drivers with an All-Star and 600 win, along with a title in the same season.
2. McMurray was driving in his first go-round with Chip Ganassi, subbing for the injured Sterling Marlin.
3. Newman won from the pole at Pocono in 2003.
February, 16, 2010
02/16/10
4:39
PM ET
You probably haven't given potholes this much attention since … well, since your last morning commute when you hit one and flattened your tire, or got some coffee on your suit. It might've even made your CD skip.
Call me the eternal optimist, but I found the pothole delay an excellent time for a little 90-minute nap. I woke up, got a snack, refreshed my beverage, and was ready to go for Round 2. Then they threw another red flag my way. I grabbed the laptop and made some dinner plans with the lady friend.
It was Valentine's Day, after all, so there was no need to be angry. It was a time to rekindle love -- for NASCAR.
Rules changes in full swing made for some great racing. Bump-drafting added to the excitement, and they did it all without succumbing to the "big one." In my eyes, the key to that was the new restrictor plate. It meant the leader wasn't at a decided disadvantage and didn't have to block to maintain his position.
Say what you will about the freakish occurrence of potholes popping up between Turns 1 and 2, but I'm glad the racing was spectacular without a 20-car accident and that the race went at least 500 miles this year.
Now that I'm six paragraphs in, I'll mention what I think should be the headline story, instead of the potholes: Jamie McMurray's upset win. It's a great story for a guy who was out of a ride after 2009 and could've missed out on the No. 1 car this year because of sponsorship issues. The emotion was real and was fantastic to watch, no matter how long it took to get there.
Meanwhile, I don't know how I'm going to fit the best of our research notes from the Daytona 500, but let's start with McMurray.
McWinner
McMurray makes it nine different winners in the past nine Daytona 500s. And while some might think he's a fluke winner, partly because his two laps led were the fewest of any of the 52 Daytona 500 winners, I'll retort with this:
Over the last three seasons (and one race), nobody has won more at restrictor-plate tracks than McMurray. He's racked up three wins in plate races in that time, edging Kyle Busch by .005 of a second at Daytona in 2007 and then taking the last plate race before the 500 in Talladega at the end of last season.
On the other hand, fellow researcher Tom McKean did the legwork and found a situation very similar to McMurray's win: Ward Burton's 2002 win in the Great American Race.
Both Burton and McMurray won the 500 to start their ninth season, and both made the 500 their fourth career win. Both took the lead for the first time in the closing laps -- Burton led only the final five laps, McMurray the final two. Oh yeah, and both races had nine cautions, and both races were decided by less than two-tenths of a second.
Trivia break! What two drivers previously held the record for fewest laps led in a Daytona 500 win?
Charge to the front
Junior Nation is pumped today, to say the least. Dale Earnhardt Jr.'s runner-up finish in the Daytona 500 is a great way to start a possible rebound season. At least 88 fans should send some thank-you notes to David Reutimann for that push he gave Junior to help him cut between Clint Bowyer and Greg Biffle.
How impressive was Junior's run through the field? Let's break down his last few laps:
Earnhardt's last seven laps of the 2010 Daytona 500
Lap 202 -- 15th
Lap 203 -- 10th
Laps 204-206 (under caution) -- 10th
Lap 207 -- fifth
Lap 208 -- second
Trivia break! One more Jamie McMurray note: Who was the last driver to win a Daytona 500 in his first race with a new team?
And all those other notes
Why even mess around? It's time for the lightning round! This one with help from NASCAR's Sultan of Stats, Mike Forde.
• There was a Daytona (not just Daytona 500) record 21 leaders.
• The 21 lead changes were a series record for any race not held at Talladega.
• Under the green flag, there were 170 passes for the lead, more than the previous three Daytona 500s combined.
• AJ Allmendinger looked strong early and led 11 laps. That's 11 more than he led all of last year.
• Kevin Harvick continued not to win -- his 108-race winless streak is the longest ever for a driver immediately after a Daytona 500 win.
• Tony Stewart stayed winless in the 500, but his Nationwide win gave him 15 victories at Daytona, tied for third all-time behind Dale Earnhardt and Bobby Allison.
• Mark Martin ran his 26th Daytona 500 and also remained winless.
Trivia break! Who has run in the most Daytona 500s without a win?
Trivia break answers
1. Kevin Harvick and Benny Parsons each led just four laps in winning the Daytona 500, the record before McMurray's two.
2. In 2001, Michael Waltrip won in his first race with Dale Earnhardt Inc.
3. Dave Marcis ran in 33 Daytona 500s, with a best finish of sixth in 1978.