Category archive:

Juan Pablo Montoya
August, 10, 2010
08/10/10
1:07
PM ET
Call it the Year of Redemption. Do it!
Juan Pablo Montoya reminded us all on Sunday just how good a driver he is, when he became the fourth driver this season to snap a winless streak of at least 50 races. He joined Kevin Harvick, Ryan Newman and Greg Biffle.
I think it speaks to the competitiveness on the Sprint Cup Series that so many high-caliber, championship-level drivers could have gone at least a season and a half without a victory.
And look here, Jeff Gordon's winless streak is now over 50 races. Hey, I'm just putting that in the back of your head. Feel free to drop that nugget of knowledge on your friends, co-workers and hangers-on.
But, let me get back to Montoya (you have no choice, it's my blog). Lately, the conservation around Juan Pablo has centered on his disappointment after running for a championship last year and his recent verbal clashes with crew chief Brian Pattie. It's time to start concentrating on the dude's driving ability.
Let me lay a little truth on you: Montoya has won at the highest level of Formula One, in Monaco. He's won the crown jewel of American open-wheel racing, the Indianapolis 500, in his first start in the race. And now he's won twice in the highest level of stock car racing. And although both those wins took place on road courses, he's been a threat to win on ovals, too.
But now it's time for the finest in our research notes following Watkins Glen.
Takes Juan To Know Juan
I think one of the forgotten storylines late in the race is that the two cars that battled for the lead throughout much of the race featured drivers who were Colombian and Australian. If I'd told you that would be happening 20 or so years ago, you'd think I was nuts.
Montoya got the win, therefore becoming the first foreign-born driver to win twice in NASCAR's top series, going along with his Sonoma win from his rookie season of 2007.
The other two were Canada's Earl Ross in 1974 at Martinsville, and Italian-born Mario Andretti in the 1967 Daytona 500.
Trivia break: Who are the only two drivers to lead more laps in a Watkins Glen race than Montoya?
Start Me Up
With help from my brothers over at the ESPN Stats and Analysis Department, I was able to chase down the numbers (you know I love my numbers), on what we found to be the key to the race at Watkins Glen.
Montoya repeatedly beat Marcos Ambrose on the restarts on his way to victory. How much so? Well, Montoya, on average, was about a half-second faster on the first lap after a restart than both Ambrose and second-place Kurt Busch.
Plus Ambrose lost a position on three of those five restarts. A tale of the oh-so-close.
Trivia break: AJ Allmendinger had a top-5 finish, the second of his career. Where was the other?
A Bonus Entry
As a researcher, I like to think I do a pretty good job of supplying our hosts and analysts with information in a timely manner, while the drivers will break down some of the on-track action for me. Sometimes, the roles are reversed.
Case in point: After Sunday's race, Ricky Craven pointed out that Montoya was only behind two other drivers, Jimmie Johnson and Gordon, in bonus points accumulated this year.
Montoya's racked up 75 points, tied with Kurt Busch, Denny Hamlin and Kyle Busch for the third-most in the series, and only one win to show for it and a 19th-place spot in the points.
Trivia break: Although now it's technically a different team, the three wins this season ties the most for a Chip Ganassi-owned Sprint Cup Series team. Who got the three wins for them in the past season?
Trivia Break Answers
1.) Tony Stewart led 83 laps in 2005, and Mark Martin led 75 laps in a 1994 win.

2.) The 'Dinger was third in the 2009 Daytona 500.

3.) In 2002, Sterling Marlin won twice for Ganassi. After his injury, Jamie McMurray won at Charlotte in the same car.
August, 3, 2010
08/03/10
4:13
PM ET
Greetings, my brothers and sisters in NASCAR. Today, because I feel so close to each and every one of my readers, I'm going to let you in on a little secret.
But also, because this is a public column and all (it comes free with the Internet), I'm going to randomly drop my name in there occasionally so people just can't copy and paste my idea and steal my millions of dollars.
OK, here we go, a multimillion dollar idea from your friend, Matt Willis (that's one).
We've got SAFER barriers at many of the tracks on the NASCAR circuit now, and they leave some space between the old wall and the new wall.
Why not put some tarps in there that could be released and would roll down the track in the case of rain? Remember, that idea is from Matt Willis (that's two).
I'm sure there's a lot about the engineering I don't understand. Let's leave that one to the eggheads. Sure, I'm a researcher, but just a sports researcher.
It's probably not feasible, and that is a lot of tarp to buy. But think of the track-drying time it would save. The cost? Offset eventually by the cost of that jet fuel and the amount you have to pay track workers to come in on a Monday.
Genius? Please, I'm just your old friend, Matt Willis (that's three).
Now on to some of my favorite post-Pocono notes.
Tale of Three Seasons
In a word, Greg Biffle's season started off hot. Five top-10s in the first five races left him fourth in points and in the championship picture.
Then, in the next 14 races, Biffle failed to record a top-5 finish and led only 17 laps, putting up the 19th-most points in the Sprint Cup Series over that time.
Flash forward to the past two races. Biffle had one of the cars to beat at Indy, eventually finishing third. Then the drought-breaking win Sunday at Pocono. Two top-5s in a row after just two in the first 19 races of the year.
All of a sudden, The Biff is looking like a title contender.
Trivia break: That was win No. 15 for Biffle. Of his teammates at Roush Fenway Racing, who has the most Sprint Cup wins?
Ford the River
I've written about Ford's winless streak to start the season on this little ol' blog before, but let's wrap it up once and for all after Biffle put Ford in Victory Lane.
The final count was a 20-race stretch to start the season without a Ford win, the second longest over the past 35 seasons.
The longest in that time came in 1977, when Ford didn't win a race.
Trivia break: Before Biffle, who was the last Ford driver to win a race?
Floating On the Bubble
So here we are, five races before the Chase. A road course, two short tracks and two intermediates.
I hate to be the bearer of bad news, but we might be devoid of a wild race for the last Chase spot. However, there are still a couple of drivers who could make things interesting.
After Pocono, only Mark Martin is within 100 points of the final Chase spot among those currently outside the Chase field.
Don't give up hope for those currently outside looking in, though. Three drivers have come back from more than 100 points outside the Chase with five races left. List time!
Drivers making up 100+ point deficit to make the Chase with five races remaining
Season -- Driver -- Points deficit to cutoff
2005 -- Matt Kenseth -- 168 points
2004 -- Mark Martin -- 123
2009 -- Brian Vickers -- 104
Trivia break: Who is the only driver to fall out of the Chase despite being 100 points ahead of the cutoff with five races remaining?
Trivia Break Answers
1. Matt Kenseth has 18 wins, two ahead of Carl Edwards and three ahead of Biffle.

2. Jamie McMurray won last year's second race at Talladega, the last Ford to win before Biffle.

3. Last year, Matt Kenseth was 102 points ahead of 13th but failed to make the Chase.
July, 27, 2010
07/27/10
6:48
PM ET
So here I am, back in Connecticut after a week at the Brickyard. After a successful week of remotes -- my only work road trip of the year -- it's good to be back in my own bed.
How should I sum up the week in Indianapolis? I think the only way is with a little story. Feel free to print this out and read it in bed as you doze off. I've been told this blog is a great sleep aid. Hey, wait …
Jamie McMurray came into NASCAR as a hot prospect, and won in his second career start, subbing for the injured Sterling Marlin. After a couple semi-successful years for Chip Ganassi Racing, in which he nearly made the Chase, McMurray moved on to one of the superpowers, which is now Roush Fenway Racing.
There, he inherited a team that Kurt Busch had driven to a title just a couple years prior. After finishing 13th, 11th and 12th in points with Ganassi, McMurray finished 25th, 17th, 16th and 22nd with Roush, despite adding a couple restrictor-plate wins to his résumé.
When Roush Fenway was forced to cut back from five to four teams for this season, McMurray was the odd man out, leaving him job hunting as the 2010 season drew near.
Then came what I'm sure was an emotional reunion with Chip Ganassi, which I'm sure included crying, man hugs and somebody uttering the line "You had me at hello."
The issue here is that the sponsor didn't see McMurray as their kind of guy, almost costing him the ride. Guess they don't mind now that their logo has been in Victory Lane at the two biggest NASCAR races of the year: the Daytona 500 and Brickyard 400.
I'm also sure that one-year contract at Earnhardt Ganassi Racing will be extended, too.
Now, since I'm quickly filling up my word limit, let's move on to some postrace notes from the Brickyard 400.
McWinner
I feel like the move here is just to blow through some McMurray nuggets, lightning-round style.
McMurray became just the third driver to win the Daytona 500 and Brickyard 400 in the same season, joining Dale Jarrett in 1996 and Jimmie Johnson in 2006. Johnson won the title, Jarrett finished third. McMurray is still 151 points out of a Chase spot.
As you heard leading the postrace coverage on "NASCAR Now," Chip Ganassi became the first owner to win the Daytona 500, Indianapolis 500 and Brickyard 400 in the same season. As a matter of fact, he's the only winner to have won all three of those races.
I may have mentioned at some point leading up to the race that no driver outside the top 10 in points had ever won this race. Well, McMurray entered 18th, but this is misleading, seeing as he's now finished second or better in the four biggest NASCAR races of the season.
He won Daytona and the Brickyard, and was second in the 600-miler at Charlotte and the Southern 500 at Darlington.
Trivia break: Who is the only other driver to finish in the top five in the Daytona 500, Coke 600, Southern 500 and Brickyard 400 in the same season?
Juan Gone
Oh, the humanity.
A year after giving away a Brickyard 400 win with a pit-road speeding penalty, Juan Pablo Montoya again proved to have one of -- if not the -- driver to beat at Indy. But it was not to be after taking four ineffective tires late in the race, leading to his hitting both the inside and outside walls.
Only four times has a driver led more than half of a Brickyard 400 and failed to win the race. Montoya's now done it twice.
At least he can still go home and look at his Indy 500 and Grand Prix of Monaco trophies.
Trivia break: Who were the other two drivers to lead more than half of a Brickyard 400 and not win?
Bowtie Brigade
One of my favorite notes of the weekend came from Saturday morning during qualifying, courtesy of our friends at Racing Resources.
Nine of the top 10 qualifiers were in Chevrolets, and while you might yawn at that (how dare you!), it's the first time since the 1993 season finale that a single manufacturer had nine of the top-10 qualifying spots.
In that race, at Atlanta, Harry Gant's Chevy sat on the pole, and the next 11 qualifiers were in Fords. The race winner? Rusty Wallace in a Pontiac.
Trivia break: Ford remains winless for this season. What was the last year Ford went winless in a season?
Trivia Break Answers
(1) With an asterisk, Jeff Gordon did it in 1997. I add an asterisk, because in 2006, Jimmie Johnson was a top-5 at the only Darlington race, but it wasn't a Southern 500.
(2) Rusty Wallace did it in 2000 and Jeff Burton did it in 2006.
(3) Ford was winless in 1977, the last time it has gone this far into a season without a win.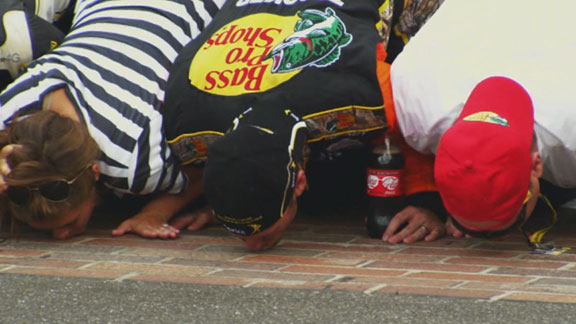 July, 22, 2010
07/22/10
10:34
AM ET
Welcome back, NASCAR fans. I hope everybody enjoyed the off week and had as much fun as my bros and I did down in Disney World. I'm not just saying that since I'm employed by the Mouse, although even if I didn't have fun, I think I'm contractually obligated to fib just a little.
While I was down in the Sunshine State (aptly nicknamed, as evidenced by my man tan), I took in a number of the shows, including "Lights, Motors, Action!" at Hollywood Studios. We got to see how chase scenes in movies are filmed and watched some amazing stunt driving while taking in some of the tricks of the trade. Oh, yeah, there were explosions, too.
Then I came home and saw what happened in the Nationwide Series race Saturday night.
As great as it is to watch some of the best stunt drivers in the world do their thing, it's also a lot of fun to go off script and go the reality TV route, courtesy of Carl Edwards and the Family Keselowski. With both of these guys running full-time schedules in both the Sprint Cup and Nationwide series, there are a lot of laps and a lot of opportunities for these guys to see each other, giving NASCAR a rivalry that many say it desperately needed.
Although neither is running at the tip-top of the Cup points, both have the potential to be running for championships over the next decade, and it doesn't look like this bad blood is on the verge of cooling down.
Good for NASCAR? I think so, seeing as on a Tuesday after a week without a Cup race, we're still talking about it on "SportsCenter." Bad for the guys in the shop who spend their weekdays trying to rebuild these cars? Oh, yeah.
But now, we'll take a look ahead to this weekend's race, one of the crown jewels of NASCAR -- the Brickyard 400. Hey, I'll be there for my one race per year, sitting harmlessly in a trailer somewhere in the infield.
Something's stewing
All the hoopla entering Indianapolis is on Jimmie Johnson, and with good cause. He's got the new baby, he's the two-time defending race winner and he's won this race in three of the past four years.
Want to hear the list of guys who have won three times in a four-year span at Indianapolis in the Brickyard 400, Indy 500 or U.S. Grand Prix? It's Johnson, Michael Schumacher and Wilbur Shaw. That's it.
However, over the past five seasons, it's actually Tony Stewart who's been the most consistent and powerful competitor. Stewart ranks first in that time in many of the key loop-data marks, including driver rating, average position, fastest laps run, quality passes (green-flag passes inside the top 15) and green-flag speed.
Sure, Stewart's team isn't where it was at this point last year, but he's been hot lately to the tune of five top-10 finishes in the past six races.
What could've been
The lasting memory of last year's Brickyard 400 was Juan Pablo Montoya's heartbreak. Montoya dominated the first three quarters of the race but was caught speeding on pit road, which he vehemently denied.
Montoya certainly had the dominant car, running the fastest lap on 46 of the 160 circuits in the race, but a pair of Hendrick drivers also separated themselves from the pack. While Montoya had 46 fastest laps, Mark Martin had 26 and Johnson had 25, and they finished second and first, respectively.
From there, the next most fastest laps run by a driver was just nine by both Denny Hamlin and Stewart.
Oh, yeah, Johnson too
OK, I had a little Johnson teaser up higher in the column, but while Stewart's been better on paper over the past five years at Indianapolis, Johnson's been very consistent in almost every situation as well.
Stewart has the top overall speed, speed early as well as late in runs, the most fastest laps run and the best speed in traffic, so that's pretty good. But, not so quietly, Johnson was in the top four in all five of those categories himself. Plus, he's a three-time brick kisser.
While those two look like heavy favorites for this weekend, I'll also leave you with a quick nugget to discount an upset winner this weekend. The worst points position entering the race for a Brickyard winner was 10th. That was a young Jeff Gordon in 1994, his second career win.
That's all I have for you this week. Enjoy the race!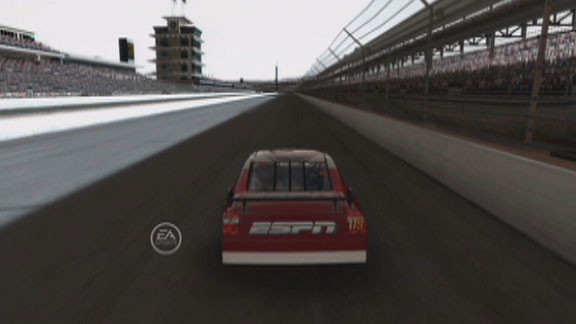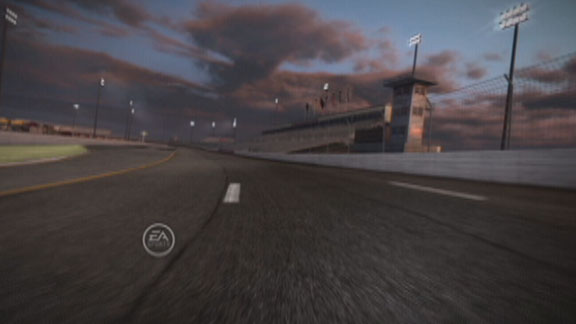 September, 1, 2009
09/01/09
11:47
AM ET
I don't remember too many races to the Chase that were quite as exciting and uncertain as this one is shaping up to be.
Well, this is just the sixth year of the Chase, so there's not a whole lot of history there, but still, you'll be hard-pressed to find a closer race for the last few spots in the Chase.
And because I'm a researcher, and it's sort of my job, I'd like to clear things up for my loyal readers. Unmurky the Chase waters, if you will.
Ding, ding, ding. Ladies and gentlemen, as far as I know, it's a first in Internet history. I am now the first person to ever use the word "unmurky." But that's beside the point, unimpressive as it is.
Oh, let's just get on with a special off-week edition of the blog, where I give you some scenarios down the stretch, with just two races left. All these scenarios take into account that the drivers will start the Chase cutoff race at Richmond.
The in
Tony Stewart, Jimmie Johnson and Jeff Gordon are already in the field, nine titles between them, and nobody can take that away from them. Unless something unforeseen happens like a rules violation or some sort of drug scandal is revealed.
And we all know that never happens in NASCAR. Um … moving on.
Oh-so-close
Three drivers can clinch a Chase spot in Atlanta regardless of what those further down in the standings do, provided they simply start the race at Richmond.
The first is fourth-place Denny Hamlin. The dark-horse championship contender doesn't even need a top-10 at Atlanta, which is good since he has only two of those in eight career starts at the track. Hamlin needs to just finish 12th, or 13th if he leads a lap, to officially punch his Chase ticket.
One spot below him in the standings is Carl Edwards. Edwards was getting a lot of preseason love for his championship chances, but that's cooled as he's been unable to find Victory Lane in the Cup Series this season. Despite that, Edwards can wrap up another Chase berth by finishing fourth at Atlanta, or fifth if he leads a lap. He's won there three times in 10 starts, including his first career win.
The other driver who controls his own destiny at Atlanta is the driver who won the first Chase, Kurt Busch. Busch needs to do just slightly better than Edwards, finish third or better, or fourth if he leads a lap. That seems doable for Busch, who won the spring race at Atlanta in dominant fashion.
Not so clear
Here's where things get interesting. Oh, who am I kidding? They were always interesting.
Seventh to 12th in the points are separated by just 50 points and none are more than 84 points behind of 13th-place Kyle Busch. Six drivers -- Ryan Newman, Greg Biffle, Juan Pablo Montoya, Mark Martin, Kasey Kahne and Matt Kenseth -- cannot clinch at Atlanta based on what they do themselves, but that doesn't mean they can't give themselves some breathing room.
Of these six, only Martin and Kahne have won at Atlanta. But Martin's wins came in 1991 and 1994, while Kahne won slightly more recently, in 2006.
Outside looking in
Kyle Busch and Brian Vickers have had their differences, but they find themselves in similar positions with two to go before the Chase field is set. Meanwhile, Clint Bowyer and David Reutimann are a little farther back, but they, along with Vickers and Busch, could get back into the top 12 with a good run and some degree of fortune at Atlanta.
Those four are also in a position where if they win, they cannot be eliminated.
Meanwhile, things aren't looking so good for Jeff Burton and Marcos Ambrose. These drivers aren't eliminated quite yet, but they have some ground to make up, and have to do so in a hurry. Any driver 162 points or more behind 12th after Atlanta will be eliminated.
And I'd like to take this space at the bottom of the column to send my regards to drivers such as Joey Logano, Dale Earnhardt Jr. and Kevin Harvick. They're among the drivers, everyone 19th or lower in points, who are officially eliminated from Chase contention. Maybe next year, fellas.
So, those are the numbers; I'll leave it at that for now. Who do you think is in or out? Leave your comment below, and it's time-stamped, so you can throw it in everybody's face if you were correct. I'll vouch for you.