Category archive:

Clint Bowyer
June, 26, 2012
06/26/12
3:20
PM ET
Last year was lauded for having a variety of winners and wild endings. While this year hasn't lived up to the crazy finishes (last year set a high bar), we've kept up the string of variety in Victory Lane, which shouldn't surprise anyone.
Clint Bowyer marked the 12th driver to win a Cup race this season, the 13th consecutive year we've had at least a dozen different winners. Before this 13-year run, we had a stretch of eight straight years without more than 12 winners in a year.
And while we have some overlap from year to year, we're seeing new names pop up, too. Whether it's Joey Logano, Dale Earnhardt Jr. or Bowyer, there's no shortage of drivers with the equipment and ability to win, and Michael Waltrip Racing has shown that we're only adding to the pool.
MWR already has eight top-5 finishes this season, the most its ever had in a season, and is just one short of a team record for top-10s in a season.
And who would've thought that Bowyer could win a race on a road course? Oh yeah, he was the Eliminator pick on Thursday.
But also, we're getting to a point where road-course races have never had so many drivers capable of winning on straight-up ability. The past eight Sonoma races have been won by eight different drivers, and the past six all picked up their first career road-course win.
Trivia break: Who is the only driver to pick up his first career Sprint Cup win at Sonoma?
Two For The Road (Course)
Let's heap some much-deserved praise on Kurt Busch and Brian Vickers for finishing third and fourth, respectively, at Sonoma.
For Busch, it's not only his first top-5 finish since joining Phoenix Racing, it's also tied for the second-best finish in team history, and the first time it's had a top-5 finish outside of a restrictor-plate race.
Vickers picked up his second top-5 finish in three races driving the 55 this season for MWR. Vickers' average finish this season is a 9.0. The sample size is small, but that does rank as the fourth-best in the series. It's also the first time Vickers has ever finished in the top 10 at Sonoma.
Trivia break: Besides Busch, who are the three drivers with top-5 finishes for Phoenix Racing?
Piq-uet Of The Litter
I usually don't cover much Nationwide in my little corner blog, but the history of Nelson Piquet Jr.'s win Saturday at Road America was too much to ignore.
First, he was the first Brazilian-born driver to win a race in the Cup, Nationwide or Trucks series, and just the fifth foreign-born driver to win a Nationwide Series race.
And thanks to my friends at Racing Resources, I found out that Turner Motorsports now has five Nationwide Series wins from five different drivers.
They're the first team, Cup, Nationwide or Trucks, to ever get its first five wins from five different drivers.
Piquet was the first of those winners to lead more than one lap in his win. That also gives Turner Motorsports the record for most Nationwide victories where the driver leads just one lap with four, thanks again to Racing Resources.
Trivia break: Who were the first four drivers to win a Nationwide Series race for Turner Motorsports?
Trivia Break Answers
1. Juan Pablo Montoya picked up his first win at Sonoma in 2007.
2. Brad Keselowski won at Talladega for Phoenix in 2009, and Geoff Bodine and Mike Wallace each had a top-5 in the Daytona 500.
3. Mark Martin, Justin Allgaier, Reed Sorenson and James Buescher have won Nationwide races for Turner.
June, 21, 2012
06/21/12
4:45
PM ET
Crunching Numbers: Top Drivers May Struggle at Sonoma
?
For those of you who know me (we're all just one big happy family in this blog circle), you'll know that I love variety. Which is why I'm glad NASCAR has at least a couple of road courses on the schedule.
I love seeing drivers tested, and the drivers who excel at this type of racing get to the front. I'm also fond of the pit strategy and different approaches that take place during the race.
If you know that about me, you might also know that, as a sports fan, I love me some mayhem.
Unless I have a strong rooting interest, I'm behind a series going to a seventh game, or I'll pull for the underdog. And if you like a turnover in the points, you might get it this weekend in Sonoma.
What do Matt Kenseth, Dale Earnhardt Jr. and Greg Biffle all have in common? If you said they're the top three in the points, you've given me the simple, obvious answer. Try harder.
If you said they all struggle on road courses, now you're smelling what I'm cooking.
All three of those drivers are still looking for their first Cup Series road-course win, and all struggle, especially at Sonoma. Let's use driver ratings going back to 2005 to break this down.
(Driver rating is a formula encompassing many of NASCAR's loop data categories and mirrors the NFL's quarterback rating. Anything over 100 is very good, and it maxes out at 150.)
Well, Biffle's driver rating at Sonoma is a paltry 78.4, 18th-best in the series. But that's the best of the three. Kenseth is a 71.8 (ranking 24th) and Earnhardt's is a 65.4 (27th).
That's why this weekend at Sonoma, I expect some points shuffling, both up from those who excel on road courses, and down from those who aren't in their comfort zone.
Looking for Trouble
Every week, my fellow members in ESPN Stats & Information crunch the numbers and tell us what to watch for the following weekend. Here's what they found:
There are 12 turns at Sonoma, but it's one of the final ones that does the most damage. In last year's race, all three accidents occurred in Turn 11, the hairpin turn, involving 10 cars. Since 2004, Turn 11, along with Turn 8, have accounted for more than half the accidents at Sonoma.
And, for a little more analysis, I went to my main man Ricky Craven, "NASCAR Now" analyst and all-around nice guy. He explained that Turn 11 is dangerous because drivers lock up their brakes in the hairpin. And Turn 8 is a danger zone because drivers don't complete their passes in Turn 7.
The Eliminator: Sonoma
For those of you new to my little blog, every week I use a device called The Eliminator to predict a winner.
It's pretty simple: Instead of telling you somebody will win, I'll point out why everybody else has to lose. The driver remaining, by process of elimination, will be the race winner.
And if you want to see who was eliminated in each step, I'll post the info on my Twitter account (@MattWillisESPN).
1. There has been only one first-time winner in 23 Sonoma races all-time (15 drivers eliminated, 29 remaining).
2. Since 1987, every road-course winner had a top-5 finish earlier that season (11 eliminated, 18 remaining).
3. Of the past 14 Sonoma winners, the 13 who previously had raced at Watkins Glen finished in the top 14 in the last race there (seven eliminated, 11 remaining).
4. The past five Sonoma winners had never won a Sprint Cup Series road-course race (four eliminated, seven remaining).
5. Three of the past four race winners this season finished in the top eight in the previous Sprint Cup race (five eliminated, two remaining).
6. Of the past 13 Sonoma race winners, 12 entered the race fifth or lower in points (one eliminated, one remaining).
Your winner: Clint Bowyer
February, 24, 2012
02/24/12
2:13
PM ET
The Daytona 500 can be described with several words, words like prestigious, legendary and unpredictable.
Unfortunately for me, as a stats-minded blogger, the unpredictable part doesn't bode well for what I do, which is trying to find stats and trends to try to break down the race.
But while the winners might be predictable, there's one trend that's always brought about debate: whether it makes more sense to race up front or hang in the back and hope you miss the mayhem.
Kyle Busch ran up front throughout last Saturday's Budweiser Shootout and won despite a couple of wild saves. But drivers like Brad Keselowski and Ryan Newman ended up with good finishes after hanging back. But they didn't win.
NASCAR keeps track of a stat called average running position, which is literally the average of where a driver is running every lap of the race. And at the Daytona 500, it helps to be one of those guys at the front of the pack.
Since 2005, when NASCAR began tracking loop data, every Daytona 500 winner has ranked in the top 10 in average running position during the race, and in three of those seven races, the winner had the best ARP during the race.
In those seven races, the driver with the best ARP has an 8.7 average finish in the race, with Clint Bowyer's 17th-place finish last year weighing it down.
It begs the question: Who's going to run up front this Sunday?
While it's impossible to know what drivers' strategies will be ahead of time (not nearly that sneaky), we can look at which drivers tend to be at the front of the field at Daytona.
From 2007-09, Kyle Busch had a top-two ARP in the Daytona 500, but it didn't pay off, with an average finish of 23.0 in those races. The past two years, his ARP was ninth and 18th, but he finished 14th and eighth in those races. His strategy might be changing toward being in the back.
Watch for Bowyer to be up front throughout the race, as each of the past two years he's been in the top two in ARP. Plus he's had Daytona 500 success, as he's finished in the top five in two of the past three 500s. Plus, he's won the last two fall Talladega races.
Maybe the mystical spirits that make their home in Daytona Beach reward the racers and risk takers. Or maybe it just pays to be racing all day and not have to turn on that switch down the stretch.
The Eliminator: Daytona
For those of you new to my blog, welcome! Also, I've come up with a method of picking race winners using statistics and history.
But instead of picking a winner, I'm going to tell you why all but one driver in the field cannot win. I call this The Eliminator.
1. Six of the past eight and 10 of the past 13 Daytona 500 winners ran in the first Duel race (24 drivers eliminated, 25 remaining).
2. Nine of the past 10 Daytona 500 winners finished 14th or better in the last Daytona race (18 eliminated, seven remaining).
3. The past four Daytona 500 winners finished outside the top 10 in points the previous season (three eliminated, four remaining).
4. Three of the past four Daytona 500 winners were winless the previous season (two eliminated, two remaining).
5. The past five Daytona 500 winners did not finish in the top 10 in the previous year's Daytona 500 (one eliminated, one remaining).
Your winner: AJ Allmendinger
October, 25, 2011
10/25/11
5:19
PM ET
You knew we were going to have some hot topics coming out of Talladega. I wouldn't have it any other way.
Several Chasers wrecked, Kevin Harvick and the Amazing Flying Busch Brothers among them. That's the hard luck that's par for the course at Talladega.
Carl Edwards widened his points lead by hanging back. To sum up his day, he started ninth, was 24th by the end of the first lap and 39th by the end of the second lap. He then didn't run a green-flag lap in the top 15 until the next-to-last lap, then finished 11th.
A good points day, especially given what happened to some of his closest pursuers.
On the flip side, we had some late-race controversy between Trevor Bayne and Jeff Gordon.
To summarize: Bayne and Gordon lost their drafting partners and decided to hook up at the end of the race. From there it gets murky, as Bayne may have had team orders to draft with Matt Kenseth, who lost his partner, David Ragan, to engine troubles.
More summaries: Gordon was mad at being dumped, Bayne was mad at perceived team orders and tweeted such. Then people denied there were team orders. End summary.
That's the complicated stuff. Now, I'll just give the fun stat side of the race.
The Century Mark
Lost in the madness was Clint Bowyer's win, the 100th Sprint Cup Series win for Richard Childress Racing. RCR is the fifth team to reach that mark, the other active teams being Hendrick Motorsports and Roush Fenway Racing.
Bowyer's won the Talladega Chase race, a race that has a reputation of being a crapshoot in which anyone can win in back-to-back years, so he's figured something out. Also, four of his five career wins have come in Chase races; two at Talladega, two at New Hampshire.
Trivia break: Where did Bowyer's non-Chase win come?
Competition Reigns
We didn't get to see Talladega pay out that $100,000 bonus that came with 100 lead changes, but it was an unrealistic goal.
Before Sunday, the previous three Talladega races all featured at least 87 lead changes, the three most in a race in series history.
Sunday's race featured "only" 72 lead changes, still the sixth-most in series history. The 26 separate leaders was on par for the past two races there and tied for the third-highest total in series history.
Also, the winner made yet another last-lap pass, the fifth time in the past six Talladega races that's happened, including four in a row.
Trivia break: Who did Bowyer pass on the last lap in last year's fall Talladega race?
Pacing The Chase
What do we need to know about the title picture after Talladega?
Well, no driver has won the Talladega Chase race and then gone on to win the title, but six of the seven Chase-era champions finished no worse than ninth in that race.
Johnson finished 26th in 2006, but then rattled off five straight top-two finishes to win the title.
Now, history shows it's a three-man race. No driver has come from outside the top three with four races remaining to win the Chase. Five of the seven held the lead at this point.
Trivia break: Who is the only other non-Chaser to win a Chase race over the past four seasons?
Power Rankings
I wanted to come up with something to rank the strength of the Chase drivers on a race-by-race basis. So I came up with a nerdy formula, using recent performance, along with recent performance at the track, to predict who'll be strong in the next race.
Here are my Chase power rankings for Martinsville.
1. Jimmie Johnson
2. Denny Hamlin
3. Kyle Busch
4. Matt Kenseth
5. Kevin Harvick
6. Jeff Gordon
7. Tony Stewart
8. Carl Edwards
9. Ryan Newman
10. Dale Earnhardt Jr.
11. Kurt Busch
12. Brad Keselowski
Trivia Break Answers
1. Bowyer's non-Chase win came at Richmond.
2. Bowyer passed teammate Kevin Harvick on the last lap last year.
3. Jamie McMurray won a Chase race in 2009 and 2010.
November, 2, 2010
11/02/10
11:05
AM ET
If I just used the phrase "Only at Talladega," I think everybody coming to a NASCAR page looking for top-notch entertainment would know exactly what I was talking about.
Such as: Only at Talladega can a driver begin his burnouts without confirmation that he's actually won the race. Seriously though, first or second, who doesn't like to do a good burnout? Sounds like a good way to leave the ESPN parking lot today, now that I think about it.
Only at Talladega can a handsome researcher like yours truly have to send out version after version of a race recap to the whole research department since the finishing order kept changing. I was surprised I didn't end up getting up in the wee hours to send out another one. First Denny Hamlin was seventh, then he was eighth, then he was ninth.
What makes that even worse for Hamlin is that the drivers who moved in front of him were Jimmie Johnson and Jeff Gordon. Still, it's only 14 points between him and Johnson. A mere pittance that is enough to make me speak in Dickensian-era terms. Is that my nerdiest reference yet?
Or, how about: Only at Talladega can a driver like AJ Allmendinger take a last-lap flip, and we find ourselves barely talking it about it that night or the next day. Glad to see you're OK, AJ. Unfortunately, due to the financial situation at Richard Petty Motorsports, you will have to drive that car in the final three races, and also back and forth from home.
Now that I've gotten that cheap shot out of the way, let's give out the finest in Talladega postrace notes.
A lot on his plate
There's no telling who might've won Sunday's race had it not been for that ill-timed caution. It might've been Kevin Harvick, giving him that little extra boost in the points. It could've been one of the pushers, Juan Pablo Montoya or David Reutimann. Or could another duo have teamed up and pushed their way to the front, perhaps taking advantage of some aggressive racing up front?
Let's not play the what-if game, sticking instead to Hungry, Hungry Hippos. Or let's just stick with reality, and point out that Harvick finished seventh or better in all four restrictor-plate races this year, with two wins in there. The last driver to do that in a single season was Dale Earnhardt Jr. in 2004.
And the only other driver to do it period was Dale Earnhardt, who did it three times. In two of those seasons, the Intimidator went on to win the Cup series title. So Harvick gets the distinction of being the first non-Earnhardt with two wins and all top-seven finishes in plate races in a single season.
Trivia break! Who is the only driver to win three plate races in a season?
Spook-tacular
What did you go as for Halloween? I went as a researcher going to work, but I was excited to see a student in my niece's class went as Waldo. I found him pretty easily though.
Well, no matter what you dressed up as, your Halloween probably wasn't as good as Clint Bowyer's. Bowyer got his first career multi-win season in the Cup series, two of his four wins coming this year, and now three of his four career wins have come in the Chase. Dude knows how to turn it on, but alas for that 150-point penalty.
Also important is that the win put Richard Childress Racing back on top as the winningest Cup series team all time at Talladega. RCR has 11 wins there now, breaking a tie with Hendrick Motorsports. Strangely, a single team has now swept at Talladega in four of the past five years.
Trivia break! Give me just one of the four drivers to previously win a Cup race on Halloween. A hint! Two are still active.
And the rest ...
Remember on the old "Gilligan's Island" where the Professor and Mary Ann were lumped together in the theme song with all the rest? Despite the fact that I'm still in my 20s, at least I've studied my TV history.
Hey, they were important characters, central to many episodes. Well, I have the rest of my notes here, but that doesn't make them any less important.
Anyways, we had 26 leaders, tied for the third-most all time in the Cup series, and 87 leaders, just one off the record set earlier this season, also at Talladega.
The top-finishing driver who didn't lead a lap was Regan Smith back in 12th. And let's give one more shout-out to Brad Keselowski, who after not having a top-10 in the first 31 races of the year now has a top-10 in two straight.
Trivia break! With 38 points separating the top three, what driver made up the biggest deficit with three to go (49 points)?
Trivia break answers
1. Dale Earnhardt won three of four in 1990, and was a last-lap flat tire in the Daytona 500 from the perfecto.
2. Jimmie Johnson, Mark Martin, Darrell Waltrip and Curtis Turner have all previously won on Halloween.
3. In 1990, Dale Earnhardt made up a 49-point deficit on Mark Martin in the last three races.
September, 21, 2010
09/21/10
1:30
PM ET
Déjà vu is the sense that you're seeing something you've seen before.
Déjà vu is the sense that you're seeing something you've seen before.
I'm sorry, I can never resist an easy joke. Mostly because they're easy. Seriously, though, if you're getting flashbacks to 2007, it's with good cause.
Three years ago, Clint Bowyer also entered the Chase winless and as the last seed. He qualified on the front row and went on to win the playoff opener at New Hampshire on his way to career-best third-place finish in points. That win and Sunday's victory at New Hampshire account for two of his three career Cup series wins, with the third coming at Richmond.
So, it begs the question: Can we now consider Bowyer a championship contender? He managed to stick around the top part of the points through the 10 races with consistency and avoiding disaster, a strength of all of the Richard Childress Racing drivers. However, it might take more than the one win to capture the title, and Bowyer's never won more than once in a year.
Another question the win brings up, and one the "NASCAR Now" crew discussed at length: What would a mixture of Cheerios and Hamburger Helper, Bowyer's main two sponsors, taste like? I'll let you debate if Cheerios Helper sounds like something you'd eat. I've just been putting milk on mine.
Oh, Bowyer!
We don't see Bowyer win too many Sprint Cup races, but we should be used to him running up front. As Bowyer was chasing down the final Chase spot, he was putting up some of the most consistent runs in the series.
We've been talking a lot about how Carl Edwards has put up the most points over the past nine races, about the run he was on entering the Chase, but the man with the second-most points in that span is Bowyer. Bowyer also has the most points over the past four races, three points more than Kyle Busch. The next closest to Bowyer is Edwards, but he's 85 points back of Bowyer in the four-race span. And no other Chaser is within 100 of Bowyer in those races.
Can Bowyer maintain that momentum over the next nine races? Time will tell.
Trivia break! What non-Chaser has the third-most points over the past nine races?
Good to the last drop
What a difference a little bit of fuel makes.
Tony Stewart ran out of fuel heading to the white flag while leading, and falling from first to 24th in the final running order cost him 97 points. Jeff Burton also ran out of fuel, but he fell from fifth to only 15th, costing him more than 30 points in the Chase standings.
On the final fuel run, Bowyer ran 92 laps to win, while Stewart could muster only 91 laps. Gee, if only we had a former champion crew chief on the payroll to help us out with it. Oh, wait, we have Ray Evernham. And he let the "NASCAR Now" crew know that the difference between Bowyer making it and Stewart not was a mere quart of fuel.
It's Chase time, and it's not just the crew chiefs and drivers who are important, it's every last member of the crew. Let's hope Bowyer's gas and catch can team got themselves a little bonus this week.
Trivia break! Who took advantage last year at Michigan when Jimmie Johnson and Greg Biffle ran out of fuel with two laps and one lap to go?
Second chances
It's always nice when you go look something up and find that another NASCAR researcher already has gotten there. So thanks to Chris Lees for his help on this one.
Jimmie Johnson had a busy day at New Hampshire, and not in a good way, finishing 25th after a spin and later a flat tire. So, can you win a title with a finish such as that one on your Chase résumé?
History tells us yes, but you get only one shot. In 2006, Johnson finished 39th in the opener at New Hampshire, and later finished 24th in another Chase race. And he remains the only driver to win a Chase with two finishes outside the top 20 during the 10 Chase races.
In three other Chases, the eventual winner had one finish outside the top 20 on his way to a title, including last year. However, in 2007 and 2008, Johnson didn't have a single finish outside the top 20 on his way to titles Nos. 2 and 3.
So Johnson's 25th might be his only chance at a hiccup through the rest of the season.
Trivia break! What is the worst Chase race finish for an eventual Chase champion?
Trivia break answers
1. Jamie McMurray has put up 1,275 points in the past nine races, behind only Edwards and Bowyer.
2. Mark Martin led the final lap only, taking advantage of fuel mileage for the win.
3. Kurt Busch finished 42nd, next to last, at Atlanta on his way to a title.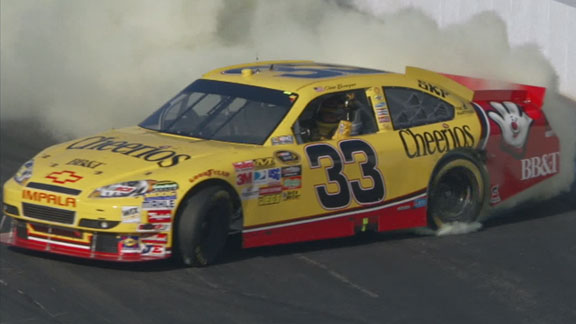 September, 9, 2010
09/09/10
11:28
AM ET
You know I love me some short-track racing, and this weekend we get the fifth of six short-track races of the season. If that intro wasn't exciting enough, I can give you the hard sell: It's also the Chase cut-off race. Too bad the battle at the bubble isn't too thrilling this season.
So that begs the question: If this bubble battle isn't exciting, do we need to make some changes? Or is this type of season inevitable, regardless of the system?
Is there another tweak in the rules forthcoming? Perhaps an expanded Chase field with eliminations along the way? A system where if you win a race, maybe two, you're in the Chase? Should there be another points reset during the course of the Chase?
One thing is for sure: I'm glad I don't have the weight of making these decisions on my shoulders, because you can never please everybody. Then again, I bet the people who make those decisions make more money than yours truly. And I do have the lovely personality trait of thinking that I'm always right on issues such as the best Chase format.
So, yes, on second thought, I would like that job.
Then again, maybe the stress would get the best of me. Perhaps it's best if I just stick to a little loop data look-ahead to Saturday night's race at the action track, Richmond International Raceway.
Red-hot Smoke
Tony Stewart finally broke through at Atlanta and got his first win of the year, perhaps ending the sophomore slump that has dominated his second season as an owner-driver. This weekend, he could make it two in a row and enter the Chase as a trendy pick to win the title.
Going back to 2005, Stewart has been quite solid at Richmond and has proved tough to pass, with a plus-201 green-flag pass differential in those 11 races. That's 74 spots better than the second-best driver on the list, current points leader Kevin Harvick.
Only one other driver is even within 100 spots of Stewart, and that, rather unpredictably, is 2000 champion Bobby Labonte, with a plus-106 mark.
I won't go out on that limb saying Labonte is going to be a force to be reckoned with Saturday, but I will stick my neck out a little and say that Stewart will again be running up front.
It's for lovers
Richmond is in Virginia, and Virginia's for lovers. Denny Hamlin's from Virginia, so I guess this note is also for lovers. But seriously, this blog always brings the necessary love, and often a heaping helping more.
Hamlin's coming off a last-place finish last week at Atlanta, and if he's going to go from worst to first anywhere, it might be Richmond. Last year at Richmond, Hamlin put up a perfect driver rating of 150 in winning this race heading to the Chase.
During that race, his average position was an eye-popping 1.3, as he led 299 of the 400 laps and ran the fastest lap on 108 of those circuits. Even more impressive was that Hamlin was passed under green-flag conditions only six times.
Bubble trouble
Richmond is Clint Bowyer's best track in terms of average finish. That, coupled with his sizable lead over Ryan Newman for the 12th and final Chase spot, means he should be in pretty good shape in the regular-season finale.
And while Newman and Jamie McMurray had solid runs this season at Richmond, they were looking up at Bowyer. Newman was ninth in average position and 10th in driver rating. McMurray was one spot behind Newman in each of those categories.
Bowyer, on the other hand, was fifth in average position and sixth in driver rating.
Well, that's all I have for you this week. Enjoy the race!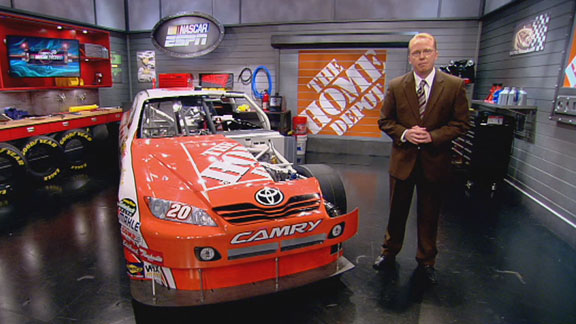 September, 1, 2009
09/01/09
11:47
AM ET
I don't remember too many races to the Chase that were quite as exciting and uncertain as this one is shaping up to be.
Well, this is just the sixth year of the Chase, so there's not a whole lot of history there, but still, you'll be hard-pressed to find a closer race for the last few spots in the Chase.
And because I'm a researcher, and it's sort of my job, I'd like to clear things up for my loyal readers. Unmurky the Chase waters, if you will.
Ding, ding, ding. Ladies and gentlemen, as far as I know, it's a first in Internet history. I am now the first person to ever use the word "unmurky." But that's beside the point, unimpressive as it is.
Oh, let's just get on with a special off-week edition of the blog, where I give you some scenarios down the stretch, with just two races left. All these scenarios take into account that the drivers will start the Chase cutoff race at Richmond.
The in
Tony Stewart, Jimmie Johnson and Jeff Gordon are already in the field, nine titles between them, and nobody can take that away from them. Unless something unforeseen happens like a rules violation or some sort of drug scandal is revealed.
And we all know that never happens in NASCAR. Um … moving on.
Oh-so-close
Three drivers can clinch a Chase spot in Atlanta regardless of what those further down in the standings do, provided they simply start the race at Richmond.
The first is fourth-place Denny Hamlin. The dark-horse championship contender doesn't even need a top-10 at Atlanta, which is good since he has only two of those in eight career starts at the track. Hamlin needs to just finish 12th, or 13th if he leads a lap, to officially punch his Chase ticket.
One spot below him in the standings is Carl Edwards. Edwards was getting a lot of preseason love for his championship chances, but that's cooled as he's been unable to find Victory Lane in the Cup Series this season. Despite that, Edwards can wrap up another Chase berth by finishing fourth at Atlanta, or fifth if he leads a lap. He's won there three times in 10 starts, including his first career win.
The other driver who controls his own destiny at Atlanta is the driver who won the first Chase, Kurt Busch. Busch needs to do just slightly better than Edwards, finish third or better, or fourth if he leads a lap. That seems doable for Busch, who won the spring race at Atlanta in dominant fashion.
Not so clear
Here's where things get interesting. Oh, who am I kidding? They were always interesting.
Seventh to 12th in the points are separated by just 50 points and none are more than 84 points behind of 13th-place Kyle Busch. Six drivers -- Ryan Newman, Greg Biffle, Juan Pablo Montoya, Mark Martin, Kasey Kahne and Matt Kenseth -- cannot clinch at Atlanta based on what they do themselves, but that doesn't mean they can't give themselves some breathing room.
Of these six, only Martin and Kahne have won at Atlanta. But Martin's wins came in 1991 and 1994, while Kahne won slightly more recently, in 2006.
Outside looking in
Kyle Busch and Brian Vickers have had their differences, but they find themselves in similar positions with two to go before the Chase field is set. Meanwhile, Clint Bowyer and David Reutimann are a little farther back, but they, along with Vickers and Busch, could get back into the top 12 with a good run and some degree of fortune at Atlanta.
Those four are also in a position where if they win, they cannot be eliminated.
Meanwhile, things aren't looking so good for Jeff Burton and Marcos Ambrose. These drivers aren't eliminated quite yet, but they have some ground to make up, and have to do so in a hurry. Any driver 162 points or more behind 12th after Atlanta will be eliminated.
And I'd like to take this space at the bottom of the column to send my regards to drivers such as Joey Logano, Dale Earnhardt Jr. and Kevin Harvick. They're among the drivers, everyone 19th or lower in points, who are officially eliminated from Chase contention. Maybe next year, fellas.
So, those are the numbers; I'll leave it at that for now. Who do you think is in or out? Leave your comment below, and it's time-stamped, so you can throw it in everybody's face if you were correct. I'll vouch for you.