Crunching numbers for Kansas
October, 1, 2009
10/01/09
2:11
PM ET
Let's face it, the baseball pennant races are a little disappointing this season. But as an all-around sports fan, I hope things pick up once the postseason starts. There's nothing more disappointing then ending the season on an undramatic note, lacking that steam heading to the playoffs.
Are we doomed to the same fate in the Chase for the Cup?
Count me among those that aren't yet sold that the Chase is going to come down to a two-man race, between Jimmie Johnson and Mark Martin. Call us the eternal optimists … or possibly just those with some common sense.
I mean, it wasn't too long ago that we were saying that the title was going to come down to Johnson and Tony Stewart. In mid-February, we were ready to crown Matt Kenseth as the title favorite, right along with Johnson. Before the season it was Carl Edwards or Johnson. Noticing a trend?
Patience, my dears.
I'm not saying that we shouldn't praise the drivers on a hot streak or always say that Johnson is a favorite to win a title, but I'm not ready to jump to the conclusion that it's down to two for this year's title. Nor will I even crown Hendrick Motorsports this early. There are motors to be blown, tires to flatten and hot streaks to be had.
Last season, Greg Biffle hadn't won a race entering the Chase, but he won two in a row and thrust himself into the title picture. And with three races coming up at intermediate tracks -- Kansas, California and Charlotte -- it stands to reason that a team could hit on a setup and compile a large amount of points. And, strange occurrences have a habit of popping up when you're least expecting them.
Allow me to warble about how the best is yet to come. Hey, if you didn't want singing, you came to the wrong blog. Eh, let's just preview this weekend's race at Kansas.
Class of the field
Picking Jimmie Johnson is boring, but, more often than not, a good bet. Despite the optimism of my opening diatribe, it's hard not to pick a guy who won last week, and is the defending winner at Kansas Speedway.
[+] Enlarge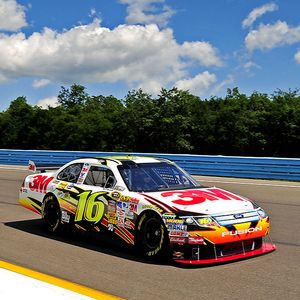 Mark J. Rebilas/US PresswireGreg Biffle is one of the best drivers -- statistically -- at Kansas Speedway.
But I'm going to throw another name into the mix this weekend, a guy I've been bringing up a lot lately and am just waiting for a breakout performance, despite that his team has fallen off a bit in 2009: Greg Biffle. The No. 16 team has been the class of the field over the past four years at Kansas.
Best average position, past four years at Kansas
Driver -- average position
Greg Biffle -- 6.37
Jimmie Johnson -- 6.42
Jeff Gordon -- 10.1
Mark Martin -- 11.9
Matt Kenseth -- 12.0
Everybody loves the Biff
More Biffle love! Somebody call his family, the whole Biff bunch.
Maybe it's his run about this time last season that gives me a good feeling about the Sweet Sixteen, or maybe it's his shining loop data numbers at Kansas that does the trick.
Dating back over the past four seasons, Biffle not only has the best average position at the track, he has ranked second in driver rating -- a collection of a number of statistics -- ranking only behind Johnson.
It's also his second-best track in terms of driver rating. Following on the No. 2 theme, Biffle's also got the second-best overall green-flag speed, coupled with the second-best speed in traffic.
Shot in the dark
Everybody loves an underdog, or maybe you just want a cool statistic that comes out of nowhere. Well, look no further, here's a little nugget I implore you to find mentioned anywhere else this week.
Quality passes is a loop data measure of the finest in passes, green-flag passes in the top 15. It's good cars passing other good cars, not padded by getting by cars in the back of the field after qualifying poorly or making an extra pit stop for fresh tires.
So, since NASCAR began tracking it in 2005, who do you think has the most quality passes per race at Kansas? Check out this list.
Most quality passes per race at Kansas since 2005
Driver -- average quality passes
A.J. Allmendinger -- 51.0
Jimmie Johnson -- 38.3
Dale Earnhardt Jr. -- 36.0
Brian Vickers -- 36.0
Jeff Gordon -- 35.5
That's right! The Dinger! Keep an eye peeled for the 44 coming through the field on Sunday. And watch for a bunch of other stuff, too. Enjoy the race.