Crunching numbers: Awards season
December, 14, 2010
12/14/10
10:50
AM ET
Greetings, my lackeys.
If you thought you were going to have to go the entire NASCAR offseason (what is it, like 10 days?) without a blog post from me, well, you were sorely mistaken.
And how dare you doubt my blogging dedication. I feel myself starting to hulk up.
But before Willis smash, it's time to reflect on the NASCAR awards this season. NASCAR doesn't give many "official" awards, but many of my fellow writers and bloggers, from this site and others (don't read the others), have given their own versions of the awards. But, my job is to statistically reflect, and to make inane chatter.
And as I anxiously await my blogger of the year award, I'm going to pass along some nuggets I have on this year's NASCAR awards.
A Popularity Contest
It was really no surprise that Dale Earnhardt Jr. won his eighth consecutive NMPA Driver of the Year award, voted on by fans, despite his lack of success. Over the past four years, he has one win, and four Most Popular Driver awards. In his eight-year span of winning the award, he has 11 Sprint Cup Series wins.
But, really, a winless driver is no big shocker hoisting this trophy.
Dating back to 1990, 12 of the 21 award winners went winless in the year they won the award, and none won the series championship in the same season. The last series champion to win Most Popular Driver in the same season was Bill Elliott in 1988. How did fans respond to his success? They voted Darrell Waltrip the Most Popular Driver in each of the next two years!
Elliott recovered to win the award from 1991 to 2000, a 10-year stretch in which he won seven races. I guess success doesn't come with popularity.
Trivia break: Which driver has won Most Popular Driver the most times?
Rookie Hazing
[+] Enlarge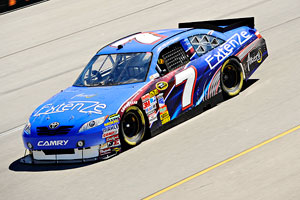 Rafael Suanes/US PresswireKevin Conway is far from the lowest-finishing Rookie of the Year.
Richard Petty, Dale Earnhardt, Jeff Gordon, Tony Stewart, Rusty Wallace -- meet Kevin Conway, he is your equal.
If we're going $25,000 Pyramid style, did you say, NASCAR Rookie of the Year winners? Should we now overlook the fact that Conway has an honor Jimmie Johnson couldn't capture?
Let's ignore the fact that Conway had perhaps the worst season of any driver to win the award. Conway finished 35th in points, without a top-10 finish. Only one other driver won the Rookie of the Year without a top-10 finish in the same season. That was Regan Smith, who finished 34th in points, one spot better than Conway. Both Conway and Smith had a best finish in their rookie season of 14th.
Two drivers finished worse than Conway in points and still won the award. Woodie Wilson was 41st in 1961, but ran just five races. Wilson ran just 10 races in his Cup career. Ken Rush was 38th in 1957, but had a third-place finish along the way.
Trivia break: What's the best points finish for a Rookie of the Year?
First-Year Wonder
It wasn't all bad news for the rookies of the year. In fact, one of them had a historic year.
Austin Dillon, Camping World Truck Series Rookie of the Year, won two races and finished fifth in points. In series history, only one other rookie of the year won multiple races and finished in the top five in points. That was Kurt Busch in 2000. Just four years later, Busch was hoisting a Sprint Cup Series championship trophy.
Dillon's performance at times may have been overshadowed by him driving the No. 3 and being Richard Childress' grandson, but kid's got some talent, keep an eye on him.
Trivia break: What other big-time championship experience does Dillon have?
Trivia Break Answers
1. Bill Elliott leads all drivers with 16 awards. Richard Petty is second with nine, Junior has eight.
2. Denny Hamlin finished third in 2006.
3. In perhaps my most random trivia ever, Dillon played for the North Carolina team in the 2002 Little League World Series.