Gotta like Biffle's chances at Kentucky
June, 28, 2012
06/28/12
10:20
AM ET
Here we are this weekend at Kentucky Speedway, a track where the key statistic coming into the race may be the number of parking spots added (PSA) since last year's debacle.
But let's stick to the quality of the racing, and not whether the parking was ample. Of course, it's hard to analyze the racing at a track where there's been one race. However, in that race, Kyle Busch was dominant, finishing with a 145.6 driver rating, the third-highest mark he has had in any of his 24 career Sprint Cup wins.
[+] Enlarge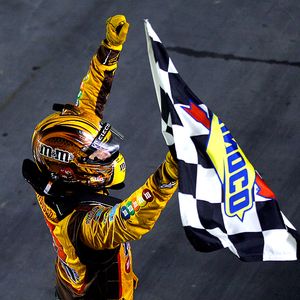 Chris Graythen/Getty ImagesKyle Busch celebrates after winning the inaugural Sprint Cup race at Kentucky Speedway in July 2011.
But Busch goes into this race struggling in his past four races -- all finishes of 17th or worse -- as well as on 1.5-mile tracks like Kentucky, with two top-5s in his past nine races.
That's the best way to project what will happen at Kentucky -- to take a look at performance at those other 1.5-mile tracks. Those tracks are different, yes, but definitely have similarities.
Problem is, we've had four races on such tracks this year, with four drivers from four teams coming out victorious. There was Tony Stewart at Las Vegas, Greg Biffle at Texas, Denny Hamlin at Kansas and Kasey Kahne at Charlotte.
This is when you call on a guy like me to crunch the numbers.
One driver's performance does stand above the others, and that's Biffle's. He's the only driver with a top-5 in all four of those races. He also has put up three of the top eight marks in driver rating on 1.5-milers this season.
Want a sleeper? I'll give you a sleeper. Although he has been slipping down the points and his Sonoma finish was a disappointment, keep an eye on Martin Truex Jr., who has the highest individual driver rating on a 1.5-mile track this season, a 142.6 in a second-place finish at Kansas.
We've seen Joey Logano and some guy named Dale Earnhardt Jr. snap long winless streaks this season, but Truex could top both of their droughts at Kentucky.
Looking for Trouble
Every week, my fellow members in ESPN Stats & Information crunch the crash numbers and tell us what to watch for that weekend. Here's what they found.
If Kentucky is like any of the other 1.5-mile tracks, the middle of the pack is the wrong place to be. Since 2008, 182 of 506 accidents (36 percent) on intermediate tracks have occurred to drivers running in positions 15-25.
The Eliminator: Kentucky
For those of you new to my little blog, every week I use a device called The Eliminator to predict a winner. It's pretty simple: Instead of telling you somebody will win, I'll point out why everybody else has to lose. The driver remaining, by process of elimination, will be the race winner.
And if you want to see who was eliminated in each step, I'll post the info on my Twitter account (@MattWillisESPN).
Don't overlook that I nailed Clint Bowyer at Sonoma.
1. The past 21 Sprint Cup winners on 1.5-mile tracks had previously won a Sprint Cup race (16 eliminated, 30 remaining).
2. The past eight and 11 of the past 12 winners on 1.5-mile tracks had a top-20 finish in the previous 1.5-mile race (12 eliminated, 18 remaining).
3. Each of the past four winners this year finished 11th or better in the previous year's race (10 eliminated, eight remaining).
4. The past two Sprint Cup winners were coming off a stretch of three straight finishes of eighth or better (seven eliminated, one remaining).
Your winner: Jimmie Johnson